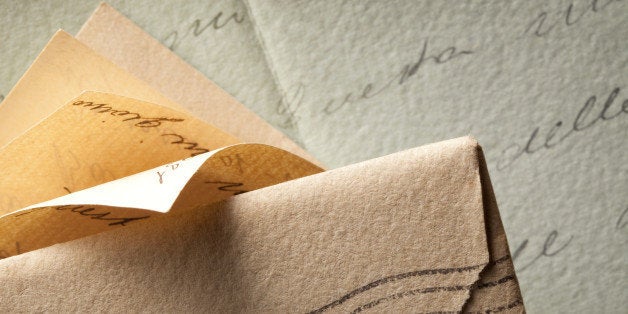 How well do we really know our parents?
To most of us they are simply Mom and Dad.
Oh sure, we hear stories about their younger days. How they had to find a payphone in order to call home. How they had to wait until the nightly news to know what was going on in the world. The well-worn tale about walking miles through the snow to get to school.
And of course, from a very young age, we're eager to know how they met.
I've heard my parents' story a million times.
It was a sunny afternoon on the beach in Santa Monica. My father asked my mother's gorgeous friend if she wanted take a swim.
"In the ocean!" Her friend exclaimed, hiding behind an issue of Ladies Home Journal.
"I'll go." My mom jumped up.
As the waves crashed on the shore, my dad sighed. "Oh, all right." He walked off with my mom, glancing back at the beauty on the beach.
But something magical happened while they swam. And he never looked back again.
Throughout the years I've seen my father's sensitive side. Crying at family toasts, graduations, holiday pageants. Every Valentine's Day he brought my mom a box of See's Candy. Along with small heart-shaped ones for my sister and me.
I've seen my mom's face light up when my dad would walk into the room with that candy as if she hadn't been expecting it all along.
But I didn't really know them as people.
Not until finding the box of three hundred or more letters written by my dad, as a young soldier, to my mom, his new bride. As I read through them, something truly magical happened again. That young couple who met on the beach came alive for me.
They are written on thin, crinkly paper. The kind you don't see anymore. Every letter starts with a term of endearment: Dearest. Darling. Sweetheart.
Each one ends with, "Your loving husband. PS. XXXXXXX"
My dad's compassion comes through in passages such as, "I received a letter from you today. Also one from my mom. I got a good bawling out for not writing more often. I deserve it too."
His practicality hits me in the gut when he writes, "I picked up my high pay $46.80 and took the rest of my dirty clothes to the cleaners."
The optimism jumps off the page with these words. "V-J Day should come in a day or two. Please don't drink too much. Wait till I get home and we do it right."
Even as a young man he set goals. "You must be pretty busy too, with school and work. Don't let it get you down. Someday, honey, you'll be able to take it easier."
True to his word, he gave my mom a great life, providing her with everything she ever needed.
Especially his love. "It was wonderful just hearing your voice again. You sounded so sweet and lovely. I miss you more than ever. You mean everything to me. If only we could be together again soon."
Every night I have the privilege of learning a little bit more about them.
And I can say for proof positive, my parents had quite a life before I was born.
Calling all HuffPost superfans!
Sign up for membership to become a founding member and help shape HuffPost's next chapter