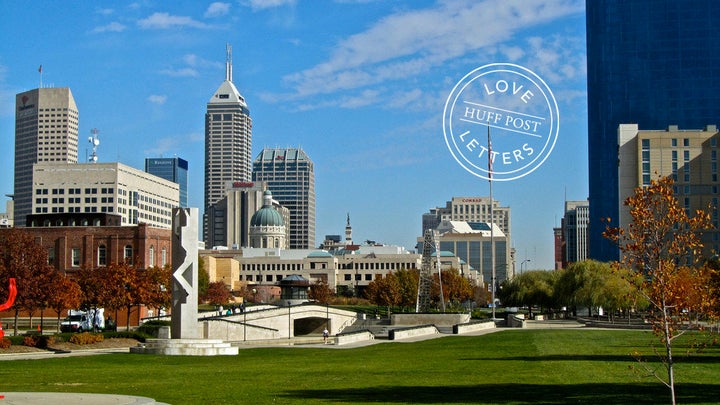 Kimberly Harms loves sports, kids and Indianapolis, where she lives. She has previously worked in broadcasting, public relations and is now in the employ of Indianapolis's famed Children's Museum.
---
I'll admit that I still have deep affection for the cities of my youth, Plymouth and Frankenmuth, Michigan, and that I have hooked up with the occasional jock like Houston -- they claim everything is bigger in Texas -- but, before you, I just couldn't commit. Sure, big city lights get my pulse racing on occasion, but that life was more about the flash and cash and less about the inner me. The big city was controlling, forcing me choose my activities carefully and spend time in traffic getting to the other side of town.
You gave me freedom to explore my heart's desires -- to enjoy all of the things I love -- and put it within arm's length of downtown. Your sports offerings were what first attracted me. You flirted with my love of basketball when you announced Larry Bird would be the new coach of the Pacers. You turned the heat up when you told me a new young gun from Tennessee, Peyton Manning, was to be the quarterback of the Colts. And, let's face it, cars and racing are just plain sexy.
I caved and moved here to be a sports anchor at the CBS affiliate, WISH TV, covering the NFL, NBA, WNBA, minor league hockey and baseball. I stayed because you offered me something much deeper, personal relationships with art, culture and museums. In short, Indy, you allowed me to be me and explore my inner child.
I can visit my favorit animals at the zoo in White River State Park, shoot hoops at the NCAA Hall of Champions, discover more about the Hoosier state at the Indiana State Museum, learn about Native Americans and Western art at the Eiteljorg and see what life was like in the 1800s at Conner Prairie. I pretend I'm in Venice with a gondola ride along the mile-and-a-half canal that runs through the middle of the city or hop on a bike or pedal boat for a little exercise. I get my fix of music with The Indianapolis Symphony Orchestra and drama at the Indiana Repertory Theatre.
At night, I dine at one of my favorite restaurants -- St. Elmo, Oceanaire or Taste -- before enjoying a nightcap at the Rathskeller, Slippery Noodle Inn or the Ram. Each has a different atmosphere for one of my many moods.
I truly do love my city. How couldn't I with all the genuine Hoosier Hospitality? Still, the big reason I choose to stay is the man who stole my heart. He's a hot fireman who took my breath away and loves this city as I do.
Who knew I'd move from Texas to the Midwest to find a cowboy to call me "Darlin'?"
I finally have roots. We couldn't be more proud of our beautiful blended family with four kids and now a grandchild. It was all these children that what encouraged me to take another career turn and work for The Children's Museum of Indianapolis. At the museum, I can romp with dinosaurs and zip up to the top floor for a ride on the carouse. I watch children learn and grow. If I happen to have a bad day, all I have to do is walk out into one of the exhibit areas to see wonder on the faces of children.
I listen to the laughter and know I'm surrounded by family.