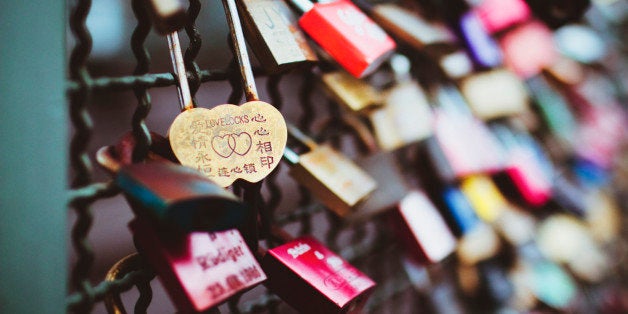 Paris is celebrated for its romantic ambiance and idyllic nod to "golden days." There's just something about this city that makes your heart skip a beat, especially when wandering those iconic cobblestone streets with your sweetheart. So, what better way to commemorate your fairy-tale jaunt through the City of Lights than by making a "love lock" together?
Whether you're honeymooning tourists or local lovebirds, this bonding activity is widely-recognized by couples across the globe. Moreover, taking part in the time-honored tradition is simple: stroll hand-in-hand to the Pont de Arts Bridge; purchase a padlock from a local vendor; write your names on it; then secure the padlock on this bridge to mark your romantic rendezvous in this picturesque locale.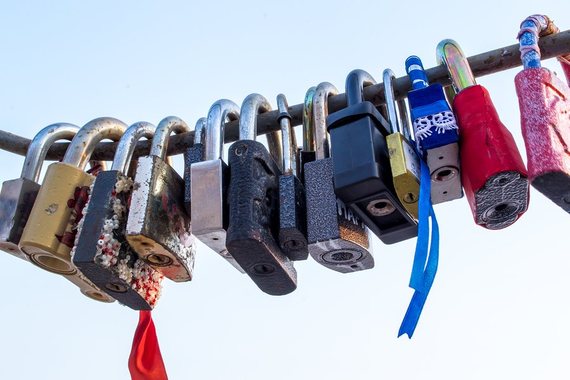 However, in June, much to the dismay of tourists and locals, Parisian city officials removed these "love locks" due to structural hazards for the Pont de Arts bridge. Furthermore, they made it illegal to affix any type of lock for the foreseeable future. The bridge was not able to support this extra weight any longer; in fact, sources allege that the total mass of these padlocks equaled about 20 elephants. But, despite concerns for public safety and historic landmark preservation, many people have expressed disappointment over losing these sentimental tokens.
In light of these recent events, increased speculation has sparked regarding how this "love lock" phenomenon originated. Who started the trend? Can the initial roots be traced back to Paris, or did it begin elsewhere? Why has such an unassuming object become a universal way to say, "je t'aime." Several rumors and myths abound, but one stand-out origin tale, in particular, comes all the way from Serbia.
Legend states that just before World War II, in the town of Vrnjacka Banja, a couple named Nada and Relja found themselves embroiled in a passionate, amorous tryst. When war broke out, Relja enlisted in the army, and Nada pledged to faithfully await his return; however, she later discovered that Relja had fallen for another woman while away on the frontlines. As the story goes, Nada died from a broken heart, and in her memory, other village girls began attaching padlocks onto the Most Ljubavi Bridge (translated: "Bridge of Love"), where Nada and Relja once spent their time. On these padlocks, each girl wrote her name alongside her beloved's name to ensure that special someone wouldn't leave as Relja had.
Although these symbols of eternal love will no longer be part of Paris' romanticized landscape, all you Romeos and Juliets can still take heart because more international centers are keeping the tradition alive in their own unique ways. Take a look:
Brooklyn Bridge -- New York City, New York
Arguably one of the most idealized cities in the United States, the city of New York is the site of timeless romantic comedies like When Harry Met Sally and You've Got Mail. As such, visitors flock to the Brooklyn Bridge and secure padlocks on this famous structure to create lasting Big Apple memories.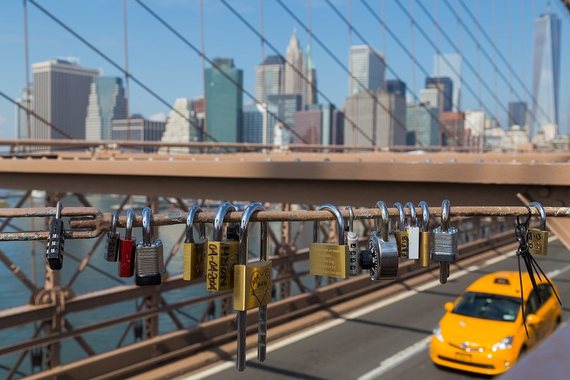 Mount Huangshan, Lotus Peak -- Anhui Province, China

Backpackers, tourists and Chinese residents alike hike to this culturally revered summit and attach padlocks to the metal chains and poles marking the mountainside trail. Then, they throw the keys into the misty abyss that is Mount Huangshan to signify everlasting devotion to their sweethearts.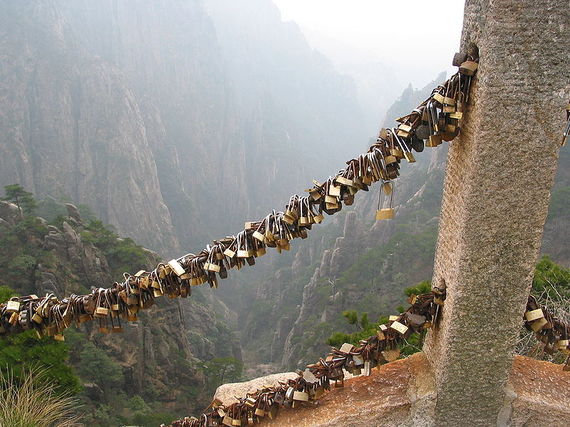 Photograph: tela88/Flickr
Ponte Milvio Bridge -- Rome, Italy

Another glamorized European destination, lovers travel from both near and far to fasten padlocks on this ancient landmark. Italians take the credit for this practice because of a book by novelist Federico Moccia, which featured the main characters engaging in their own "love lock" ritual. Now, that's amore!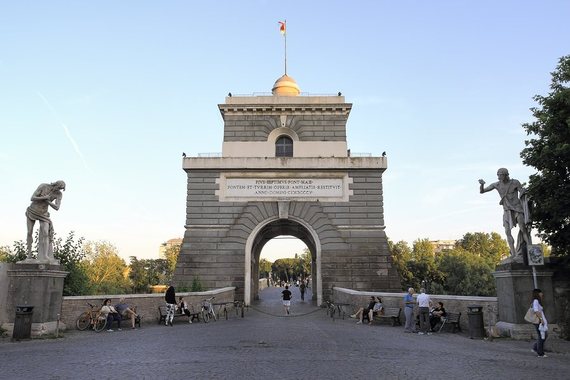 Vodootvodny Canal -- Moscow, Russia
Rather than leaving padlocks on bridge railings, couples visiting this Eastern capital secure them onto man-made metal trees lining the scenic banks of this downtown canal. In fact, many Russian newlyweds pose for wedding photos underneath these aptly named "love lock" trees.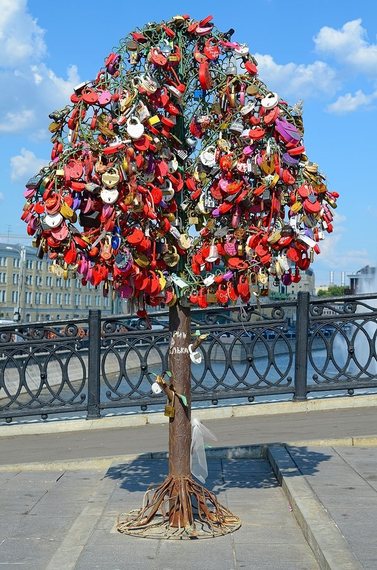 Distillery District Hearts -- Toronto, Canada

Pedestrians and cyclists frequenting this urban hot-spot can fasten padlocks on heart-shaped sculptures along the brick-paved streets. These expansive steel structures measure 8' by 30' in length, and were constructed to deter couples from weighing down Toronto's Humber Bay Arch Bridge.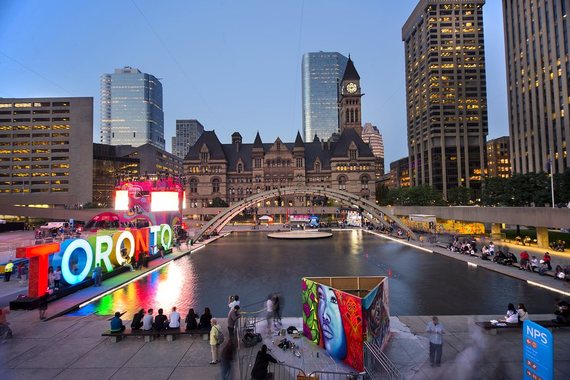 Southgate Footbridge -- Melbourne, Australia

Although this architectural gem once played host to over 20,000 padlocks, city officials recently removed them to prevent cable stress. Aussie lovebirds need not despair, however, as the Melbourne community is in the process of designating a new location for these sentimental symbols to thrive.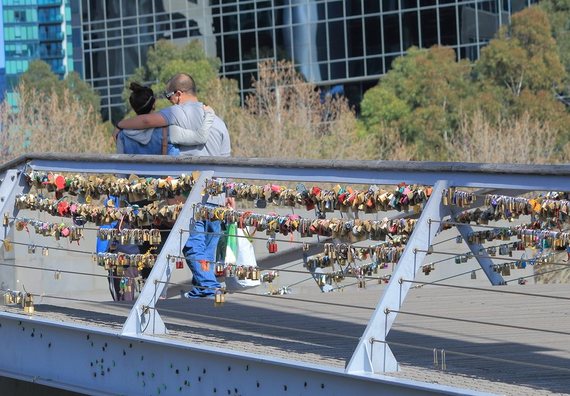 Love Fountain -- Montevideo, Uruguay

Tucked off-the-beaten-path of the nation's vibrant commercial center, hundreds of padlocks adorn this modest yet charming monument. Regional folklore dictates that, if any couple leaves a "love lock" at the fountain then returns on their next visit, they will stay together forever.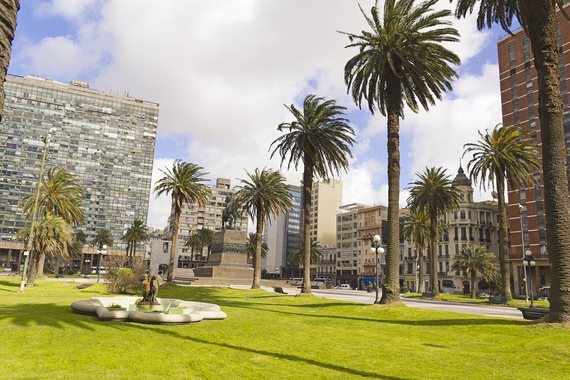 Hohenzollern Bridge -- Cologne, Germany

A unique crossroads of Medieval-meets-modern awaits in the Rhineland. Here, both tourists and residents enjoy decorating the Hohenzollern Bridge with brightly colored, quirkily designed padlocks or bicycle chains. Then, according to custom, each participant tosses a key into the Rhein River.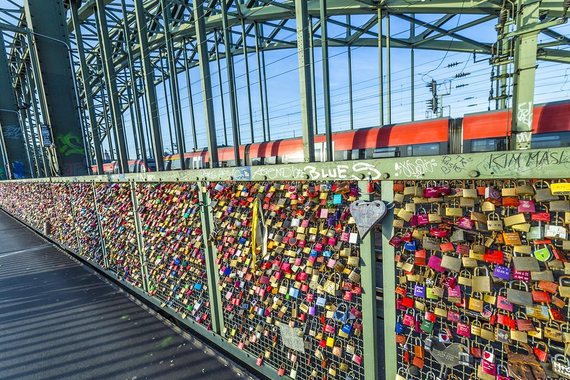 Tel Aviv Port Bridge -- Tel Aviv, Israel

While not as overrun with padlocks as its counterparts, this locally dubbed "Bridge of Love" is the Holy Land's best kept secret. Situated in the heart of a sprawling metropolis, this pedestrian walkway invites lovers to momentarily escape city life and stamp the site with a token of their rendezvous.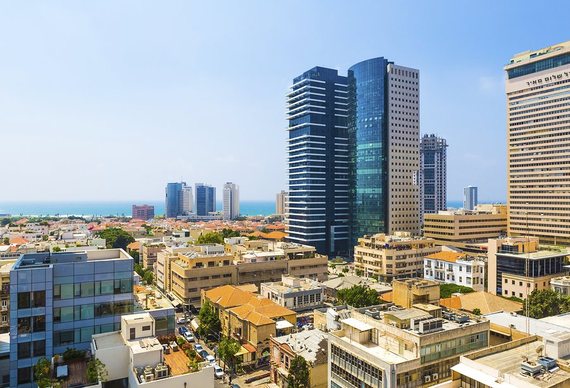 Old Red Bridge -- Kansas City, Missouri
Built in 1859, this Midwestern institution has become an amorous emblem throughout the U.S. Crossing this scenic, padlock-covered bridge evokes the stuff of Nicholas Sparks. Passersby can even purchase locks from the Parks and Recreation Department, with all proceeds supporting local green spaces.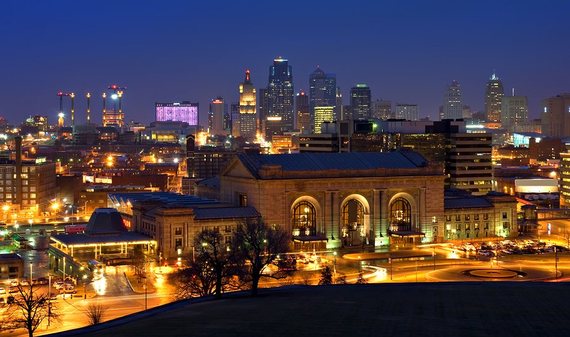 In addition, there are numerous other locales where you and your honey can rekindle the passion with a "love lock" including Seoul, Budapest, Venice, Dublin, Krakow and even Santa Monica, California.
This romantic gesture has gained common appeal throughout the world, and even if more cities remove the locks, people will continue finding a place to immortalize their love.
This article originally appeared on the Atlanta Lockmasters blog. Reprinted with permission.