Each year at this time, when I'm called upon to send 600 graduating seniors out into the world, I'm struck by how differently the educators, the graduates, and their families perceive the moment.

When their professors and I gaze out at the rows of young faces topped by mortar boards, we look forward and imagine the future they will help create.
Their proud parents see that future, too, but they are also astonished at how fast 22 years have flown by - seemingly in the blink of an eye. They see in each graduate the angelic newborn who was smaller than a loaf of bread. They remember the brave adventurer peering over the edge of a diving board. They recall the first time their child beat them at chess, or showed them math homework that made them scratch their heads.
And many graduates, at this seminal launching, find it hard to see beyond the present moment. They don't yet have the perspective to grasp how much they've grown in just four years, and the future holds so many unknowns that it is, at best, a cloud.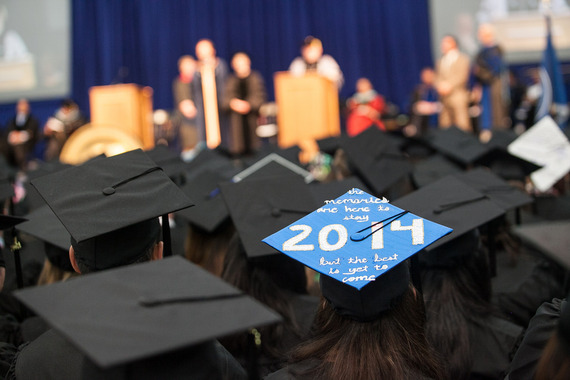 That's why I try to help graduating seniors gain a sense of spaciousness and possibility on a day that can feel overwhelming. This year, with the splendid ABC News journalist George Stephanopoulos giving the Franklin & Marshall College commencement address, I had the perfect opportunity to adapt some wisdom that George, a longtime friend, shared with my wife Karen and me in a toast at our wedding 25 years ago, when he said, "Love makes space."
For example, the love of family makes the space college students need to grow and emerge as adults. Graduation is a time to celebrate the distinction of each individual story of learning and change.
We celebrate our students' papers, theses, findings, and personal plunges into their majors.
We celebrate their most meaningful conversations with professors and friends, their curiosity and creativity, and their still forming, catalyzing minds.
We celebrate their learning outside of class -- on the field or in the field, on stage or at work -- and the times they crossed borders, crossed disciplines, crossed boundaries, crossed beliefs, collaborated for learning, and freely chose ideas that now anchor their understanding of the world.
We celebrate growth that's not easy to describe -- a subtle stretching that comes from studying a painting, or going to office hours, or asking a question, or pacing the library stacks.
We celebrate the times and ways they've lived in truth and solved problems for themselves -- stepping up, making up, owning up -- those personal moments of greatest integrity -- whether getting help or giving back, going first or holding back, reaching out or coming out.
While college students benefit from the space their families provide, we also celebrate at commencement the ways they've created for each other the room to develop -- to explore ideas, resist conformity, put themselves out there, be heard, be seen, and be known beyond the labels and across the limiting would-be divides of supposed difference. The space to become new, perhaps in surprising ways, over the course of four years.
I'm thinking of undergraduate peer mentors, team captains, students who work in writing centers, juniors and seniors who build community in residence halls. I'm thinking of students who organize service opportunities and foster discussions about nondiscrimination or sexual assault prevention.
The faculty make space for students, too. "Love" in class is called learning. A great education expands students' intellectual capacities. It gives them core knowledge they'll need to understand the world we live in. It helps them develop the precision of thought and language that will empower them to use their voices. It will teach them methods of research and discovery to enable them to create new understanding when no one can tell them the right answer. A great education creates the space for students to make free, independent choices among countless options - not just what to do for a job, but what to believe and how to live, now and throughout their lives.
"Love makes space" was a wedding toast, not a commencement speech, but my sense of its meaning has broadened over the years. At the personal level, love makes space when we let our friends change. At the intellectual level, when we help others find their voices. At the societal level, when we include, empower, and share.
That's what friendship, education, and democracy are all about.
Related
Popular in the Community