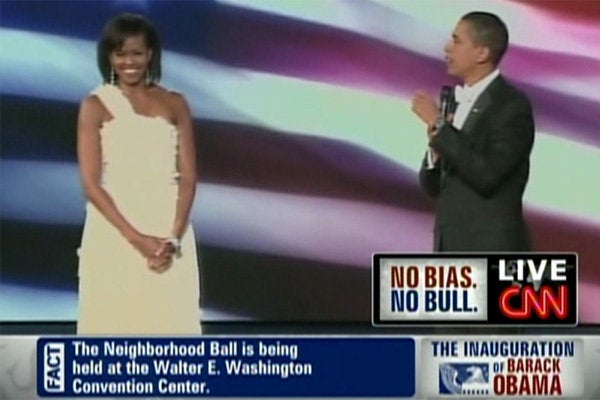 After seeing Barack and Michelle dance to At Last at the Obama Home State Ball featuring the fine people of Illinois and Hawaii, I came home to soak my feet and look up the designer for Michelle's fresh white ball gown. Meet 26 year old Jason Wu, a former intern of Narciso Rodriguez. Is that how Wu got the honor? We all know Michelle loves Narciso and rocked an electric red and black dress of his on election night. Did the Cuban-American designer introduce the two?
It's great that Michelle hooked up a young, fresh couturier with one of the greatest honors in fashion. It really speaks to what this administration is about -- inclusion, hope, expansion.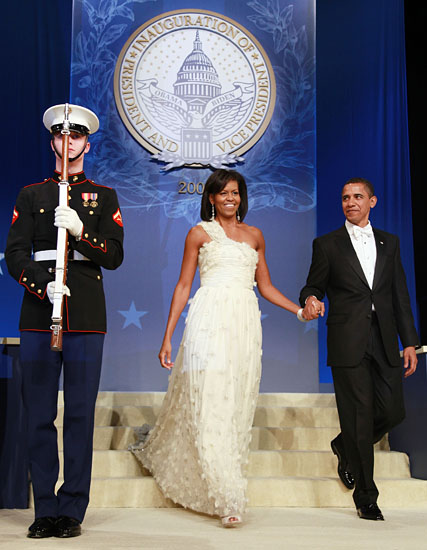 I checked out a couple of videos on Jason Wu's site, which is in no doubt getting swamped right now. I love this designer. He truly understands the female form and shows it off using the greatest ideals of fashion, that Parisian delicacy and simple elegance.
Turns out Michelle got turned onto Wu through Ikram Goldman, the owner of the Chicago boutique Ikram, who ordered the Wu dress she wore for her Barbara Walters interview last November. The Wall Street Journal reports that when Wu was asked whether he would design her inauguration gown, he replied, "Oh, that's a long shot!" Apparently nothing is a long shot with the Obamas.
I know Michelle's inaugural gown is getting mixed reviews, but I don't care. Back off her! The woman walked out on that stage (and nine others tonight!) looking like a Grecian goddess! Wu is no doubt extremely talented, but Michelle carries herself with this mmmph! and it is electric to see how much he, Our Mr. President, loves her. Hot! Hot! Hot!
The great news is that Wu just got picked up by Nordstrom. But what I want to know is, when's the Target line coming out?
Popular in the Community