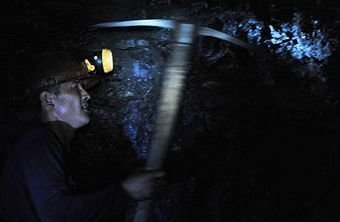 A 42-year-old coal miner in southern Illinois recently asked me a question I couldn't answer: Who took Van Jones' job in the Obama administration as the green jobs administrator?
Anxious to find a job in another field in a depressed town with no industry (but cross-country truck driving opportunities), my coal miner friend recognized that Van Jones understood, as a I wrote a year ago, that strip-mining operations have blindsided any progress for sustainable or diversified economic development and clean energy jobs in coal mining regions from Appalachia to Alaska.
Van Jones, alone in Washington, had included coal miners in his green jobs crusade.
Love mountains and miners? Want to end mountaintop removal strip-mining and get floundering labor, greens and jobs-scared coal-rich state Democrats at the same table?
It's time to campaign for a joint public/private Coalfields Regeneration Fund.
Or, as my coal miner friend in southern Illinois badgered me, if the federal and state governments can provide billions of dollars in subsidies for multinational coal corporations during record years of profits, why can't we establish a specific fund to assist impoverished coalfield communities into clean industries?
This coal miner, like many I have interviewed over the past decade, can't wait to find another job. Just one problem: While the rest of the nation is booming in green jobs development, coalfield communities have been left behind and stuck in the annual ritual of fighting over more Big Coal mines.
When are the visionary venture capitalists -- from the billion-dollar firms of tireless clean energy campaigners like Bobby Kennedy, Jr. and Al Gore and Google, among others -- going to come to the coalfields?
President Obama called for the end of subsidies to the oil industries in his State of the Union last January. Why can't we end subsides to the coal industry and shift those monies into real investment for clean energy manufacturing, reforestation and energy efficiency programs in besieged coalfield regions?
To be clear: As the beloved anti-mountaintop removal godmother Judy Bonds told me many times, it's not the role of besieged coalfield citizens to provide new jobs to coal miners in order to stop mountaintop removal mining. Here's the truth: Mountaintop removal and reckless strip-mining operations that forcibly displace and terrorize American citizens with the blasting fallout, contaminate waterways, and obliterate our nation's natural heritage are criminal and should be abolished immediately.
Sure, protesting mountaintop removing mining in central Appalachia is still important -- lord knows I've covered every direct action over the past several years. And lobbying efforts in Washington, D.C., and the coalfields state capitals for new strip-mining laws remain indispensable -- devastating strip-mining operations are expanding in Alaska, Alabama, Mississippi, Illinois, Montana and in nearly 20 other states, not just central Appalachia.
But mountaintop removal is NOT a new phenomenon, as is often misconstrued, and the truth is that the EPA has gone as far as it can in "regulating" this nearly half-century abomination. Nor do any meaningful legislative efforts to halt mountaintop removal mining have any chance of passing in our current Republican-controlled U.S. House of Representatives. (The first federal bill to end strip-mining was introduced by my Illinois Senator Everett Dirksen in 1940!)
In 1969, after serving 46 years as a coal miner, Elias Bailey stood in the state Capitol in Charleston, West Virginia, to testify before a hearing on the ravages of strip-mining. Stricken by black lung disease, Bailey declared: "I'm just a broke down miner now," whose tiny cattle farm and streams had been destroyed by strippers. Here's a clip of Bailey's lobbying efforts in the 1969 film, Before the Mountain Was Moved:
Bailey's poignant plea in West Virginia in 1969 makes me feel like we're stuck in a time warp -- protesting the same outlaw ways of Big Coal, educating uninformed outsiders and exposing Big Coal-bankrolled politicians.
We need to move on. We need to get one step beyond "beyond coal" and not only set out a roadmap for a just transition to clean energy, but badger our friends, as the coal miner in southern Illinois chided me, in investing in the clean energy jobs in the coalfields.
We need to listen to brilliant coal country analysts like Rory McIlmoil, from Downstream Strategies in West Virginia -- and fund their studies on the true costs of a declining coal industry in every state.
The good news: This process has already started. In a breakthrough effort last month, former coal miners installed 46 solar panels in the heart of West Virginia coalfields, thanks to the determined work of the JOBS Project, which will launch the first wind farm later this month.
If we had a JOBS Project in every coalfield community, we could actually transition from strip-mining in a few years -- and not just protest about it.
Love mountains and miners?
Show me the money. Campaign for a Coalfields Regeneration Fund.
Popular in the Community