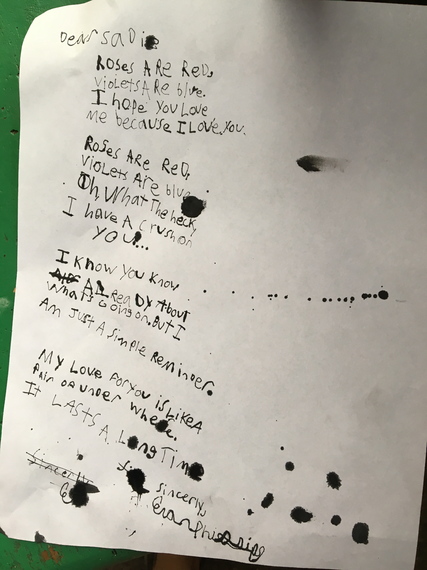 My son has a crush. Last night at the kitchen table he worked diligently on a poem he is writing for his intended. He has added a tune. Libretto and composition. I'm impressed. He is my own little Verdi. His vibrato is a little forced but he'll get there.
Watching him in the throws of this infatuation has me remembering my own first crushes. Those first forays into romance were so consuming. I remember there was not a lot of projecting into the future about actual dating, whether the enamored is an actual boyfriend. It was all about the feelings for the person and finding the nerve to share those feeling with the object of my desire. It was not about sex. It was about love. Well, ok...maybe as I got older it was about sex too. But at those tender early years it was all about possibility. Secret notes passed by intermediary friends. Names doodled with little hearts in notebooks. Pop songs that captured the yearning that my rhyming couplets could only hint at. Desired validation from friends that, yes, indeed, the boy did smile at me.
If only it were so simple now. Now, there is baggage. There is the suitcase we bring from our upbringing. This might be packed with emotional abuse, physical abuse, your run-of-the-mill dysfunction. Then there is the carry-on of past relationships. This is loaded with betrayal, dishonesty or the thing that should be in checked luggage, apathy. Those side pockets are filled to the brim with settled fors. You try to fit in the overhead bins but somehow you find you are holding it in your lap. Add a steamer trunk of divorce and it is any wonder that you want to travel to Dating Land. Attachment is a weighty object.
Yet, even with all this baggage there still is hope. Complicated, qualifying hope. Because you've done the work. Just because it is baggage does not mean you have to carry it. You unpacked some of that baggage. You learned what to keep to prevent repeating the same mistakes. You changed out old habits with some earned wisdom. The hope is that out there, somewhere, anywhere is someone who has done the same. But since we are no longer in school with a steady stream of boys, since there are no more shy, brave boys at dances finding someone to connect with is fraught.
Frogs. I've kissed a few. At first it was fun. But now I just find them slimy.
Those frogs communicate in croaks, unable to express themselves with the full fervor of a spring peeper. Some of those frogs like to control who gets to use the lily pad because he is the best looking frog in the pond. Others have been looking for lady frogs on frog dating websites so long they used to answer ads in the paper. Still others want you to knit them a sweater for hibernation on the first date!
Today, my son has been rehearsing his romantic tune. He scratches it out with quill on doodle pad paper. Such a romantic! He is devising plans to deliver his message to the girl at camp. Perhaps it is a summer fling. At ten these things are so fleeting. Soon his attention will be pulled by Lego robotics or the new Harry Potter book. I know the potential heartbreak he might face and I will be there for him if he is spurned. But for now I hold big hope for his sweet little romance. It is something we can all hope for--simple.