In 2010, I met Maria Arena Bell in New York at a going away party hosted by Suzanne Geiss for Jeffrey Deitch, before he was to head west and take up his new position at MoCA in LA. I had been invited by Geiss' partner Mike Jackson, who helped me put together the New York version of my band that backs my musical art performances. This particular night, I was there with no costume and no character -- just me to serenade Mr. Deitch with an acoustic cover of Gladys Knight's "If I Were Your Woman" with Jackson on acoustic guitar. During a conversation, James Franco told me the head writer and executive producer of "The Young and the Restless" was at the other table. He went on to say that he mentioned to her that I was a huge Y&R fan! A fact revealed in a lecture I gave at Columbia University, which Franco had attended. I was very excited and mustered up the nerve to formally introduce myself and snap a photo with her (see picture below). She told me I was very talented and it was great that an artist likes soaps. Bell is also the co-chair of the board of trustees at MoCA LA where we shot 'Soap at MoCA', a climatic episode for "General Hospital" featuring James Franco's character "Franco" and my daytime soap debut, portraying "Kalup Ishmael," a character based on my work in a storyline that incorporated performance art. She and husband Bill Bell are also patrons and active art collectors in the contemporary art world.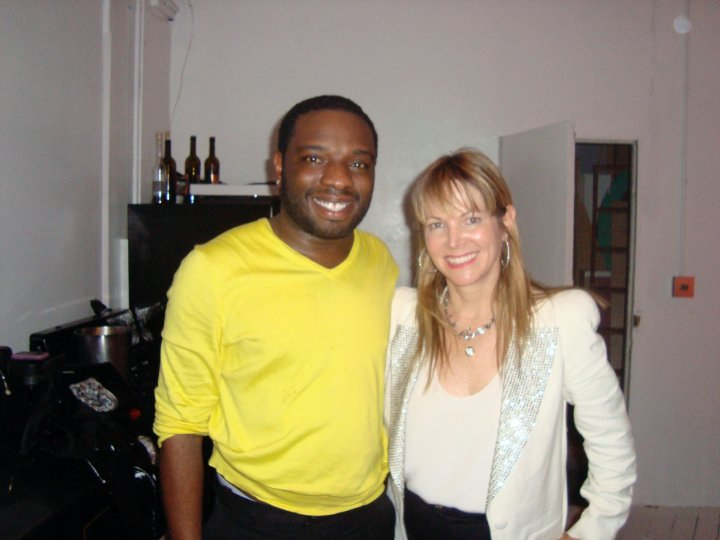 KL: When did you start collecting art?
MAB: My husband and I started collecting in the early 90s but I personally was obsessed with old Hollywood photographs and spent the first money I ever earned as a writer on original Hurrell vintage prints of stars from old Hollywood. That was in the late 80s. I have collected myself and of course Bill and I have collected since then.
KL: What type of art do you collect?
MAB: The main collection is very focused and serious and contains just a few artists. My own personal collection is quirkier and I'm a big fan of LA artist Mark Ryan and painters like Lisa Yuskavage.
KL: What was the first piece you collected?
MAB: My very first piece I collected was a Hurrell of Clark Gable... but the primary collection began really with Warhol.
KL: When did you become a board member of the MoCA? What led to it?
MAB: I became a board member in Sept 2008 but at that point I'd already chaired a major event for the museum, the Murakami gala. My husband Bill was then on the boards of LACMA and MOCA at the same time so I took his seat on the MOCA board... within a year I became co-chair of the board and have continued to chair the major gala fundraisers. I was there for the launch of MOCA New which was an amazing outpouring of support for the future of the museum.
KL: Your galas and events have become the most high-profile happenings in contemporary art, featuring Lady Gaga, Francesco Vezzoli, James Franco, Marina Abramovic, Debbie Harry, Doug Aiken, and more. Are there any projects in the near future we should be looking forward to?
MAB: We are already working on plans for next years' MOCA gala... which is now a tradition in November in LA and hope create another amazing art experience. It's still top secret but it will be incredible.
KL: I think it's really great you and your husband are huge supporters of the arts. I was thrilled to be in the same room with the head writer and executive producer of "The Young and the Restless" a few years back. In terms of an art form, where would you place the soap opera?
MAB: The soap is a unique art form... it is quintessentially American. The telenovelas have a beginning middle and end. Soaps are continuous and involving and of course we don't like to plan for an end. The open-ended quality of the storytelling, where one story rolls into the next, and the intimacy of having characters one gets to know over many years are what makes soaps unique. The challenge for me as a writer is continuing to drive forward with compelling story 52 weeks a year and to always remain most excited about what you're doing in the moment. That's what keeps the fans following and that's what keeps this form completely unique, the immediacy.
KL: With the cancellation of so many soaps recently, because of low ratings, "The Young and the Restless" has survived, being renewed through 2013. Do you think the Nielsen ratings are that accurate? I've always felt that the audience is larger than what the system accounts for. I also don't know if I fully understand how the rating system works. I know they focus on the age groups of 18-34 and 18-49. The other day I was thinking maybe they should adjust it and have the age group 16-65 become the new 18 to 49? Sixteen year olds can be savvy when it comes to television...they shop? Sixty-Five year olds may retire, but most are still active. Are there possibilities for the system to be adjusted?
MAB: There are more people watching than Nielsen would indicate because "The Young and The Restless" is one of the most popular shows on CBS.com so many are choosing to watch on line and we were the most popular show on Soap Net. So yes, people are still watching but on many different platforms and of course DVR has a huge impact in this genre. All of the age groups are devised to see who the consumers are in an ad generated genre, but I agree that we don't value some viewers enough, especially older viewers. I think they should look at those age groups.
KL: There will always be an appetite for the soap opera. Can you give fans of the daytime soap opera any insight of where you think the industry is headed?
MAB: I really believe this form will continue... and the success of primetime shows that are serialized certainly shows that it's a compelling form of entertainment. I have huge hopes for the future of soaps and for the future, in particular of Y & R. A very big audience, an important audience, is still watching... and as long as we can keep them watching, and keep them entertained we will have a place alongside all the other choices in entertainment. We are unique in what we do, which makes soaps special.
Thank you so mush Maria for your many contributions to the soap world and contemporary art.
For you soap fans, below is a clip of some classic scenes from the number one daytime soap, "The Young and the Restless." Posted by a fan! Enjoy!
You can also head over to CBS.com to get the latest updates.
For you art and museum lovers, you can keep track of what's happening at MoCA LA at:
Related
Popular in the Community