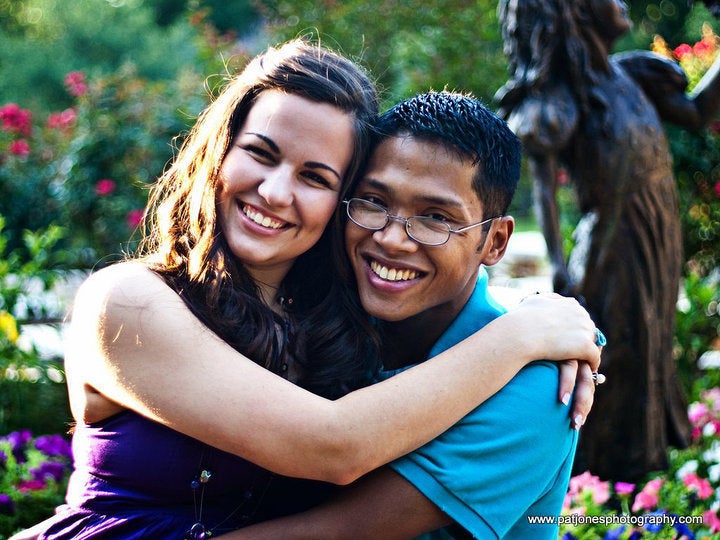 Nazry and Hope Mustakim will celebrate their one-year anniversary on July 31 through a plate of glass.
Nazry, a 31-year-old from Singapore who is called Naz by his family and friends, is being held in a detention center in Texas, awaiting a hearing where a judge will decide if he can stay in the United States. He moved to the country legally when he was a child, but is now in deportation proceedings after being denied a green card for drug-related crimes he committed half a decade ago.
"It's really bleak. It's depressing. I drove up and I had the best attitude about it, but when i saw him through the glass -- I never expected to see my husband there," said Hope, a 25-year-old from Lafayette, La. "It's a little easier to deal with when you know they're there because of choices they made. But for Naz, it's so unfair."
Hope, like other Americans married to immigrants, is now fighting the system to keep her spouse from being deported to a foreign country. There are an estimated 11 million undocumented immigrants in the United States -- some of them married to Americans -- among the 33.5 million foreign-born people living in the country. (There are no estimates of the exact number, but about 4 million American children have at least one undocumented parent, according to Pew Hispanic Center.) For non-citizens who entered the country illegally or, like Nazry, are facing deportation, a marriage to a U.S. citizen is not enough to stay.
Based on a 1996 immigration law, immigrants married to U.S. citizens are often still deportable if they snuck into the U.S. or committed certain crimes, immigration attorney Matthew Kolken said.
"The bottom line is that the law that was enacted in 1996 is extremely harsh, and it takes discretion away from immigration judges in most instances," Kolken told HuffPost. "In many circumstances it's basically a one strike and you're out."
Nazry Mustakim has possessed a green card since 1992. But he may still be deported based on an arrest for felony possession during his late teens, when he became addicted to crystal meth. Nazry has since cleaned up -- he hasn't used drugs for five years, Hope said -- converted to Christianity, and decided to devote his life to helping struggling teens and drug addicts. But his good deeds, and his marriage to Hope, may not be enough.
"This all feels like a nightmare. I am a student in the school of social work at Baylor University and also have 2 part-time jobs, but we may lose our new home soon if he does not get released," Hope said in an email. "My husband is an amazing man and he deserves his second chance at life in the US."
Hope had trouble eating and sleeping when Nazry was detained, and eventually was diagnosed with situational depression. They petitioned for Nazry to stay in the United States under an extreme hardship claim, pointing out the ways his detention had impacted his wife's health, but the petition was denied.
Now they are applying for asylum, hoping it will be granted because of Singapore's harsh punishments for drug users. Although Nazry used drugs while in the United States, Hope worries that because he was a citizen of Singapore at the time he could still be punished there.
Meanwhile, she write letters to members of congress to beg for help.
"We do not know if they will punish him for a crime he committed in the U.S. or not, but we do not want to take that chance," she said.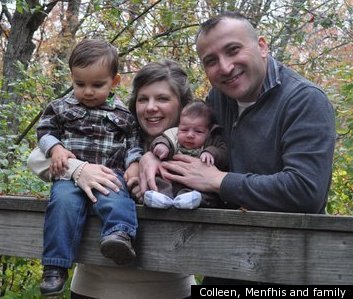 There is little more reprieve for those outside of deportation proceedings. Colleen, who asked her last name be ommitted to protect her husband, has been married for three years to a man who entered the country illegally from Guatemala. Her husband, Menfhis, came to the United States when he was 17 years old, crossing the border illegally with a human smuggler known as a "coyote."
He supported his brothers and sisters through school by working as a cook, and met Colleen in a restaurant a few years ago. Colleen and Menfhis have two children, Menfhis Jr. and Jackson, both under the age of three. They work opposite schedules -- Colleen during the day and Menfhis at night -- to support their family.
Because Menfhis crossed the border illegally, Colleen cannot petition for him to gain legal status unless he returns to Guatemala for a decade. In order for him to gain legal status and stay, lawyers told Menfhis he would likely need to first enter deportation proceedings, then petition for an exception to be made, Colleen said -- a risk the family is unwilling to take.
He drives without a license every day, something that worries Colleen because he could be caught for that crime at any time.
"I'm not really too worried, because I know he's very careful, but you never know," she said. "Someone could hit him and he's still at fault because he doesn't have a license."
She said they want to do something to ensure he will not be deported, but they're not sure what to do.
"We'll pay whatever fines need to be paid," she said. "If he needs to take classes, learn better English -- whatever he needs to do, he would be willing to do it."
Colleen said she hopes President Barack Obama will consider making executive action on immigration reform, since Congress is deadlocked over the issue.
"You hope that something happens but there's so many negative things out there that it seems like it's not going to happen" in Congress, she said. "You have to get so many people to agree and that's the hard part. It's been broken for so long."
For families in which one member has been deported, it begins to seem as if the entire family was cast out of the United States. Jamila, a 26-year-old American citizen, went with her husband when he was deported to Angola in October 2010. (She asked her last name be omitted to prevent backlash on their attempts to return to the United States.) Jamila, her husband and their three young children have been living in London while finishing their degrees after life in Angola became too difficult.
Jamila wrote to former-President George W. Bush, President Barack Obama and a number of senators and members of congress seeking relief from deportation. But because her husband overstayed his visa after coming to the U.S. at the age of 19, he was still deported and barred from reentering the country for 10 years.
Now Jamila is fighting to return to the U.S. with her husband so their youngest child, an eight-month-old who was born premature, can recieve medical help.
"I have not gotten a response but I refuse to give up," she said in an email. "We are struggling to make it. We do not have any family or friends here. We are all on our own… We desperately want to come home."
Popular in the Community