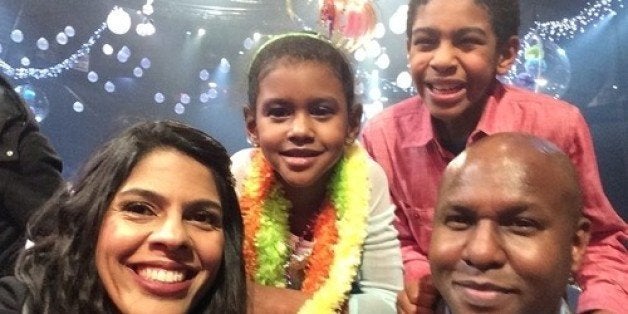 All love stories are unique, but not many involve elephants, top hats and traversing the country by train. But, for Priscilla Iverson, that is exactly how her love story unfolded.
Priscilla grew up in Brazil and became a dancer who wanted to see the world. She had never seen a circus as big or as grand as the Ringling Bros. and Barnum & Bailey's Greatest Show on Earth, but when she saw an article about the circus coming to Rio de Janerio to recruit dancers for its American tour, she jumped at the chance to audition.
Priscilla's talent impressed the recruiters and she began performing with Ringling Bros. in the U.S. as a dance captain within a couple of months, never dreaming that she would meet her husband and start her family within the circus. It began simply enough when Priscilla needed to use someone's phone to get to the circus on time. She asked the Ringmaster, Jonathan, to borrow his phone. He didn't seem to care that she was running late; she thought he was arrogant. That might have been the end, but since they were both traveling with the circus, they ran into each other again and again. There was some backstage flirting, but nothing serious until Jonathan told Priscilla that he wanted to get to know her better. That summer they began dating seriously and fell in love. Dating was easy since they were always in the same city with the circus and had the same schedule.
For four years, Priscilla and Jonathan lived and worked together. Eventually, they started a family and moved to Jonathan's hometown of New York and had another child. Life in New York was good, but when the circus called asking Jonathan to return as Ringmaster, he couldn't say no -- and he took Priscilla and his two children -- Matthew Felipe, then 4, and Lila Simone, then 9 months -- with him. After a year on the road, Priscilla began working for the circus again too as a line captain, eventually becoming the Production Manager for the circus's Legends production.
Now, Priscilla balances work and motherhood in many of the same ways mothers everywhere do, even though her balancing act takes place on a circus train car. She wakes before her children to pack their snacks, helps them with their homework and plans birthday parties to which all 40 of the children who travel with the circus are invited. For her kids, life is also similar to that of other kids with working parents. Now 9 and 6, Matthew and Lila go to school and daycare and play with their friends. But, they also get to interact with kids from all over the world who are also traveling with the circus and see attractions and landmarks in each city in which they stop across the U.S. When they visit their parents at work they also get to see clowns (Matthew's favorite) and horses (Lila's favorite).
Of her romance with Jonathan, Priscilla says that "Love has no barriers, and is not limited by language." And that romance has led to incredible opportunities for her children: "It is amazing having all this kids from different cultures interacting." Being a circus family is a great way to live.