Is 2013 The Year of the Kickstarted Movie? True, movies both short and long have been funded in whole or in part by the Kickstarter website before this year. And the film I'm reviewing here was shot a couple of years ago and made a very successful run of the film festival circuit in 2012.
But this year we've seen Zach Braff pitch his heart out for funding of his film Wish I Was Here (he raised a million bucks over the $2 million he was looking for), and the Veronica Mars project (which took in three million more than the $2 million it was looking for, garnering a record number of people kicking in along the way.) It's clearly a hot place to be with the right project, and it feels like just the tip of the iceberg.
Part of that iceberg was sheared off by filmmaking duo (and couple) Kenny Stevenson and Dorien Davies, along with producer Lisa Rudin and director Eric Kissack. They went to the Kickstarter well once to get their project, Love, Sex & Missed Connections, started and exceeded the 10 grand they were seeking. Then they went back again to grab another $7,000 for post-production and prints.
Truly a labor of love (you try making a feature film for less money than most writer get paid for just writing made-for-TV movie...), the hard question became: Will the movie be any good?
Stevenson not only wrote the screenplay but stars as Neal, the forlorn lead character with whom we meet up with just after finding his best friend and his girlfriend having sex. His life turned upside down, he walks out of work one day and just doesn't come back, leaving even his car behind and spending days in his underwear in his apartment.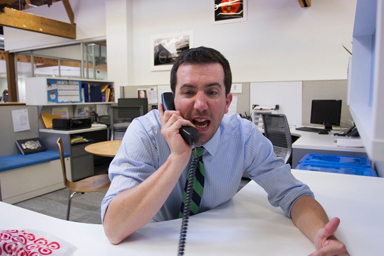 His good buddies Barry (Shane Elliott) and George (Alex Enriquez) have the perfect scheme to get Neal back in the saddle -- by using the Missed Connections section of a popular online ad site. The idea as outlined in the movie is so damned simple that you just know it's being used, probably right this minute: Respond to a woman's ad, claiming to be the guy she saw in passing and set up a meeting. Then just stake out the rendezvous until you figure out who the woman is, then hit on her as she's leaving, thinking she's been stood up.
To his credit, Neal is not terribly comfortable with the idea but his pals want it to work so badly that they've already set the wheels for his first meetup in motion. And it works. Beautifully.
Several times in fact. Until Neal meets Jane (played by real life wife Davies). Jilted herself, she playing the same game but from the different side -- she's writing ads, waiting to see the hopeful guys show up, then gets off on watching them stew in their own desperation for Miss Connection to show.
The comedy of watching the two main characters alternately chasing and running away from one another is offset by some nice poignant moments of genuine emotion that comes from the heartbreak of breakups and the cruel games that often go with them.
And the supporting cast lives up to the label. Of particular note are Elliott and Enriquez, who have some really strong appearances and strike a chord as a duo that play well off each other. Another great comic matchup is found in Stephanie Escajeda and Scott Beehner, who play Neal's sister and brother-in-law. Good laughs also come from loose cannon next-door neighbor Bryce, portrayed by Abraham Smith.
Then there's Allan, the former best friend who occasionally shows up as a figment of Neal's imagination, and always stark naked. When the actor playing him, Avi Rothman, finally shows up in clothes, we instantly know we're seeing the real Allan for the first time.
The rest of the cast turns in fine performances as well, which is one of the benefits of producing a low budget movie in Los Angeles -- there's a lot of talent out there, just waiting to do something. Anything. And they'll act their hearts out if given half a chance. (Something to remember for other filmmakers contemplating going the Kickstarter route.)
Another perk of being within spitting distance of Hollywood is access to all kinds of other movie "stuff." There are some breathtaking aerial shots of the city, which help to keep the movie from feeling too small and insular. I was told that one of the people involved in production happened to be at a post-production facility and was basically just given some extra footage that wasn't going to be used in another project. That stuff's gold and, no matter how well you do on Kickstarter, you can't ever count on stumbling over other lucky breaks.
Freshman director Kissack delivers a funny, well-paced film, and the clever script offers some fresh twists and turns in the romcom genre. There's also a benefit to having it peopled by able actors who aren't readily recognizable: The characters feel more like real people as you're watching, without any of that pesky, "Hey, I'm watching George Clooney!" getting in the way.
In its life as a film festival darling, the picture has won numerous awards, including the American Independent Award at the Cleveland Film Festival, the Audience Award at the New Hanpshire Film Festival, the Special Jury Prize for First Time Director at the Traverse City Film Festival, and many others.
The movie premieres in selected cities and theaters this week, and is available for screening and as a DVD through the movie's official website.
Photo by Paul Mocey-Hanton
Calling all HuffPost superfans!
Sign up for membership to become a founding member and help shape HuffPost's next chapter