" Love, Simon " will make history this weekend as Hollywood's first major studio film to feature a gay teen protagonist. If director Greg Berlanti had his way, however, that wouldn't be the case.
"I wish it wasn't 2018 and that we weren't the first teen rom-com with a gay lead to receive major studio backing," he told HuffPost. "I wish we were the 10 or the 12 – there'd be a lot less pressure in many regards."
Based on Becky Albertalli's 2015 novel, Simon vs. the Homo Sapiens Agenda, the movie follows Simon Spier (played by Nick Robinson), a charming and popular 17-year-old who is struggling to come to terms with his sexuality. He begins corresponding anonymously with another closeted student known as Blue over email, and the budding friendship turns romantic over time. Just as Simon begins to warm up to the idea of pursuing a relationship with Blue beyond a computer screen, a classmate threatens to expose his secret.
In some respects, Berlanti's whole career has been building up to the release of "Love, Simon." His first feature film, 2000's "The Broken Hearts Club," followed a group of gay men on a West Hollywood baseball team. Since then, he's incorporated LGBTQ themes into a number of his television projects, including "Dawson's Creek," "Brothers & Sisters," "Arrow" and "The Flash." Yet "Love, Simon" seems poised to make an even bigger impression.
In a conversation with HuffPost, Berlanti chatted about making "Love, Simon," how marriage and fatherhood have affected his artistic perspective and why portraying queer themes in television and film is still "incredibly rewarding."
One of the things that struck me most about "Love, Simon" is how the story felt true to the John Hughes teen rom-com genre, but, at the same time, it's radical because it's being told through a queer perspective. Was that your intention?
Absolutely. I think that was true of the book, and I think that was true of the script that I read. We had a number of conversations about those iconic movies from the '80s about coming of age, and mostly technically. The subject matter… was the thing that made it feel contemporary, so we were more focused on, "OK, so how as a film, stylistically, can we emulate some of those movies but let the content be the thing that's contemporary?"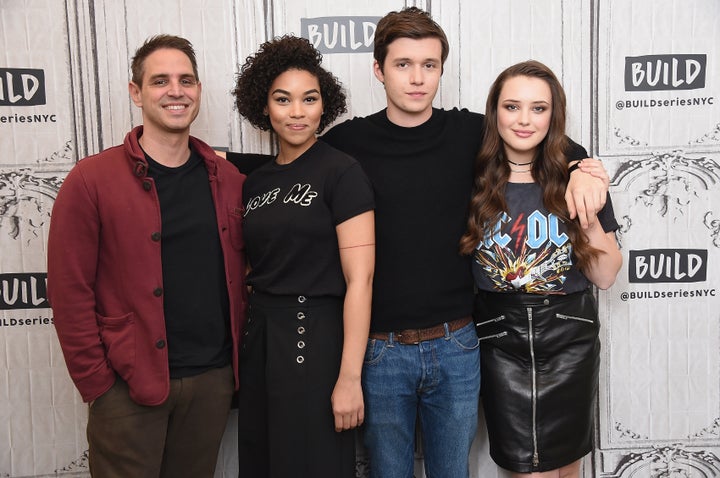 You've mentioned that Nick Robinson was your only choice to play Simon. What was it about him as an actor that made you think he would be the perfect person for the role?
I loved him in "The Kings of Summer," and I felt like he had my heart for that whole film. I thought, "OK, this is sort of that movie." ["Love, Simon"] has some of those qualities on steroids, in terms of the fact that you really have to experience this film through Simon.
At the same time, you have to feel like Simon is playing a role in front of all these individuals and hiding this secret, but you're still engaging with him. Once we sat down and talked about the movie, I could see that Nick was personally connected with the character. Once he did a read for us, it was really obvious not just to me, but to the studio and to all the producers, that he was our Simon, and he had to do the role.
One of the high points, for me, was Simon's determination to own his coming out for himself and his devastation when things don't really work out that way.
I've talked to people in the business who are deciding publicly when they should come out, and my advice has always been the same. I say two things: one is the Harvey Milk quote, "Every gay person must come out." That's part of your obligation as a gay individual to the next generation, to ultimately tell your story. The caveat always is, "But only you know when that timing is."
I think a person knows when they're ready, and that timing should be up to that individual. When I came of age and came out, the internet was not as pervasive and social media wasn't happening yet. So I didn't have to worry about somebody seeing me out on Facebook and then telling my parents. I got to facilitate my own timing.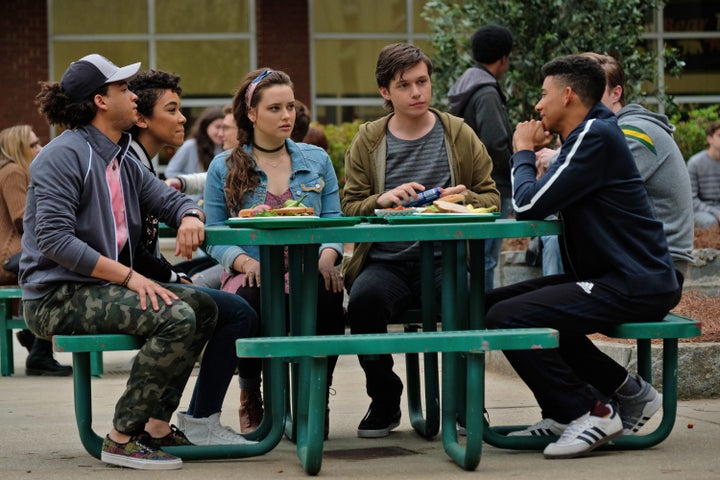 Another high point is the movie's soundtrack, which was curated by Bleachers frontman Jack Antonoff. What discussions did you have with Jack about the type of music that Simon would be listening to and would make the most sense in the film?
John Hughes' movies… always had a soundtrack that lived with you well beyond the movie. So that was on my checklist of things I felt the film needed to have. Before Jack said yes to it, he wanted to watch the movie. He was so moved.
He rewatched the film with me, and he kept pulling out his iPhone, which has some of the best unreleased songs known to mankind. He just started putting the iPhone up next to the picture, and so many moments in the movie just came alive in a whole new way.
When you're bringing a queer-themed storyline to the big screen or TV, is there ever a fear that the story won't resonate with those who don't identify as LGBTQ? How do you address that in the creative process?
I think that's an excellent question. I don't worry about it. One of the good fortunes of coming out of TV is that you do a lot of testing. They do a lot of research in TV, and so when we got to the movie testing on this film, it was a breeze comparatively.
An audience can be from anywhere and they all love to feel something. They all love to laugh and cry. They all love to connect, and the second they connect emotionally with a character, it doesn't matter what the actor looks like or who that character is. If you can create empathy for the character, they can be as wildly different from the audience as possible, and it doesn't make a difference.
When we tested this film, we tested it in a very liberal state, and then we tested it in a very red state. It tested the same, if not a little bit better, in the red state. They applauded [the ending] just as much as they applauded it in the blue state. Storytelling is storytelling.
You're both a newlywed and a new father. Have marriage and parenthood changed your artistic perspective in any way, or changed the types of stories you'd like to depict on film?
Absolutely! I definitely can't write at night anymore because I'm exhausted at the end of the day. [laughs] I think when you have a child, it's impossible to not start seeing the world through their eyes, whether you're teaching them about words or you're starting to teach them about concepts, and you are extra sensitive ― as I think you should be ― to the input that they're getting. It's made me hypersensitive in a lot of new ways that I'm grateful for.
You directed one of the movies that really touched me a lot as a young queer person, 2000′s "The Broken Hearts Club." When you think about your experience directing that film versus "Love, Simon," has bringing LGBTQ stories to the big screen or TV gotten easier with time?
It's easier in TV, for sure. I haven't made enough movies to say if it's easier in film. Everyone involved in this movie, though ― prior to me getting involved ― that decided that they were going to make it was straight, as far as I know. So I think that shows a lot of progress in that regard.
"Most of my opportunities came because I was writing about myself and issues that I went through, and those were issues of being a young gay person. It wouldn't be right if I were to then turn around and not create some of the same opportunities for the next generation of LGBTQ people."
As a queer person yourself, do you feel any obligation to represent the LGBTQ community in any specific way in film?
Just to make sure I'm doing it. I think that it's incredibly rewarding for me, because it's something I understand and am familiar with in my own way. Most of my opportunities came because I was writing about myself and issues that I went through, and those were issues of being a young gay person. It wouldn't be right if I were to then turn around and not create some of the same opportunities for the next generation of LGBTQ people that have a whole new way of experiencing the world.
Are there any aspects of queer life that you're hoping to explore in future projects that you haven't already?
I really want to get some trans superheroes on my shows.
What does the success of "Love, Simon" mean to you?
Every time I hear that ["The Broken Hearts Club"] connected with somebody and informed their life in some way, it's deeply affirming. It reminds me to keep going there as an artist. You want to be the kind of story, whether it's on TV or in film, that connects with a generation and grows up with them, almost like a friend, and they revisit the way that we all go back to things, stories that we love.
This interview has been condensed and edited for clarity.
Popular in the Community