" Love, Simon " has generated a whirlwind of pre-release buzz as Hollywood's first mainstream coming-of-age comedy to center on a gay teen. Regardless of how the movie fares with critics and audiences, it represents a more personal milestone for actor Keiynan Lonsdale.
Lonsdale plays Bram Greenfeld, a high school soccer jock and one of several possible swoonworthy love interests for the film's closeted protagonist, Simon Spier (Nick Robinson). Prior to being cast in the role, the actor had never spoken publicly about his sexuality. At the movie's wrap party in Atlanta last year, he came out as bisexual.
"Timing is a very funny thing. I never imagined, especially as I was going through my own issues, that I would get to play this character in a queer love story," the 26-year-old told HuffPost. The film, which hits theaters Friday, "gave me a kick to reflect and think about how I wanted to deal with my internalized shame," he added.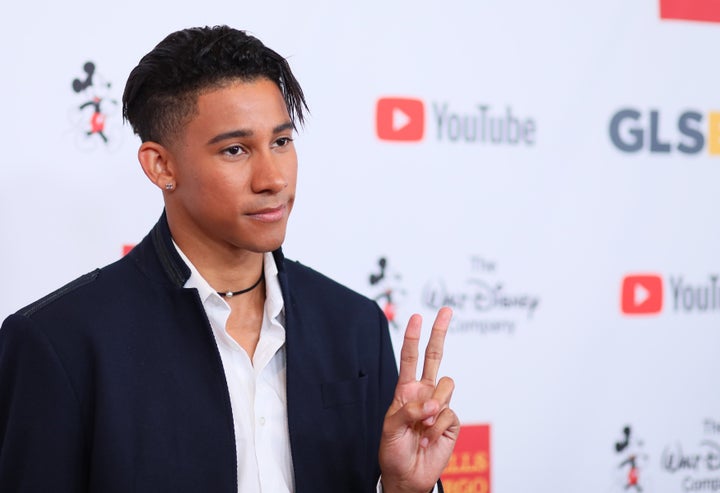 Unlike some of his cast mates, the Aussie-born actor worked with director Greg Berlanti previously on the CW series "The Flash." Lonsdale said witnessing Berlanti interact with his now-husband, Robbie Rogers, and the couple's son, Caleb, on the "Love, Simon" set convinced him that the time was right to live authentically.
"I realized, 'Wow, all the circumstances here are so perfect.' Here's a gay director with his family on set, I'm playing this character in a gay love story, and everyone is so supportive and accepting," he said. "Yet here I am, with so much fear. I'm the only one who's holding me back at this point."
He continued, "The characters in the film were growing more than I was. I was like, 'Damn! These are high school kids, and I'm not completely brave enough yet.'" (It should be noted that both Lonsdale's co-star Joey Pollari and Robinson's real-life brother were inspired by the film to come out publicly.)
Shortly after opening up about his sexuality to his "Love, Simon" cast mates, Lonsdale relayed the news to his fans in a powerful Instagram post in May.
"I like to take risks with how I dress," he wrote in the post, which currently has more than 89,000 likes. "I like girls and I like guys (yes), I like growing, I like learning, I like who I am and I really like who I'm becoming."
Since then, the actor said, he's received "genuine support and love" from young LGBTQ people, some of whom may still be coming to terms with their sexuality. It's something he doesn't take for granted, especially given the rampant biphobia that exists within the queer community.
Lonsdale, who is half-Nigerian, would like audiences to witness Bram's on-screen journey to acceptance in "Love, Simon" with similar enthusiasm. The actor believes seeing a black actor or entertainer "who was open and proud of who he was" would've had a huge impact on him as a closeted teen and aspiring performer.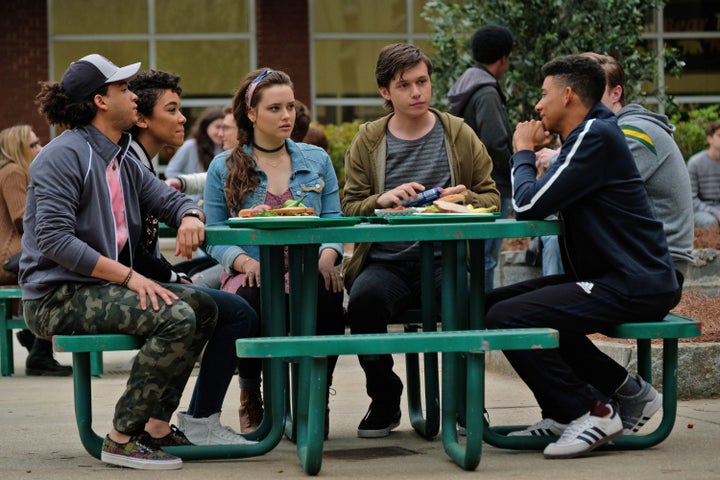 What much of Lonsdale's newfound "Love, Simon" fan base may not realize is that he began his career as a singer and a dancer. He released a hip-hop single, "Good Life," last year, and is currently at work on a full-length album. Meanwhile, he's continuing to build his TV résumé, and will join the CW's "Legends of Tomorrow" as a series regular this year.
Moving forward, Lonsdale said his only mission is to "be honest about my own journey."
"All I can do is be exactly me," he said, "and hope that connects with people that are wanting to be exactly them."
"Love Simon" is in theaters Friday.
Popular in the Community