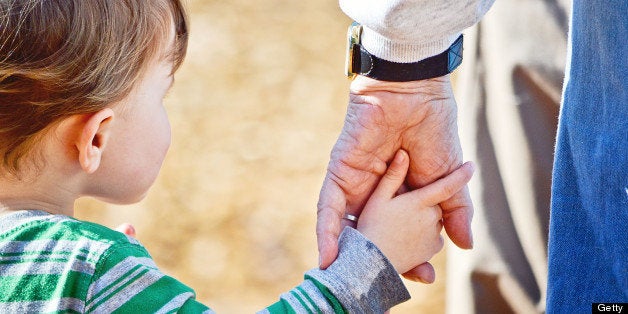 "If the people we love are stolen from us, the way to have them live on is to never stop loving them." -- James O'Barr
My tears are a gift to the son I miss. My sorrow honors his memory. My broken heart gives evidence to the ones walking with me that my love is fierce and timeless.
This love isn't the romantic, gushy, flowers-and-chocolate love celebrated on Valentine's Day-but the deep, abiding, sacrificial love that brands a mother's soul.
The love that began in the first moments of knowing I would welcome a new child into our home. The love that stayed away from certain foods and suffered through colds without medicine because there was LIFE inside of me-my body was no longer mine alone.
The love that poured forth nourishment from breasts and lived the first months at the mercy of his appetite.
The love that did without sleep-because what is a little rest compared to being solace for my crying child?
I would give anything for my children. Even my own life.
But in the end, I didn't have that choice.
Watching the young mother with her infant, the older mama and her child at play in a park, the joy and pride of the even older woman as her son or daughter graduates high school, college or gets married-how could anyone think a mother's grief could be small?
How can all the love and all the hopes and all the dreams of a mama's heart be squeezed into days or weeks or months of tears and sorrow?
If my son had lived, the rest of my life would not have been long enough to pour out the love I have for him.
It is not nearly long enough for me to show my surviving children how very much I cherish them.
So my grief will be large and lifelong-as big and unbounded as my love.
It cannot be anything less.
"Grief is not a disorder, a disease or a sign of weakness. It is an emotional, physical and spiritual necessity, the price you pay for love. The only cure for grief is to grieve." -- Earl Grollman
This post is part of Common Grief, a Healthy Living editorial initiative. Grief is an inevitable part of life, but that doesn't make navigating it any easier. The deep sorrow that accompanies the death of a loved one, the end of a marriage or even moving far away from home, is real. But while grief is universal, we all grieve differently. So we started Common Grief to help learn from each other. Let's talk about living with loss. If you have a story you'd like to share, email us at strongertogether@huffingtonpost.com.