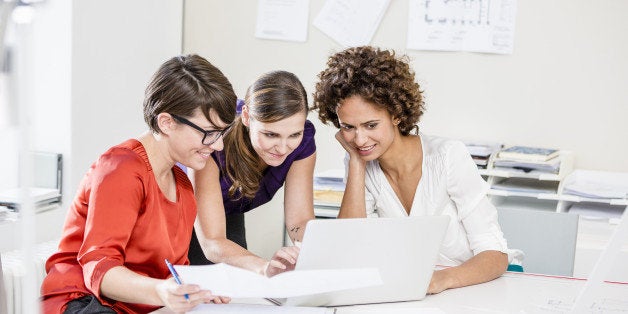 Business today is very different than it was 30 or even 10 years ago. We would never have heard the word "love" in an organization or board meeting. Love was the object of rolling eyes, or a reason to visit HR.
But times are changing, and today our mindset is entirely different, if you are not embracing love, you risk losing your most talented employees.
Connected by the Internet and global business, people are linked in real time. They communicate not only within their own company but around the world. Employees today have more access, more information, more resources.
No longer are they following leaders because somebody said so.
No longer are they working at a place because they feel they have to.
It used to be about getting to a pension; now it's about purpose. It used to be about a powerful boss; now it's about a purposeful leader. It used to be we worked nine to five; now we work wherever and whenever we can.
These days, employees are looking for more purpose, more meaning, more connection. They are looking for business with a human touch and a caring heart.
Too many businesses are still frozen in time in terms of how they create culture and treat their employees. They operate from power, they emphasize money, and they act as if their most talented employees will stick around no matter what.
But the wake-up call is sounding. Research shows that in a culture of love -- where recognition and appreciation are present -- employees perform better.
It's not romantic love but the love of trusting, valuing, and deserving. It's the love through which we see and understand one another. And it speaks to the heart of employees, who in turn become dedicated, loyal, and highly productive workers.
Co-founder and co-CEO John Mackey of Whole Foods, has created a culture that is about "Love and Care." He believes that when people behave in ways that are thoughtful, gentle, considerate, and compassionate then it becomes a thriving business where caring begets caring.
John Hsieh, the president of Zappos, says his business is all about happiness -- happy employees and happy customers.
Think about your business. What kind of culture are you creating? What kind of organization are you building?
All business understands that results are imperative. But how you get those results can be the difference between winning and failure.
A culture of appreciation. Research confirms that individuals who receive regular recognition and praise increase their individual productivity and engagement, and are more likely to stay with an organization. The more appreciation, the more loyalty and productivity.
A culture of trust. Trust provides focus, fuels passion, fosters innovation, and helps you hire and retain the best employees. Make your communication and actions honest and straightforward. Let trust infuse everything and everyone.
A culture of communication. Global studies show that open communication is be a key driver of employee engagement, and companies with high levels of engagement show a return on assets six times higher than companies with low engagement. Engaged employees are 56 percent more likely to create customer loyalty, which in turn increases profits.
A culture of community. Strong relationships allow us to accomplish much more than we would be able to otherwise. Community creates an emotional connection that fosters integrity, compassion, loyalty, and care.
A culture of accountability. When employees can take ownership and responsibility for shared results, there is a spirit that says We own it, we work it, we do it.
For business to prosper, we need love.
For leadership to have influence, we need love.
For corporations to succeed, we need love.
When you make the mistake of operating from the embodiment of power, you have employees who are scared to speak up. Mediocrity will stay, while talent will leave you. Talented employees do not stay where they are not recognized and where they cannot make a difference.
The talented, loyal, hard-working employees who strive for excellence want a culture where they feel love and valued. They want to work for something that is bigger than they are.
So if you want a thriving business, trusted organization, and talented employees you must love them or you will watch them leave.
Lolly Daskal is the president and founder of Lead From Within a coaching and consultant firm that manages large scale corporate coaching and custom made leadership programs. Connect with Lolly Daskal
© 2013 Lolly Daskal. All rights reserved.
Calling all HuffPost superfans!
Sign up for membership to become a founding member and help shape HuffPost's next chapter