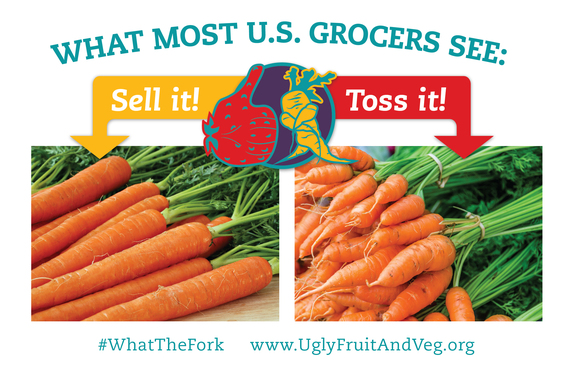 Photo Credit: EndFoodwaste.org
Back in March, I shared the TEDx Manhattan stage with Food & Wine Editor in Chief, Dana Cowin, who proposed How Ugly Unloved Food Can Change the World, and eloquently posited, "If we can take what we once thought was ugly, and see it as beautiful, we can reduce food waste and change the world." Lo and behold, the #LoveUglyFood movement was now officially supported by one of the world's most influential edible publications and quickly gaining momentum.
Then roughly six weeks ago, I was pinged on social media by the one and only Jordan Figueiredo, the California zero-waste professional and food waste activist dude who is in love with the edible underdogs as much as I am (or any underdog for that matter). At his day job he works with the Castro Valley Sanitary District helping business, schools, and the community to recycle, compost, and reduce waste. In his spare time he connects and ignites the movement to end food waste. Jordan also created the successful @UglyFruitAndVeg campaign that has officially gone viral.
For those of us who are truly trying to prompt people to make better food choices across the board - whether it's to end illness or food waste - kindred spirits we are. My first conversation with Jordan centered on how we could pool our passion and people to urge U.S. grocers to take a stand against food waste. If Europe was doing it, why weren't we? Last year, the European Union (which is vastly more progressive than U.S. food governance) declared 2014 as the Year Against Food Waste. With that, France's Intermarché launched Inglorious Fruits and Vegetables to remarkable success. Guess what? Ugly sells because it costs less. And even more importantly, the produce tastes the same (or even better) and has the same nutritional value!
Recently, Raley's Supermarkets, a privately held, family-owned supermarket chain that operates stores under the Raley's, Bel Air Markets, Nob Hill Foods, and Food Source names in northern California and Nevada, launched an Imperfect Produce Campaign. Pressure is on Whole Foods and Walmart!
So why haven't two of the most influential and highly visible "markets" in the United States - Whole Foods Market and Walmart - taken a stand to make a real difference in the food waste arena? Of course, it's the cosmetic standards, but also likely the lack of awareness as to how both are greatly contributing to a major problem. So I urge you to start demanding #uglies. We are gaining incredible support thus far from Food and Wine, Take Part, Refinery 29 and there's more in the pipeline. Also check out this clip from John Oliver on food waste (with an #uglies mention)!
Our Change.Org Petition will hopefully prompt these food influencers to do the right thing but it will go nowhere without your support. So please sign the petition! By doing so, for starters, you will be asking for:
Ugly but perfectly nutritious and delicious produce for a 30-50% discount off of "regular" produce.
Hunger and malnutrition relief for the 1 in 6 people in the U.S. who are food insecure or do not know where their next meal is coming from (Feeding America).
Since I am the consummate cook, uglies take the lead in every dish I create, whether it's salads, soups or stews. While outer beauty may be easy on the eyes, inner beauty captures the heart so please #LoveUglyFood, as it will nourish and help #endfoodwaste. #WhatTheFork Whole Foods and Walmart?!?!
#WhatTheFork are you doing with your produce @WholeFoods and @Walmart. Sell #uglies http://chn.ge/1Go9oyV
Related
Popular in the Community