There's a great Instagram quote that says, "Try loving yourself as much as you want someone else to love you."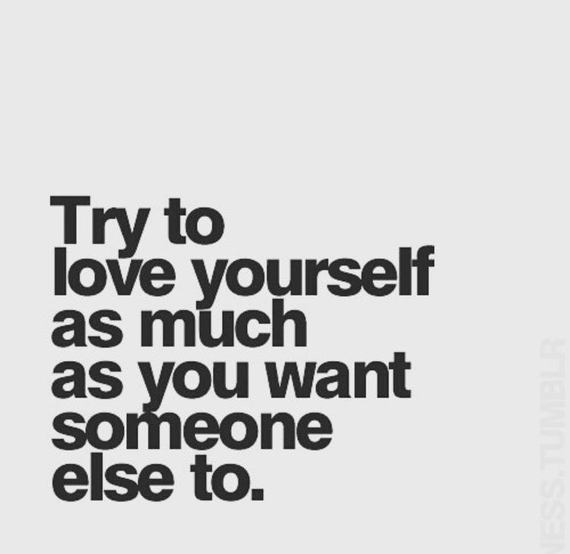 It's funny. We have this romantic vision of how we want our lovers and significant others to treat us. We want them to not only tell us that we are beautiful, we want them to believe it. We want to be adored. We want them to stare at us hypnotized by our beauty. We want them to take us out to fancy places and buy us flowers and jewelry. But we don't do half of that stuff for ourselves. If we did just a fraction of the things we expected a lover to do for ourselves, we'd feel so much better, happier and more beautiful.
I made the mistake of turning a friend onto a quick iPhone Photoshopping app. We live in a superficial world and sometimes you need to remove that sweat stain under your arm or maybe smooth out that pimple on your face. But people are taking these tools to the next level.

I've gotten a call on more than one occasion at 2:00 a.m. in the morning, from a frantic friend in utter distress, begging me to take a picture down from Instagram so they can "fix" it. And I'm talking face, waist and arm slimming -- virtually turning themselves into a whole other person.
But what if we decided we we are beautiful just the way we are? Exactly how we are. What if we decided we are picture perfect? Here are seven ways to love your body exactly how it is right now.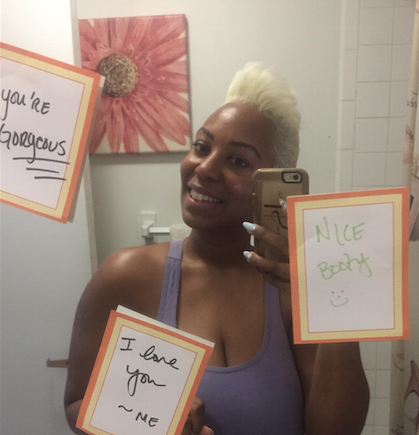 Write your body a love letter
I'm 30, so that means my body has gotten me through 30 years of both amazing and rough stuff. I love my body for that. It houses my mind and my spirit. It protects me. When I fall down both, literally and figuratively my body gets back up and moves on. Our bodies are awesome. That's why I've recently started the practice of writing my body love letters. They can be short or long. Sometimes they are long journal entries and some times it's just a post it note on my bathroom mirror that says "Hot Damn you're gorgeous" or your "booty is banging." Either way it does the trick.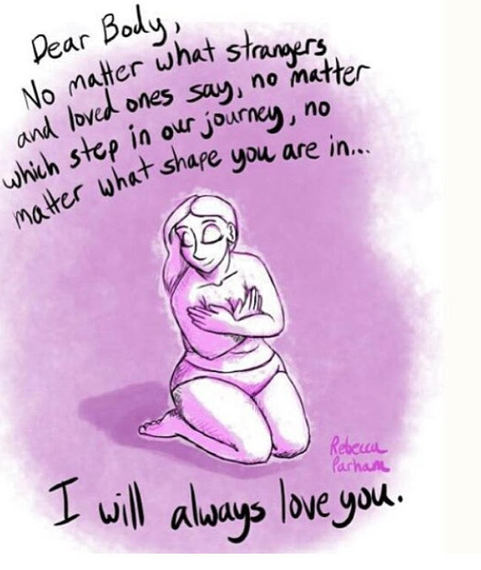 Dance
No matter if you're in pain or if you just feel like you've gained a ton of weight, turn on your favorite song and dance. I'm still rocking out to Bruno Mars' "Uptown Funk you Up." It's my happy song. No matter how down I am, it makes me instantly want to get up and move. And moving is key!
Dancing and moving is a celebration of your body and it will instantly change your mood. It helps you let go of tension and negativity. It's almost impossible to be mad or sad when you turn on Uptown Funk You up.
Be as silly as you want while dancing too. Look at yourself in the mirror. Jump up and down. Make circular motions with your booty. Throw your hands in the air and wave them like you don't care!!
Write A Gratitude list
There are a million and one things to thank your body for. Welp, today's a great day to list them. Think of all the people who woke up and couldn't move their limbs, all the people who couldn't walk from their bed to the kitchen this morning. But for most of us our bodies didn't fail us this morning and they deserve a metal for that or at least a gratitude list.
Not to mention all the emotional stress we put our bodies through or the heavy purses and bags we make them carry. Think about it on a deep level and then start writing.
Thank you body for getting up today.
Thank you legs for getting me to work today.
Tell your body you love her
Each of us has a least favorite part of our bodies. Right now mine is my lower stomach or what I like to call my gut! She's a little chubbier than usual right now. But you know what I love my gut anyway. In fact it's kind of cute. It is what it is! I'll change this part of my body when I'm ready but right now, it's a part of me and that's all good.
It's okay to take an "it is what it is" approach to the parts of your body that you're not so happy with. Send that part of your body lots of love. Tell that part of your body you love her because she is you and you're pretty awesome. And make peace with the fact that you will change it when you're ready.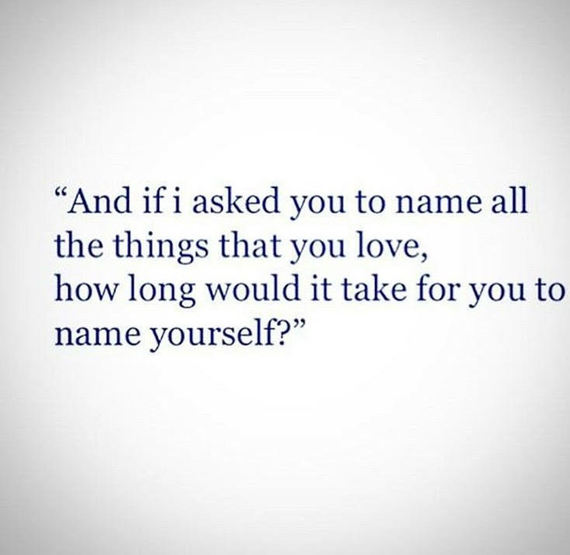 Celebrate the best of you
I've noticed that men do this. Yes we can all take a lesson from men. More than a few times I've been on a date feeling fat and uncomfortable sitting across from some guy. And although I'm not feeling that great about my body, I spy the guy stealing glances of my booty or staring deeply into my eyes or commenting on how beautiful I am.
That's because when I guy likes you, he focuses on all the amazing and beautiful things about you and the less flattering things become temporarily invisible.
There are parts of you that you love. Parts of you that you know for sure could make "People's Most Beautiful People List." Don't be afraid to take the attention off the things you're not so fond of and celebrate the parts of you that are amazing. Maybe it's your hair: well have a full fledged Herbal Essence commercial at your bathroom sink. Maybe it's your smile: well put on some lipstick and have yourself a selfie party! Luxuriate in your beauty then start your day and see how you feel.
Put on Your Freakem dress
Every woman's got one. In the words of Beyoncé "Put your freakem dress on." Maybe it hugs your booty just right. Or maybe it slims your tummy. Whatever it does, whip out that dress that makes you feel beautiful. Put it on and go do something you love Whether you take yourself on a date, have a party in your mirror at home or produce your own photoshoot with a photo timer app -- just do something that makes you feel gorgeous.
Give yourself a hug.
We MUST have compassion for ourselves. Deep inside of all us there is a little child who just wants to be loved and accepted. When you're having a tough day and saying all of those negative things to yourself, think about the child version of you. Would you let someone say "you're so fat" to a little child? You probably wouldn't even let someone say that to your friend. So why do we say these things to ourselves? Give yourself hug. Tell yourself you're doing the best you can and have some freaking compassion for yourself.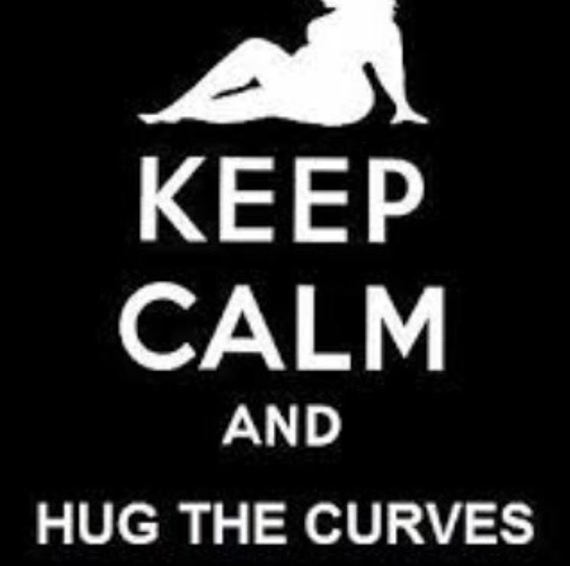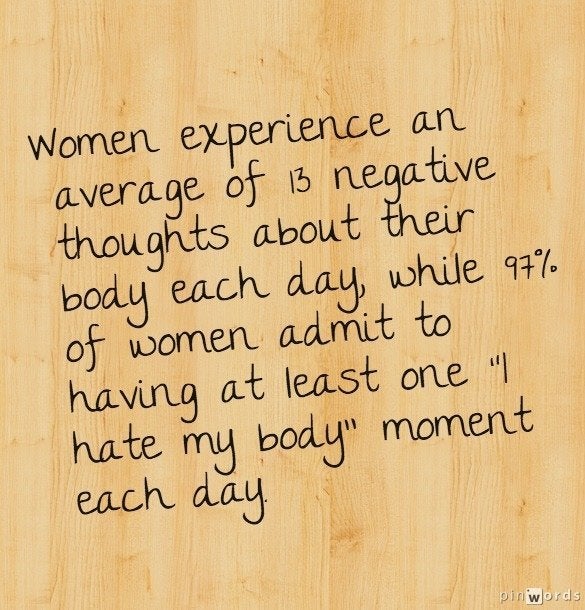 Facts About Women And Body Image
Popular in the Community