Each week at The Pollination Project, we shine light on seven grantees whose environmentally friendly projects are bringing justice to the vast planet that we call home. On the African continent, crop diversification address food security while on the opposite hemisphere community gardens provide accessibility and education to underserved communities. Amongst a world of injustice, these projects are reconnecting us to our roots.
Congratulations to our seven recent seed grant recipients!
Newton Mhango, Cassava Production, Karonga, Malawi. Cassava is planted amongst other local crops to address food security, deforestation and economic opportunities.
Micheal Ssemwogerere and Teddy Kyazze Nalubowa, Making Ethanol Fuel and Cookers in Communities, Gayaza, Uganda. Clean burning, renewable fuel from local women's groups is introduced to families to address public health concerns over toxic fumes.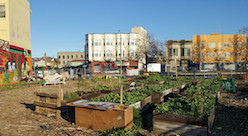 Troy Horton and Sasha Shankar, AfricaTown Youth Permaculture Food Forest, Oakland, California, USA. Youth are trained in entrepreneurship and permaculture with the hope of community engagement and enhancing the environmental state.
Steve Khan and Karma Burkhar, PSAC Pride Turns 5 Speaker Series, Toronto, Canada. Participants spark conversations on reducing stigma against LGBTQ+ people through celebrating their experiences.
Michelle R. Churches, Caritas Project, Ecorse, Michigan, USA. A children's garden helps beautify and unite a community to enrich minds on the environment and its ecology.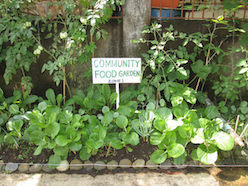 Noel Regachuelo and Joy Bagasala, Food Not Gutters, Naga City, Philippines. Unused sidewalk gutters are transformed into urban vegetable gardens where community members can access organic vegetables and herbs.
Do you have a project with a vision to help make the world a more inclusive and compassionate place for all beings? We accept grant applications for Pollination Project seed grants, every day of the year. We love learning about changemakers across all continents and hemispheres and all they are doing to spread peace, sustainability, generosity and justice.
REAL LIFE. REAL NEWS. REAL VOICES.
Help us tell more of the stories that matter from voices that too often remain unheard.