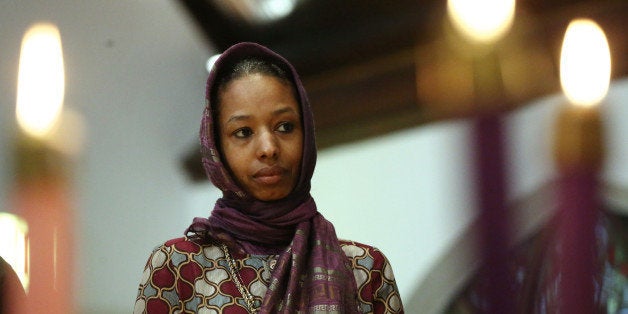 An act of interfaith outreach and human solidarity took place in the Chicago suburbs, by one Dr. Larycia Hawkins, a Professor at Wheaton College, a Evangelical Christian institution. This act of solidarity is now quite possibly costing Dr. Hawkins her job. At a time when Islamophobia is reaching an all-time high, resulting in hysteria and hate crimes, Dr. Hawkins donned a hijab in solidarity with the Muslim community. She also posted a statement on social media to this effect. It is part of her statement that resulted in her being put on administrative leave followed by a move to terminate her employment with Wheaton College.
The part of her statement the college seems to have a problem with is the following:

"I stand in religious solidarity with Muslims because they, like me, a Christian, are people of the book. And as Pope Francis stated last week, we worship the same God." ~Dr. Larycia Hawkins
I'm not going to tell an Evangelical Christian college what their Christian beliefs are, but I can say that this is the first time in my life that I have heard of a Christian stance so extreme - to resist this concept that we worship the same God. I grew up with a Catholic mother and Muslim father. My upbringing was based on respect for the two religions inside our household. Muslim men can marry Muslim women - or - women of the book. Muslim men can marry Christian or Jewish women because they believe in the same, One God. The God of Abraham (peace be upon him.) Jews, Christians and Muslims are cousins under Abraham. We are monotheists that worship the same God.
There are differences of course. Muslims see Jesus (peace be upon him) as a Prophet. Christians see Jesus as Lord, or part of a trinity representing the father, the son and the holy spirit. Jews do not recognize Jesus as a divine messenger, but recognize Christianity as similarly monotheist in nature.
The Christianity of my Christian family members and numerous Christian friends is one of tolerance and love for community and neighbor. In fact, I always describe my Christian friends and neighbors as people of "love." Christianity exudes love and dedication to community.
That is why this crazy event at Wheaton College is baffling to me.
"The biblical foundation of Christian community is expressed in Jesus' two great commandments: "Love the Lord your God with all your heart and with all your soul and with all your mind," and, "Love your neighbor as yourself" (Matt. 22:37-40). Jesus himself perfectly demonstrated the pattern: love for God, acted out in love for others, in obedience to God's Word. Acknowledging our dependence on the power and grace of God, the members of the Wheaton College campus community humbly covenant to live according to this ideal."
Dr. Larycia Hawkins is loving her Muslim neighbors as herself at a time when I will admit - we can use some neighborly love. And Dr. Hawkins could be losing her job for it. Is it really necessary for Wheaton College to nitpick the nuances of the differences between Christianity and Islam? In my interfaith home, we focused on our similarities. If my Christian mother focused on our differences instead, would she have terminated me? Would she have aborted me? In Islam, "heaven lies beneath your mother's feet." If I were to disrespect my mother for our religious differences, would that be very Muslim of me?
I'm so incredibly proud of my Chicago community! Someone once said Chicago is spearheading the Renaissance of Islam - and that couldn't make me more proud. A Press Conference took place in downtown Chicago on January 6, 2015 at Chicago Temple attended by Christian, Muslim and Jewish faith leaders and community members surrounding Dr. Hawkins. In attendance were Reverend Jesse Jackson, CAIR Executive Director, Ahmed Rehab and Wheaton College staff and friends coming out in full force to show their support. Ahmed Rehab's speech was truly inspiring, like when he stated that Dr. Hawkins message "is one that is important because it goes against the currents and the waves of our time to say, 'I will stand even if alone!' but she is not going to be alone!"
with permission from CAIR-Chicago
Dr. Hawkins, I stand by you. #IAMDRHAWKINS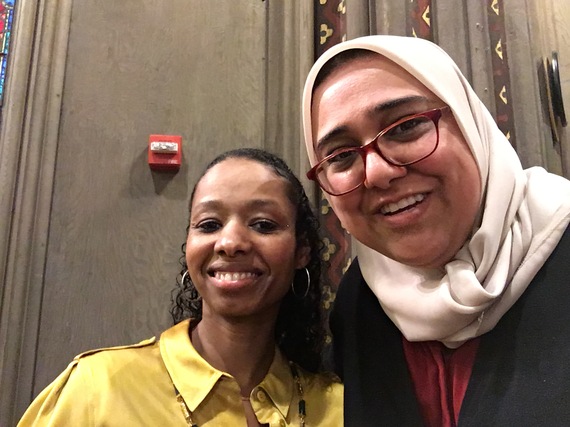 with permission from Community Activist, Eman Hassaballa Aly here supporting Dr. Larycia Hawkins #EmanSelfieTour
MyJihad, Inc. Board Member and Program Manager, Angie Emara, was in attendance and had this to say,
"It was truly amazing to witness a Christian woman standing up for the Muslim community, clearly stating that she will always stand for the oppressed because that is what Jesus did. That Christians and Muslims are even more alike than we knew."
Clearly, Dr. Hawkins chooses to focus on our similarities. Wheaton College chooses to focus on our differences. It is our differences that will always divide us. Hyper-focusing on our differences is what fuels extremism.
Dr.Hawkins, I thank you from the bottom of my heart for your heartfelt and moving show of solidarity and interfaith outreach that you have shown not only to the Muslim community, but to the human community. It is the essence of your actions that is a true reflection of the Prophet Abraham (peace be upon him) and all of the messengers that came after him. It is the essence of your actions that exudes God's commandments that are in Christianity, Judaism and Islam - to show kindness and love to your neighbor. You have made an incredible sacrifice. Please know it does not go unnoticed. Please know that we in the Muslim community will always have your back. And I pray that God, the one that all of the religions of Abraham worship, will reward you for your efforts in this life and in the next.
REAL LIFE. REAL NEWS. REAL VOICES.
Help us tell more of the stories that matter from voices that too often remain unheard.