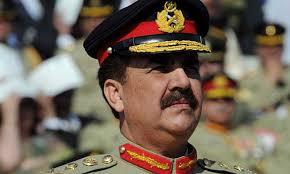 Photo Source: Dawn, Pakistan
Pakistan's powerful army chief, General Raheel Sharif, has stunned his supporters and critics with Monday's unanticipated announcement that he would not seek an extension for his job when the duration of his service expires in November. "I don't believe in extension," he said on Twitter through a military spokesman. In a functioning democracy, this announcement would be deemed very strange because the army chief is not supposed to publicly speak about his job. It is generally the president or the prime minister who, with the consultation of the parliament, decides whether or not the commander should be offered an extension.
In Pakistan's case, General Sharif has spoken with a sense of entitlement indicating that if he wants to continue his job, he can easily do so but he will not emulate several of his predecessors. Former dictator, General Musharraf, has already suggested that General Sharif should be granted an extension in order to successfully complete the military operation against the Pakistani Taliban. If General Sharif means what he has stated in his statement, this would have long-term positive implications on Pakistan's democracy. He would deservedly be credited for helping in creating a Pakistan where the supremacy of institutions is given preference over ambitious individuals.
General Sharif's announcement has gained significant attention because rumors about the extension of his term were abundantly circulating in the local media. I would classify the Pakistanis who wanted an extension for Sharif in three categories.
Reward Sharif General Sharif is indeed very popular in Pakistan. His decision to unleash a military operation against the Pakistani Taliban is probably the main reason for his popularity among the masses. The tipping point for the Pakistani army came on December 16, 2014 when the Tehrik-i-Taliban Pakistan (TTP) killed 148 people, mostly school children, in an unprecedented attack on Peshawar's Army Public School. The mass killing of children galvanized public support for a decisive action against the Taliban. It has not been a flawless operation but it did inflict serious damages on the Taliban infrastructure. Whatever shortcomings the army experienced during this time were immediately compensated with a sophisticated media campaign. General Sharif has had master publicists and media strategists who have helped popularize his brand. His has been a brand of a general who had said good-bye to the Pakistani army's old policy of supporting the Jihadis. Thus, the Pakistanis who are convinced that General Sharif has actually defeated the Taliban believe he should be rewarded with an extension so that the country benefits from his leadership and the successes achieved under his leadership are preserved and furthered.
Attacks such as the one recently carried out by the Taliban on the Bacha Khan University in northwestern Pakistan that killed more than twenty people keep this category of the Pakistanis sleepless. These people are appreciative of General Sharif's leadership and acknowledge the gains made in the war against the Taliban but they are also skeptical of the claims that the army has fully won the war against the Taliban. So much credit is given to one man (i.e. General Sharif) for planning and executing the operation against the Taliban that these people believe General Sharif's retirement at a time when the battle against the Taliban is not over will keep one door open for the Taliban to regain power and carry out attacks on ordinary citizens.
People in this category respect Sharif solely because they fear him. These are mainly the politicians, both from the government and the opposition. They want him to retire as soon as possible or at least suffice with an extension. They certainly do not want him to overthrow the democratic government and stage a coup, as seen at least on three occasions in Pakistan's history. General Sharif's recent movements, ranging from his trip to the United States soon after Prime Minister Nawaz Sharif's meeting with President Obama in October 2015 to his latest visits to Saudi Arabia and Iran have all alerted Pakistan's democratic forces. In their views, General Sharif has established a parallel government against that of Prime Minister Nawaz Sharif. Given his tremendous popularity among the people and the unfinished war against the Taliban, General Sharif is unlikely to face public resistance should he decide to overthrow the elected government. In spite of the circumstances that profoundly favor him, General Sharif's decision to retire without finding a pretext to extend his term or troubling the feeble democratic government, is laudable. This is good for Pakistan's democratic institutions and his own legacy.
What is General Sharif going to do with so much popularity after he retires? There are speculations that he might join politics after retirement. That's not a smart choice. If the General's advisers are thinking that he has a bright future in politics, they are grossly mistaken. Generals and judges are powerful as long as they are in office. When they retire and jump in politics, they do not become overnight revolutionaries. General Sharif should take a leaf out of General Musharraf's book who founded his own party soon after retirement hoping that he would become a political game changer but his one-man party could not even get him elected in the parliament. Musharraf was followed by the former Chief Justice Iftikhar Muhammad Chaudhry, also once a popular public figure. Chaudhry has launched his own party but nobody even knows what his party is called because he does not have enough followers.
The Pakistani voters are not known for electing generals when they are not in the uniform or carrying a gun. They get public support when staging a coup mostly because voters are fed up with corrupt and selfish politicians and they fear the incoming man in the uniform. Every time a general was 'elected' through an election or a referendum, it was entirely based on fear and intimidation. Can General Sharif change that trend? He still has a few months to think about it.
Calling all HuffPost superfans!
Sign up for membership to become a founding member and help shape HuffPost's next chapter