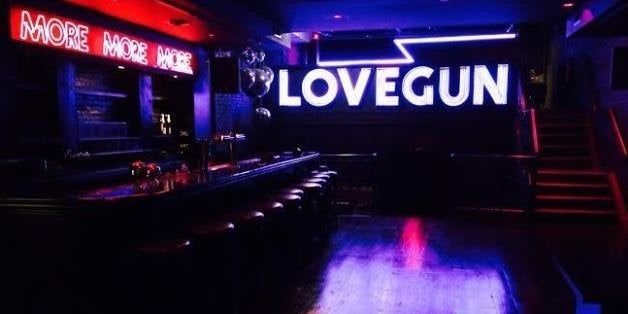 Move over Metropolitan and This N' That -- a new gay bar is about to hit the Williamsburg neighborhood of Brooklyn, New York.
From the owners of Eastern Bloc, Bedlam and Atlas Social Club comes LOVEGUN, a brand new gay bar slated to open on Grand Street next week, September 12. With two main floors, a sunken lounge area and two full service bars, LOVEGUN is clearly set to carve its place out in the Brooklyn queer scene.
LOVEGUN will open with a bang, with NYC promoter Frankie Sharp kicking off his new party "GIRLS" on the first night of business. In an effort to better understand the decision to open LOVEGUN now and what the owners want this space to be, The Huffington Post chatted with Benjamin Maisani, who co-owns the bar along with Pablo Raimondi, Darren Dryden and Chris Canon and who is also Anderson Cooper's boyfriend, last week about the opening.
The Huffington Post: Why Williamsburg? Why now? I've been wanting to open a bar in Williamsburg for a long time now, as I always liked the energy of that neighborhood. A large part of the clientele at my two East side bars in Manhattan (Eastern Bloc and Bedlam) comes from Williamsburg, and over the years people have been asking when my partners and I would be opening a bar in Brooklyn. Also, there's actually not that many neighborhoods in the city where one can open a gay bar and hope to be successful, since gay men tend to congregate in spots that have a cluster of established gay bars (the better to go bar-hopping). I already own two bars in the East Village/LES, and one (Atlas Social Club) in Hell's Kitchen, so it just it made sense to me to do one in Williamsburg. It was just a matter of finding the right space in the right spot.
How will LOVEGUN be different from the other gay bars already in Williamsburg? My partners and I feel that our community is a bit underserved in Williamsburg given how many gay men live and go out in that part of Brooklyn, so we believe that LOVEGUN will fill out a void. It will be different from the other gay bars already there in the sense that the venue is quite large (it used to be a fish market and has surprisingly high ceilings). This allows us to be a big party space on the weekends that can be made smaller on weekdays by closing off the mezzanine area and turning the whole place into something more intimate. We also intend to focus on an exciting programming with rotating DJs on the weekends to make LOVEGUN stand out.
Is there an ideal type of customer you're trying to reach? Is this a bar for the neighborhood or do you want it to be a destination bar? I don't really have an ideal customer; I'm just hoping that everyone who comes out to Williamsburg will check it out and have fun there. I think LOVEGUN will be a combination of a neighborhood bar on weekdays and a destination spot on the weekends.
The Internet has changed the way that gay men meet and interact. Some have even gone so far as to say it's killed the gay bar. How do you feel about it? I think the first phase of the Internet revolution in the mid-to-late 1990s definitely had quite a negative impact on gay bars, as back then guys had to stay home in order to hook up online and in the process deserted gay bars, which up until that point had traditionally been the main outlet for a lot of gay men to meet new people. Nowadays, with smartphone apps allowing gay guys to hook up online while being mobile, I think things are different. Boys are able to go out for a drink while keeping an eye on their Grindr profile -- hurray for technological progress!
LOVEGUN will open at 617 Grand Street on Friday, September 12.
Popular in the Community