No matter what time of year, there are two shrines on every Japanese romantics' to-do list. If you're looking for a little divine help to find that special someone, they should be on yours, too!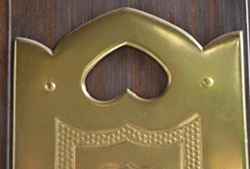 Heart hardware at Daijingu
Big Love -- Tokyo Dai Jingu
Look carefully at the ornamentation around this classic Shinto shrine and you'll notice something surprising -- hearts! The motif is cut into brass on the shrine gates, roof beams, and balustrades.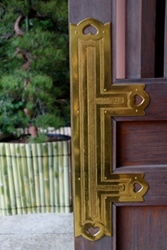 The word dai means "big" and Dai Jingu has a huge reputation for bringing lovers together. A visit to pray and buy a charm is an absolute must for young Japanese women hoping to find a suitable partner or hold onto the one they have.
Dai Jingu is affiliated with one of Japan's most ancient and holy places, the Ise Grand Shrine. That makes Dai Jingu powerful in just about any category of wish fulfillment. During the New Year holidays, the line to pray can be a three hour wait.
Luckily it's not normally that crowded. Though the compact grounds are always full of well-dressed young women -- most choose their outfit especially for this important visit -- with a sprinkling of equally nicely turned-out men.
The charms the shrine is famous for are all about love. One of the most popular is a small locket that swings opens to hold a photo of your special someone.
Even Sanrio's Hello Kitty gets in on the romance with pair charms for dating couples.
Omikuji -- fortune telling papers -- are a must to see if those romantic dreams will get off to a smooth start. They even have them in English for visitors.
Besides charms and fortune telling, many Japanese purchase an enmusubi votive tablet, or ema. The love knot (enmusubi means 'tied together') is common for love charms. Hopeful romantics write their wishes on the back and hang it in the shrine grounds for the Gods.
To give you an idea of how pervasive Dai Jingu's reputation is, Narita International Airport did a tie-up with the shrine for Valentine's Day this year called "Nari-Koi". Koi is a play on words in Japanese for both 'romantic love' and 'come here'!
Anyone can write their wishes for love on heart-shaped votive papers and hang them on the special Dai Jingu shrine display in the international departure terminal. On Valentine's Day, all the wishes will be taken to Dai Jingu and burned in the sacred fire to send those hopes and prayers heavenward!
This crowded, happy little Shinto shrine a short walk from the busy center of Asakusa is crazy for cats: cat gods, cat statues, thousands of gaily-painted cat prayer tablets (ema). But don't be fooled. This place is not run by holy cat ladies. Like many things in Japan, appearances are deceiving.
Imado Jinja is one of the most famous love shrines in the entire country. The large statue of two cats joined together in their beckoning pose at the main altar has become an iconic symbol of constancy in love. Every day, loads of visitors crowd here to pray for lasting love and line up for one of the double-cat charms in hopes of taking some of that love luck home.
The real power behind the paws are the enshrined Shinto deities, Izanagi and Izanami. Husband and wife, they are two of the most revered gods in the Shinto pantheon. The shrine chose the cats in a brilliant PR move long ago to symbolize the heavenly couple. In fact, Imado claims to be the origin of Japan's lucky beckoning cat, maneki neko.
FYI, right paw up beckons luck for a person; left paw brings in business luck for work. Both paws? I want it all!
Access: Imado Jinja, Asakusa Station. Take Exit 7 from the subway. On the street, walk to the left along Edo Dori (boulevard) with the river on your right. Walk for about ten minutes, you'll see a large baseball field and sports center.At the traffic light in front of the sports center, take the left fork and walk straight ahead until you see the large concrete torii gate. If you take a taxi from the station, tell them, "Imado Jinja onegai shimasu!"
Access: Dai Jingu, Iidabashi Metro Station. Take Exit A4. Walk along the right-hand side of the street. You'll pass a Sunkus convenience store and several coffee shops. Turn right at the little street with a Chinese noodle shop on one side and Resona Bank on the other. (Directions in Tokyo are always like this, sigh.) Go straight ahead, up the short flight of stairs and then right, you're at the shrine. Or just take a taxi from the station and say, "Iidabashi Dai Jingu onegai shimasu!"