Your smartphone can do everything. It can connect you with your friends, tell you how to get somewhere, entertain you and ... really entertain you.
Sex toy manufacturer Lovense has a new remote control vibrator called Blush, which connects to your phone and your partner's phone to create some high-tech sexual experiences. Blush launched an Indiegogo campaign this week to raise $10,000 for its phone and Apple Watch-connected vibrator.
Here's a little video demonstration:
There are plenty of ways to use Blush. A woman can control the vibrator with her own phone or Apple Watch, with the app acting as a remote control.
Blush claims to be the first sex toy controlled via Apple Watch.
Apple's wearable device also has a built-in feature that could be considered sexual: You can share your heartbeat from one Apple Watch to another. Thankfully, though, only one partner needs to own an Apple Watch for you to control your Blush with it. Here's what that looks like:
If you connect the vibrator with your partner's phone (iOS or Android) via Bluetooth, you have some options as far as distance goes. If you and your partner are both standing across from one another, you can be up to 30 feet apart. If there's something obstructing your direct line of sight, you have up to 10 feet.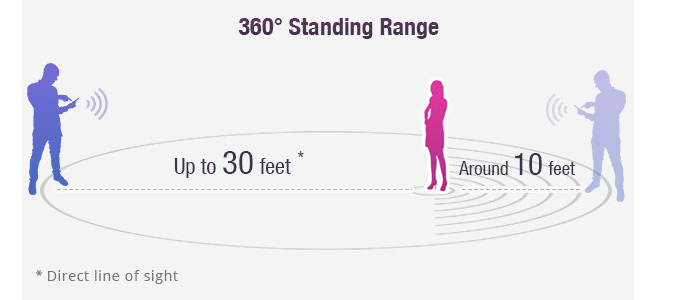 If the person wearing the vibrator is sitting, you have a range of 5 to 10 feet. If both phones are connected to the Internet (either through data or WiFi) the vibrator can be any distance from your partner's phone. Perfect for long-distance couples.
Other features include the ability to sync the vibrator to music or ambient noise and lets users choose from a bunch of different vibration patterns or even create their own. You can also message with your partner, and give and receive control of the device via the app.
Blush certainly isn't the first sex toy that someone other than the wearer can control. OhMiBod is a vibrator that connects to your phone, and the We-Vibe 4 Plus comes with its own remote control and syncs with an app.
"What makes our toy stand out is the connectivity range," Lovense's marketing manager Eddy Olivares told The Huffington Post via email. "During the research phase of our development, we tested all the bluetooth toys on the market. All insert-able toys had a reliable connectivity range of 1-3 feet."
The Blush is also significantly quieter (and therefore more discrete) than its competitors, as shown in this video:
Blush will cost either $79 or $89, according to Olivares, but if you donate $39 to the product's Indiegogo campaign you'll get one for that price. It should arrive by October.
Olivares recommends that only women use the vibrator internally, for now. Lovense says that a Bluetooth-connected plug for men is in development.
As much fun as Blush appears, there are certainly some safety concerns. Obviously, it would be horrifying if your vibrator were hacked. However, all messaging from phone to vibrator is encrypted, and none of the messages go through the company's servers, according to Blush's Indiegogo site.
We're also not convinced that having Bluetooth and/or WiFi connected to your private parts is the safest idea, and Blush hasn't addressed this concern. Olivares told HuffPost that he was not qualified to discuss whether or not there's any medical danger to using a WiFi-connected vibrator.
This story has been updated with new information about We-Vibe's latest product.
Related
Popular in the Community