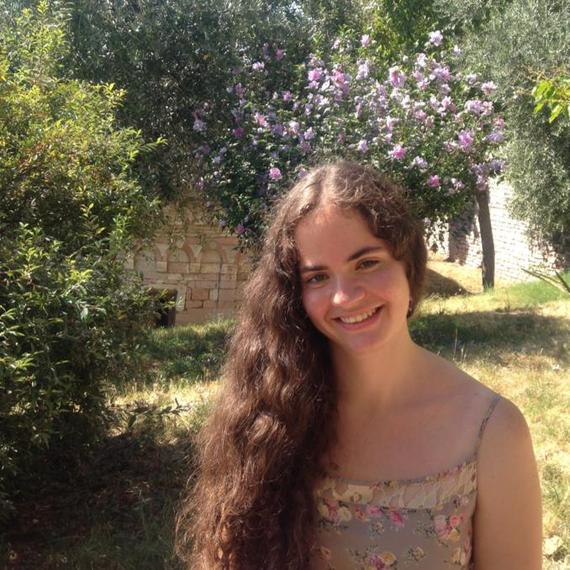 Dasha Koltunyuk (photo unattributed)
Dasha Koltunyuk graduates Princeton University this year. Her journey opens up to new vistas. Dasha's story is uniquely American. She is a first generation American. And that is precisely why her path could unfold nowhere else but here.

It is 2001, two weeks after the attacks on the World Trade Center and Dasha is being taken from school in Manhattan to her home in Brighton Beach, Brooklyn. They are on a train that crosses the Manhattan Bridge. As the train painfully moves forward on the Manhattan Bridge over the East River, they can see the smoldering ruins of the World Trade Center. They can smell flesh still burning, wafting through the train's air conditioning system. Suddenly Dasha turns to her escort and asks, "Do you want to hear a song I learned in school today?" Before yes can escape his smile, she jumps up facing him and starts singing the Star Spangled Banner. The World Trade Center is still within their sight as the train slowly crosses the bridge. Everyone is looking at this beautiful child as she sings, but she is completely unaware of the attention being focused on her. When she finishes with a huge grin the people on the train stand and applaud Dasha. She is 8 years old. As a new immigrant, she does not know the significance of the song only that it's beautiful to her.

A year earlier, her father (her second father) brought Dasha's French Bulldog, Berba, to the vet in Brighton Beach. The vet, not one to need the money, says to the dad that if he can't afford the fee, then perhaps Dasha could play a small recital for him. He is an amateur musician and he's always playing his clarinet for the animals staying overnight in his clinic. The night before this momentous recital, 7-year old Dasha prepares as she practices two hours on her violin. She and her dad arrive at the Vet's office with her tiny instrument in its case. Upon her entrance, the dogs in the waiting room get very excited. Berba eyes the canines suspiciously. Dasha takes out her violin and starts to play. Cats previously meowing within the inner sanctums are now quiet as are the canines. A rabbit stops eating lettuce and stares. Dasha plays a Russian composer and when she is finished, she takes her bow. The vet is overwhelmed with precious sight of this young beautiful child playing her heart.
These two vignettes of the kind child are the embodiment of poetry as she begins her life as a young woman. There are many more moments that have established the presence of one of the most gracious human beings you would ever know. But then, you can say that about all our children.
This is the beginning -- 1996, a scene from inspiration. Dasha's parents are sitting in their kitchen in Odessa, Ukraine. The Soviet Union is crashed as is Ukraine's economy. The phone rings, the father picks it up and a voice says congratulations you have just won the green card lottery to go to the United States. He hangs up thinking it's a joke. They had never applied to the lottery so how could they have won anything. The phone rings shortly thereafter. Once again the voice congratulates Misha (Dasha's first father) for winning the green card lottery. Misha is annoyed, asks questions and slowly he realizes it's no joke. The voice says he has to be ready in three months to come to the United States and ensues giving instructions as to how to and where to obtain the green card. And thus, Dasha at the age of three, is whirled away on a plane with Berba along with the baggage and all of the books her parents could bring to America.

Tragedy strikes just three weeks after their arrival and Dasha's father passes from what appears to be a massive heart attack. Her mother, Tania, is left without the love of her life in a strange land, a stranger culture with no English and very little money, all of which she uses to bury her husband. Dasha becomes mute. Both are traumatized. Tania walks the streets in her Brighton Beach enclave (for Russian speaking immigrants) dazed by grief. A woman, Marina, spots her and begins speaking. She gently takes Tania home and they continue to speak. Slowly, Tania recovers. Marina helps her. Dasha is put into ballet school (Brighton Ballet) which becomes her sanctuary; a place where she can express herself, but she is still mostly mute. Six months later an American man accidentally meets mother and child outside Carnegie Hall at an Isaac Stern concert. He instantly falls in love with both. When he learns what had happened he decides to try to just be friends to Tania, but that is a fool's errand given how he feels about her. So, a new journey begins and Dasha starts a new epoch in her life at the ripe old age of 4.
Dasha will encounter many serious challenges but always keeps a positive attitude. Never does she fall into self-pity despite numerous opportunities to do so.
Tania asks the American to find Dasha an appropriate school. He realizes that the child is extraordinarily gifted and goes about looking for such a place. He finally comes upon a pre-conservatory public school that offers free music lessons along with a top tiered academic education. It is the Special Music School. Mostly Russian teachers run it so Tania and Dasha feel very comfortable. There are three auditions. Dasha is accepted after the first. Perfect pitch propels her into a universal language - music.
Six years at this unique school and it is time for Dasha to move on. She has outgrown the curriculum both academically and musically. Once again, the American is asked to find a better school. He finds one that seems perfect for Dasha. The Brearley School. Brearly, as it turns out, is not only an exclusive private school for girls but also one of the top academic institutions in the country. Dasha is offered a full scholarship. Tania cannot believe their good fortune. She cries giving thanks to God. She makes the courageous move from Brighton Beach to a housing project in Manhattan that is closer to the school. Tania has consistently earned her money being a nanny. It is exhausting work and long hours. At the same time, she tutors her daughter so she may be up to speed to the academic excellence of her new school. Dasha excels. A straight A student. When it is time to consider college, the relationship between her mother and the American is over. Nevertheless, he still helps support them. He still loves them despite the relationship's failure. Dasha applies to the top universities. She rejects Harvard and accepts Princeton. Full scholarship. She sustains her musical training until she becomes a virtuoso pianist.
And now Dasha is graduating. She never forgets where she came from. From all indications, her strongest desire is to give back what has so miraculously and deservedly been given to her. She has worked hard all of her academic life.
I began by saying that Dasha's story is uniquely American. You might think that she got very lucky; got all the breaks and in some ways you'd be right. But what you won't see is her intense desire to learn, travel deeply into her gifts and her mother's sacrifice and courage. But is she much different than any other child, no matter their economic circumstances?
A friend, Cyndie Berthezene, runs an arts program in New York City. It is called Time-In (also named HiArt). Dasha, on scholarship, attended that program at a time when her life as an artist was still being formed. The Huffington Post recently named Cyndie Woman of the Year in the world of art. She offers to at-risk schools the highest level of arts education. She has proven that art elevates every student's game. After witnessing the daily light of programs like Time-In, who would dare say that children do not want to learn. It is as natural as breathing and one has to make great efforts to kill that desire. Imagine, if you will, every child valued as treasure.
Imagine Dasha. A girl raised in impoverished circumstances who manages to excel. She has already begun giving back to humanity. Society's investment will be returned many times over. We are that much richer because of our children. It is our obligation as parents, citizens, to ensure that every child in this country has that opportunity to a top shelf education and to make sure our schools are numerous and able to provide such an education. If we even approach that ideal, I guarantee you that our country will be transformed and finally begin to live up to its promise that the founding fathers had in mind. If not, we proceed at great peril. There are thousands, perhaps millions of Dasha's in our country. All they need is opportunity. They'll do the rest. Our children will provide light in the center of darkness.
Dasha Koltunyuk graduated Princeton summa cum laude.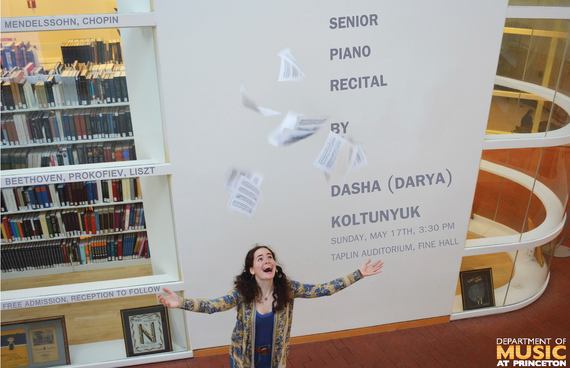 REAL LIFE. REAL NEWS. REAL VOICES.
Help us tell more of the stories that matter from voices that too often remain unheard.