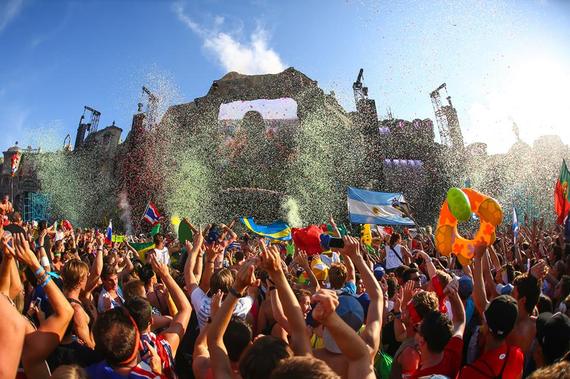 Over the next two weekends, the People of Tomorrow will witness floating stages, pyrotechnic phenomena, fountains, flamethrowers and flowers dropped by helicopters. They will camp in DreamVille, push buttons on their bracelets to keep in touch, and find the mythical key to happiness. They are 360,000 deep, they hail from 220 countries, and they are here for the largest electronic dance music (EDM) festival in Europe. Their stories will live on in the Book of Wisdom, and in the photos and videos they are statistically more likely to share before, during and after an event than their non-EDM peers.
The 10th anniversary of Tomorrowland will bring approximately 400 DJs to 20 stages. But according to many, the festival experience far eclipses the music: a phenomenon unique to EDM. The smoke and mirrors (often literally) of lasers, lightshows, projections; the neon aesthetic of rave culture; the associated drugs and alcohol, the tutting, twerking, and the PLUR handshaking kandi kids -- all these things constitute an attraction of their own. The music isn't always center stage. This year, Electric Daisy Carnival (the largest EDM festival in the world) sold out before the lineup was even released. According to a 2013 Eventbrite study, over a quarter (28 percent) of EDM fans don't listen to the music but still like going to the events. And a significant percentage of fans considered the event venue and promoter to be just as important as the artist performing when it comes to purchase decision (80 percent and 38 percent of fans, respectively).
These facts, along with dispensable income and social networking tendencies of EDM fans have bolstered the global EDM market to the tune of $6.2 billion dollars (with some valuations as high as $20 billion). As Diplo told SPIN, "A band plays, it's 45 minutes. DJs can play for 4 hours." In Vegas, that will turn a crowd over twice -- in the middle of the day. Nightclubs there are giving casinos a literal run for their money: XS, a club inside the Encore Resort brings in between several hundred thousand and a million dollars a night. And consequently, DJs, promoters and venues are making out with tens of millions annually for their efforts.
The commercialization of EDM has embittered fans and DJs alike, causing Deadmau5 to rename the genre "Event Driven Marketing" at the 2013 South by Southwest festival. Inevitably, things are sacrificed for the spectacle and there are many who believe music quality is one. "It's so big now it's just getting milked," Avicii told the Guardian. "Originality is definitely missing from EDM." "I feel like I've heard 10,000 DJs playing the exact same sets," DJ & producer Porter Robinson told Do Androids Dance last summer. And the ever inflammatory Deadmau5 chimed in this spring: "EDM all sounds the same to me."
However, the demand for the genre remains relentless. Tomorrowland is rumored to have sold out in seconds. As the International Federation of the Phonographic Industry (IFPI) 2014 Digital Music Report revealed, urban and dance music "consistently 'over index' on streaming services, which means that record companies are striving to sign more artists performing in these genres."
As musicians and fans alike begin to dissociate their electronic dance music from the mainstream commercial glow of the acronym EDM, and simultaneously more EDM is produced, the proliferation of the genre has been remarkable. Take, for example, the absurdity and multiplicity of the following tracts: brostep, techstep, drumstep, luvstep, thugstep, two step, darkstep, funkstep, hardstep, jazzstep, breakstep -- all are subgenres of either Dubstep, Garage, or Drum and Bass.
To be fair, genre lines are always amorphous at best, but within the realm of electronic dance music, the distinctions are especially weak. House, techno and trance all conform to a static 4/4 time signature, kick drum on every beat, high hat click to the off-beat (16th note), a repetitive structure and similar harmonic/melodic construction. We can talk semantics around trance's tendency to build up and break down its repetitions, or the tweaked instrumentation that seems to accompany techno -- but those slights of character would never make or break a category in classical, jazz, or rock.
In any case, as subgenres flood the scene, and commercial interests continue to inflate the EDM bubble, the People of Tomorrow will descend unperturbed. They're there for the experience. And in Tomorrowland, there's little a bubble wand can't solve.
Calling all HuffPost superfans!
Sign up for membership to become a founding member and help shape HuffPost's next chapter