As the son of immigrants from the Philippines, an oftentimes traditional and predominantly Catholic nation, it wasn't always easy being fully open and honest about my sexuality. And so, coming out to my parents the summer after graduating high school was one of the most liberating experiences of my life. I remember finally feeling free to be myself, especially during a pivotal growing point in my life as I entered my freshman year in college. At the University of California, Los Angeles (UCLA), I was first recruited by fellow LGBT students to a Filipino American advocacy organization, Samahang Pilipino, where we were able to gather in safe spaces to discuss intersections of identity: what it meant to be openly gay, second generation, and people of color. In addition to collectively growing in our identity, we also advocated for issues of importance to the community, fighting for representation, equal opportunity, and of course, marriage equality.
For all of those efforts, I recall Tuesday, November 4, 2008, as a bittersweet day: we saw the historic election of the first African-American President of the United States, yet California had passed Proposition 8, a ballot initiative defining marriage as an institution between a man and a woman. I was shocked at how California, a seemingly progressive state, could deny my right as an American to one day marry the person I love. It was a devastating moment in time, but as a community, we knew that we had to continue marching forward.
Since President Obama took office in 2009, we have made significant progress on behalf of the LGBT community, from repealing "Don't Ask, Don't Tell," signing historic hate crimes legislation, to addressing LGBT health disparities and expanding health care access. And in 2013, the U.S. Supreme Court struck down key provisions of the Defense of Marriage Act (DOMA). This paved the way for its landmark decision in Obergefell v. Hodges, which finally which guarantees same-sex couples the fundamental right to marry. Last week's decision was truly monumental. It was the culmination of decades of everyday Americans fighting on the frontlines in our march towards equality. As President Obama said, "There are days like this when that slow, steady effort is rewarded with justice that arrives like a thunderbolt."
Seeing the White House lit up like a rainbow last week in celebration of the Supreme Court's decision signified how far we have progressed as a nation. It signified over time that the collective stories of LGBT Americans, efforts from advocates and allies alike, and support from the highest office in the nation would change the hearts and minds of individuals across the country.
Standing there and celebrating with the community also brought me back to that moment in time when I came out to my parents after high school. It signified not only how much I have grown as an openly gay individual since then, but reminded me how important it is to have the support of my country, community, and family in being treated equally, regardless of who I am or who I love.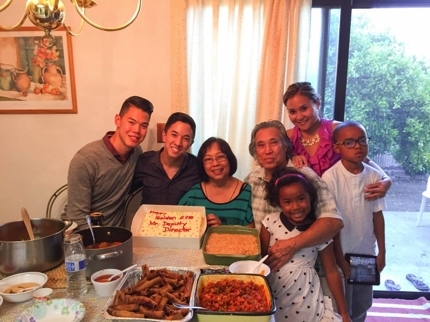 Jason with his family during a gathering in the San Francisco Bay Area, June 11, 2015
Last week's Supreme Court decision was truly a historic moment for LGBT rights in our country, but as President Obama said last week, "There's so much more work to be done to extend the full promise of America to every American." Marriage equality is a momentous victory, but we must ensure that we can no longer be discriminated against because of sexual orientation and gender identity in the workplace.
We must also continue to protect LGBT and Asian American and Pacific Islander (AAPI) youth from bullying and harassment in schools. As someone who was bullied growing up, this issue is very close to my heart and I am proud of the work the Initiative is doing to address it through its AAPI Bullying Prevention Task Force. The Task Force is working diligently to increase awareness of the bullying and harassment in our community and, through partnerships and by hosting listening sessions around the country, we are sharing resources, creating dialogue, and empowering youth.
Martin Luther King, Jr., once said, "The arc of the moral universe is long, but it bends towards justice." In my lifetime, I feel blessed to have witnessed that arc slowly bending in the right direction. And as a community, we must work together and remain focused in our march to ensuring equal protections and rights for all Americans.
Popular in the Community