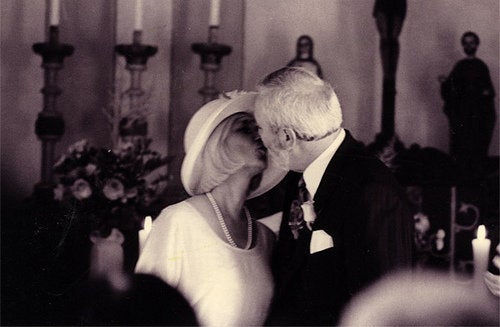 Mary McCurnin and Ron Bednar's divorce papers have arrived in the mail. The Rancho Cordova, Calif. couple wasn't having marital trouble -- they still love each other. But after illness, bankruptcy, more illness, and then unemployment, they're just plain out of money. Divorce, perversely, offers the best chance for the couple to grow old together.
That's because if she's not married, McCurnin, 59, will soon be eligible to receive $1,200 a month in Social Security widow's benefits from her previous marriage. Her first husband, a doctor to whom she'd been married 20 years, passed away in 1989.
They need that money for basic living expenses. They're both graphic artists, and they say neither of them has had much luck finding work.
McCurnin wrote in a Firedoglake post that last week they received two thick envelopes making the divorce official. She posted several pictures from their wedding eleven years ago.
McCurnin and Bednar each emailed the Huffington Post in response to an item about a woman staging a "debtors' revolt." They were in separate rooms of their house, and without realizing what the other one was doing, both happened to write that they considered it "un-American" to pay off their high-interest credit card debt.
There's a bright side: McCurnin and Bednar can remarry as soon as they want after McCurnin gets her survivor's benefits without jeopardizing them (but they'll lose the tax advantage and indemnity from each other's potential debts). McCurnin wrote that the second wedding will happen on Bednar's 65th birthday next August, when he'll be eligible for Medicare and can stop crossing his uninsured fingers for good health.
Calling all HuffPost superfans!
Sign up for membership to become a founding member and help shape HuffPost's next chapter