As a five-year-old girl Hitomi Kuwada, 27, made a list of things she would like to do and achieve in her life. On the top of the list was her dream of seeing the northern lights.
Six years ago Hitomi finally decided to fulfill her childhood dream. The northern lights cannot be seen in her home country Japan, so she started to plan a trip to Finnish Lapland.
The first visit to the Arctic circle hit her hard: Lapland offered a possibility to live hassle-free and vanity-free everyday life, to breathe fresh air, to feel placid amid the quietness. Hitomi realized that she would enjoy her life there more than in Tokyo.
So Hitomi went back to Japan to finish her degree in interior architecture and got prepared for moving to Finland.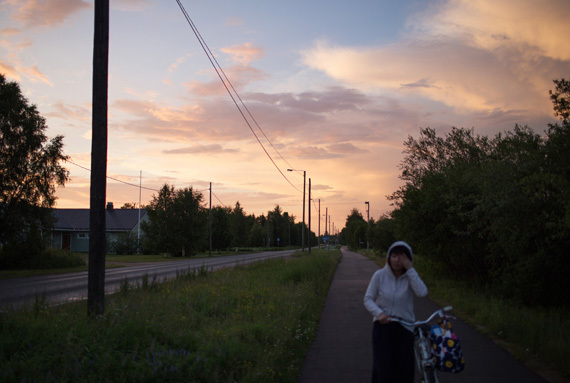 All photography by Janne Riikonen
In April 2010 Hitomi was ready to take the big step. The day she had her flight booked a volcano at Eyjafjallajökull glacier erupted in Iceland spreading an ash cloud towards Europe. Flights all over central and northern Europe were cancelled and disruptions to air traffic were estimated to last for days, possibly weeks.
Hitomi got nervous. Was the eruption a sign for her? Were all of her expectations going to collapse? All Hitomi asked for was getting to Finland with the two of her suitcases.
When the flight took off, it was unsure whether they would reach Helsinki or not.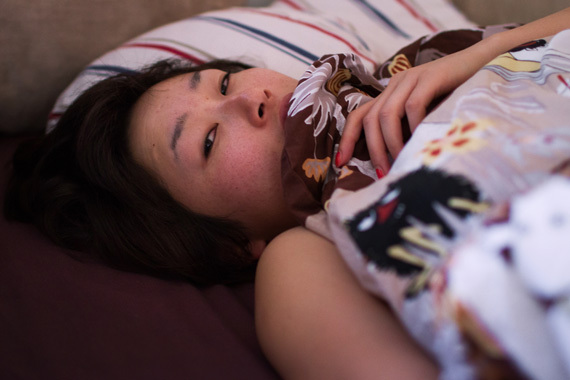 At 6 a.m. an alarm rings in an apartment in central Ivalo. The sun is just about to rise. Wrapped tightly into her Moomin-sheets, Hitomi sets the alarm off without looking at her mobile phone. It's September 2013, Hitomi's fourth autumn in Finland.
For some minutes she rolls in her bed, gradually opening her eyes for another day in the nordic wonderland.
Hitomi opens her living room's curtains and the first rays of sun greet her gently. She fiddles her necklace and glances the view. Besides the sun, no one is up yet.
With some 3000 residents Ivalo is the largest populated community in the municipality of Inari in northern Finland. There it is brighter in summer at 1 a.m. than it is in winter at 1 p.m.. Trees in forests are covered with beard moss and thirst can be put down with water running down streams.
In the municipality's area there are over two squares kilometers of land for each resident. In Tokyo the same area would inhabit about 14 000 metropolitans.
If it is not, is very close to the most extreme change of environment - from being crammed to Tokyo metro, to seeing no one and hearing nothing in central Ivalo.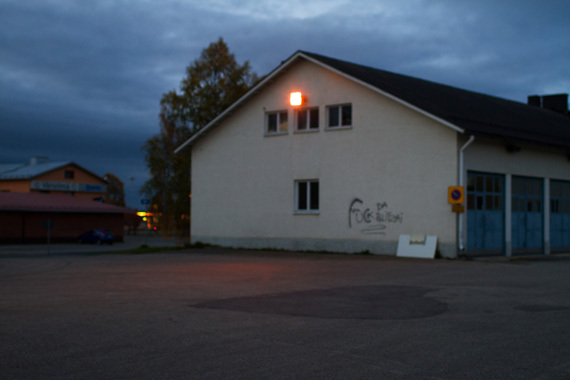 Little by little Hitomi has adapted to Ivalo and Finland. She learns Finnish on her own, likes going to sauna and even eats rye bread. In fall 2012 she started a program in handcrafts.
"The beginning in Finland was very hard. I was lonely, far away from everything. All started to work out slowly after the two first years", she tells.
Though far away, Japan still plays a great part in Hitomi's everyday life. She listens to Japanese pop music, watches Hayao Miyazaki's animated films, and often prepares meals from the extraordinary Japanese cuisine. Hitomi also keeps relations close with her friends and family with Skype and Facebook.
The likeness of the Finns and the Japanese has greatly helped Hitomi to adapt. The people of both nations are humble and diligent, have respect for authorities and elder ones, and do not make a fuss about themselves.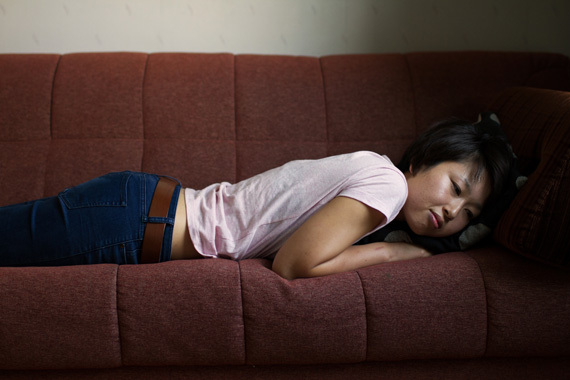 At 3.30 p.m. it is pitch-dark. It is January and polar night is slowly giving way to spring. A week ago Hitomi came back from a holiday in Japan, where she spent her winter holidays with her friends and family.
Just a moment ago Hitomi's apartment was filled with laughter as her friends Haruna, Kati and Adeline were visiting her. Now Hitomi is alone again, washing the dishes, comforted by a precious necklace.
The necklace is a gift from her boyfriend, whom she met when visiting Tokyo two years earlier. Both of them were willing to try a long distance relationship.
During their first year together Hitomi never took the necklace off, not even in sauna and while sleeping.
The distance did not bother Hitomi that much, but their uncertain future surely did. Her boyfriend did not want to leave Japan, and for a long time she could not imagine moving back there.
"My life is here now, and he has his own life there. I don't want to tie him up too much, as I don't even know where I'll be in one year", Hitomi shares.
As the concern of their future together grew, Hitomi started gradually not to wear the necklace.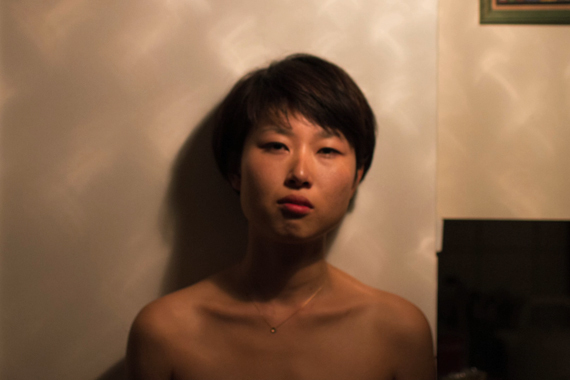 Moonlight shines from a clear sky making the snow glow among the darkness. Hitomi looks up to the sky on the way to meet her Finnish family. There are no northern lights tonight.
One wintery evening Hitomi encountered an elderly man in downtown Ivalo. They had a chat and found a match. Since then Erkki the old man has been a helping hand to Hitomi, whether it has been about finding accommodation, repairing her car or just company for a fishing trip.
Hitomi calls Erkki as pappa - a grandpa - and refers to him and his wife Kyllikki as her Finnish family. Hitomi's Japanese grandparents passed away when she was still a baby. Erkki and Kyllikki have kind of filled that gap.
"If I would't have met pappa, I would't be here now. He changed my life."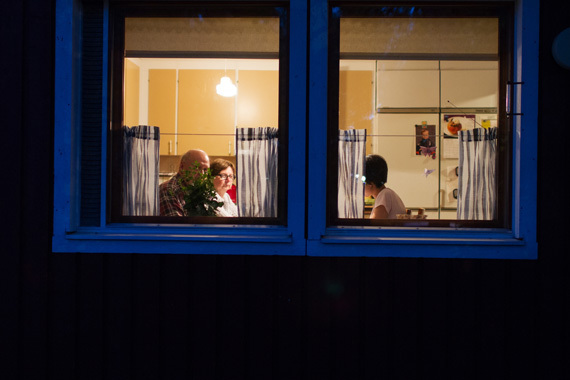 It is an ordinary thursday, which means school. Hitomi ambles half asleep to her car, Toyota Carina from the early 90's, and cleans frost off the car's windows. Fresh snow scrunches under her feet. The Japanese engine starts up without an exception even in minus 30 degrees celsius, minus 22 fahrenheit.
Hitomi has driven the 40 kilometer way to school so many times. Many enough to have learnt to be alert for obstinate reindeer, who might run across the road any given moment. Yet Hitomi seems to be lost in her thoughts.
After the next semester she will graduate and another phase in her life is coming to an end. Then it is time again for her to pay focus on what she genuinely wants to do.
"There is nothing here, and I love it", she suddenly says.
"The best thing is that I'm always longing for something. I miss Japan, my family and friends all the time. That gives me power and the strength to live following my dreams."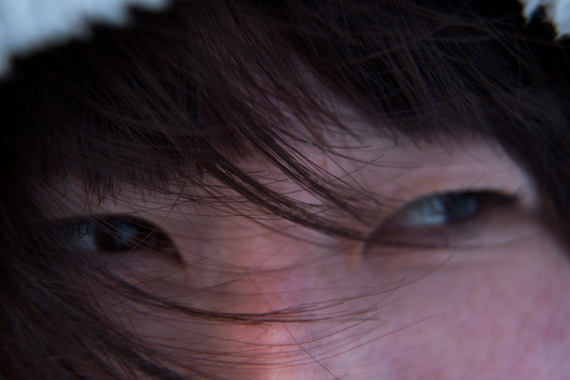 Autumn has painted nature yellow and red. Dry branches get snapped as Hitomi sets up a fireplace among blueberry shrubs at lake Rahajärvi shore.
The lake is just one of the numerous lakes in Finnish Lapland, but ever since Erkki-pappa first time brought Hitomi here it has become one of her favorite outdoor locations.
With no slightest breeze of wind, it is uncommonly warm in the afternoon sun. Not often a t-shirt is enough to wear in Ivalo in mid-September. Hitomi sips tea from her wooden cup and views the sight. Random crackles from the fire break the silence completing the serene atmosphere.
During fall 2014 Hitomi became restless. She started to feel stuck in Ivalo. Hitomi never had planned to settle in Lapland for the rest of her life, but to stay as long as it felt right. And now her Finland-episode was coming to an end.
For these short moments spent in the woods she finds peace of mind. Mother earth seems to comfort her, saying that everything is going just the way it should. Being close to the nature is what she dearly enjoys, the forests and the lakes are her wonder land.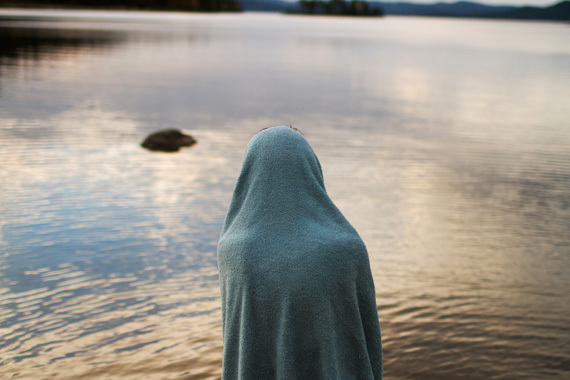 After graduating as artisan in turn of the year 2015 Hitomi moved back to Japan.
The Finnish pure nature made an indelible impact on Hitomi, to whom non-stopping Tokyo-fuss now felt simply too much. Hitomi found a job at a nature reserve in hilly Gunma prefecture and got to continue her newly learnt lifestyle.
"When I was in Finland, I always missed Japan, but when I was visiting Tokyo, I could not wait to get back to Ivalo", Hitomi tells.
"Now I know that I can always go back to Ivalo, my second home."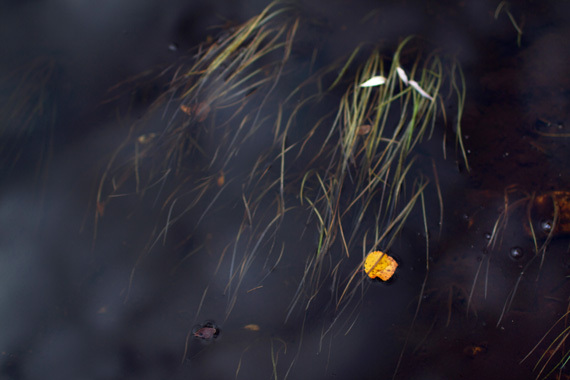 Hitomi's list of dreams has helped her to push through the tough times. Checking the list regularly helps Hitomi being true to herself: She lives by what feels right, not what is supposed to be done.
When Hitomi first moved to Finland, she relinquished her career dreams and the relationship of that time. The risk was worth it.
Fulfilling the first dream in her list led to a surreal five-year-adventure. Taking the risk gave Hitomi faith in herself and for the future.
"Life is a gift, that cannot be missed."