Twenty minutes before Omega NYC's keynote speakers Elizabeth Lesser and Byron Katie are scheduled to take the stage to address the topic of spiritual renewal, the Sheraton's ballroom is packed with eager listeners with paper and pen in hand. Participants filter in holding hot tea in one hand and the Omega Institute's 2010 catalogue in the other. They introduce themselves to strangers with stories from the year before; the transformational workshop they took on spiritual power, the breakthrough they experienced on inner balance.
The Omega Institute for Holistic Studies, a nonprofit organization founded in 1977, holds a yearly conference in New York, bringing with them their most accomplished teachers and spiritual leaders such as Byron Katie, Debbie Ford, Sonia Choquette, and Jack Kornfield. Omega NYC, held annually at the Sheraton NY Hotel & Towers, offers an intensive weekend of workshops intended to give participants the opportunity to rejuvenate and reconnect.
"The nature of life is change," she says as she looks out onto the rows and rows of attentive listeners. Lesser pauses as the room uniformly nods and she begins to recount how humans have often resisted change, but also long for change in the same vein. "The best recipe for mental health is to stop the war within you."
Lesser begins to illuminate what she calls the "Phoenix Process," a theory outlined in her book Broken Open, invoking the mythical birth of transformation and renewal as a symbol for personal change and evolution.
"I know the drill of the Phoenix Process by now," she says as she cites divorce, single parenthood, remarriage, step motherhood, losing parents, the growth of her children, and illness. She says that throughout these changes she felt "twinges of outgrowing my old self."
According to Lesser, asking the Phoenix Question, "what have you come to teach me?" in the midst of hardship can begin the process of personal growth.
Lesser often speaks in fantastical terms, describing a certain crisis as an "ogre" or a "fairy godmother" coming into her life with a specific message. She quickly laughs and says, "When I talk about ogres, I'm not talking about Shrek. It may be your ex-husband or something." The audience laughs and Lesser adjusts her frameless glasses, finding her place again.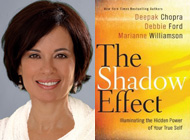 Similar themes of renewal and acceptance were explored in Debbie Ford's workshop "Loving Your Shadow." Ascending the stage with a venti Starbucks in hand, Ford takes a seat in front of the cut flowers transported from the Omega Institute's home in Rhinebeck, N.Y. and outlines what she calls "The Shadow Process."
"Shadow work is to make peace with the whole range of human emotion," says the New York Times best-selling author and internationally renowned expert of personal transformation. "The good news is that that bad part of yourself that you struggle with carries sacred wisdom to the evolution of your soul. That part of you will support you in unlocking an authenticity and an expression."
This kind of spiritual language would be typical of a monk on a mountain top, but in an unapologetic, loud magenta blouse, Ford seems more reminiscent of a Rodeo Drive shopping partner than a spiritual guru.
"Some of you have become masters at the persona," she nods. "How many of you have the nice guy or nice girl persona?" A little more than half the room raises their hands and Ford nods again. "Yeah, you're the most screwed." Everyone laughs but Ford raises her finger. "Shadow laugh," she says with elevated eyebrows.
Ford places her Starbucks beside the table of lit candles and pulls off the matching magenta wrap from around her neck. To demonstrate the effects of the persona, Ford stands before the room before pulling the wrap around her body. "And here I am. Welcome to my persona." She pulls the wrap from her body in one swift motion. "The biggest lie is that we are one way - that we are perfect. We are dualistic people."
Ford starts taking questions from the audience but appears frustrated when she can't hear the woman. "Can we get a mic?" she asks. Her assistants oblige. Returning to the woman, Ford shakes her head. "Get up and speak loud because we don't have a goddamn mic." The room laughs again. "You're going to see my intolerant perfectionist self today."
The woman recounts a long battle with anger, often suppressing her fury and hiding her annoyances from others.
"Don't hate your angry self," Ford advises. "Your angry self may get you a microphone!" Ford steps off from her chair. "What you can't be with won't let you be."
For the second half of her workshop, Ford screened her documentary The Shadow Effect, featuring colleagues Deepak Chopra and Marianne Williamson. Chopra speaks of the "collective shadow" and the evil that manifests as a result of mass renunciation of the shadow. Like Ford, Chopra speaks of dualism before adding humorously, "Simon and Garfunkle spoke of the shadow. "Hello Darkness my old friend. I've come to talk with you again," he sings to the camera. "They're talking about the shadow."
The following day, participants are asked to engage in a mirroring exercise in which everyone pairs off and faces one another, knee to knee. One person states their most negative quality in a simple "I am..." declarative sentence. The partner repeats it back to them, confirming, "you are..."
The room quickly brims with "I am stupid," "I am lazy," "I am selfish" in tight, controlled voices. Ford interrupts and instructs everyone to start again. When it's time to trade spots she says, "really give it to them this time."
Ford's assistants circulate the room with boxes of tissues, handing three, four, five to the participants who have begun weeping.
Participants are clearly going through a transformation and sit in the presence of their own "shadows." Coffee and vitamin water remain untouched beneath chairs as partners assist one another through the process; some choose to even embrace.
Monica, a teary-eyed participant from Virginia, chose Ford's "Loving Your Shadow" workshop after consuming all of Ford's books. "I really wanted to embrace the qualities that she writes about, but I'm not really in a place in my life to reread everything she's written," she said. "I also came to receive the information from her directly and to feel the support of a community."
As the sobs quiet, Ford asks everyone in the room to stand up and repeat various positive affirmations. The audience restates, "I am powerful," "I am worthy," "I deserve happiness." Smiling deviously, Ford pauses before concluding her workshop with one last affirmation: "I am sexy, I am hot, and I am going to have a good night."