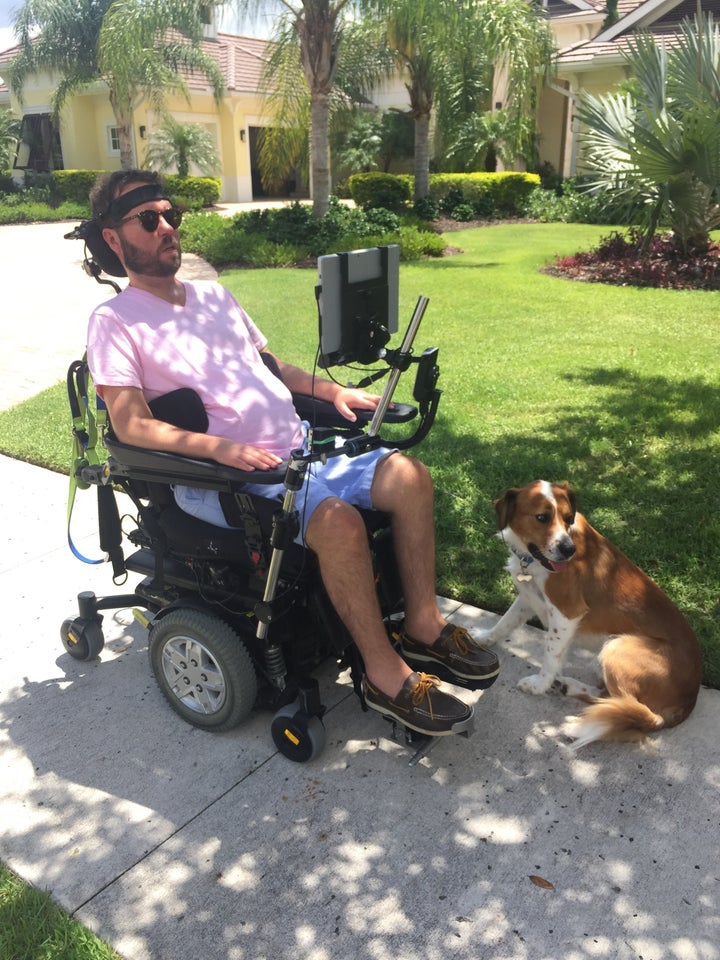 We all have those friends that can't walk by a dog without letting out an "awwww," preceded by a kneel down and immediate petting frenzy. Let's call these people true "dog people." I am not one of those people. However, I do like some dogs. I have the same feeling about kids, but that's another blog for another day.
For some reason around the first part of the year, I decided that I wanted and maybe even needed a dog. I found the search eerily similar to online dating! A lot of cross over in criteria...
I went to wonderful shelter called Nate's that had great reviews. My mom, who shares a the same feelings about dogs met me and my caregiver, Sue, who's a true "dog person" in the lobby. I swear my mom somehow gave them my entire ALS story including the challenges of running a nonprofit in the five minutes she was there ahead of us.
We walked (I rolled) around the property. We were given the background of the dogs they thought might be a good fit. Kinda like speed dating. Next! We decided to see the only dog that wasn't going crazy, jumping, barking. A beautiful St. Bernard mix named Cash.
The entire staff seemed to think he was the one. He was a little timid, but wasn't bothered by the wheelchair. He'd only been at Nate's for two weeks and was rescued from a kill shelter. Given his name, depending where in Georgia he came from, he could be named after Johnny Cash or someone out of Hot-lanta!
We decided to go back the next day to pick up the one year old pup. However, when we arrived he was with another family! How was this going to end? Bidding war? Battle of biscuits? To this day I'm not sure what the incredible staff at Nate's told that family, but we left with Cash twenty minutes later.
Cash immediately took to my mom and Sue. He never barked, chewed anything but his toys, or had an accident in the house. However, he wasn't really warming up to me so we had a trainer come to the house. The trainer was a mix of Diane Sawyer and Jack Hannah. She could have had any of the adults in the room eating liver treats by the end of the session!
It's been six months and I can honestly say that Cash brightens our home. Thanks to my amazing girlfriend, Shaina (a lot more on her later) , who I met the same week as Cash, and is definitely a true "dog person," Cash has become an incredible companion and service dog! He will walk directly next to my chair without a leash and doesn't leave my sight throughout the day.
Cash has become a local celebrity! He's extremely comfortable with a room of people or curled up between the couch and the coffee table. An area known now as Cash's corner. He's the only dog I know that will quietly get up from a living room of people and leave the room to go to his bed. It's like he doesn't approve of World of Dance?!
Needless to say, I'm fully invested in Cash.