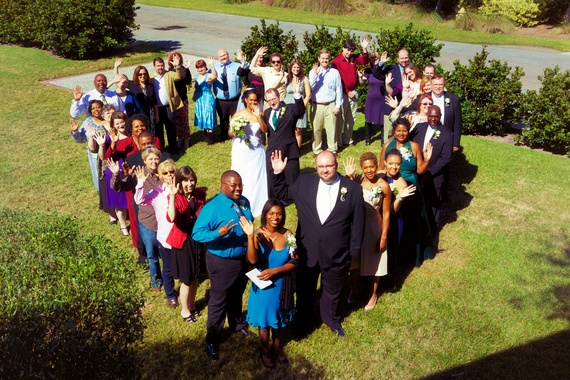 Yes, the photo above is everyone at our wedding except my friend and photographer, Andrew Haworth, and his wife.
For the past three years, I've been passionate about something most people don't even think about or even know of - the Loving v. Virginia Supreme Court decision.
In 1967, interracial marriage bans were deemed unconstitutional. There were many states who still had bans at the time. My current state of Alabama was the last to finally remove that language in 2000.
The couple behind this case, (appropriately named) Richard and Mildred Loving, fought for nearly a decade to keep their marriage. Their fight allowed me, a black woman from South Carolina, to marry a white man from Alabama.
We're celebrating "Loving Day" for the fourth year, and I'm really excited about it. This year, I wanted to thank the LovingDay.org site for introducing me to this important date - June 12th. The last three celebrations have been awesome, but I wanted to do something different - a little bigger.

So this year, not only am I doing a local event in Birmingham, a city still grappling with its past, I'm raising money for the organization before and during the event. I want the volunteers of the site to know this: "There are people in Alabama who believe in diversity. We have overcome the stereotype."
LovingDay.org not only spreads the history of the Loving v. Virginia case. They also facilitate and support multicultural groups in schools and in community settings. So it's bigger than a black/white thing.
Whether or not you support interracial or same-sex marriage, it's kind of amazing that this case - this unassuming couple - have changed the lives of millions of people over 40 years later. The two fights for marriage equality parallel each other, even though they have differences.

For more information on the local Loving Day celebration in Birmingham or the fundraiser, check my web site.
Calling all HuffPost superfans!
Sign up for membership to become a founding member and help shape HuffPost's next chapter