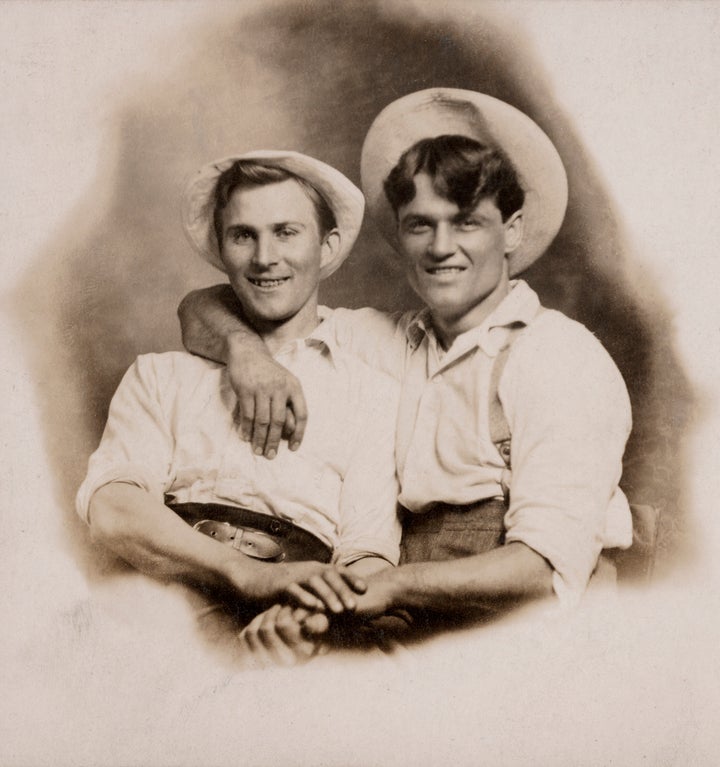 Released Oct. 14 to coincide with LGBTQ History Month, the 330-page tome is a stirring collection of male couples engaged in varying stages of intimacy, from flirtatious glances and tender embraces to full-on passionate kisses.
To anyone who's visited Provincetown, Massachusetts, or Palm Springs, California, in recent years, these photographs may seem commonplace or even banal. It's only when one considers the centurylong timespan in which the images were captured that their daring and subversive nature is apparent.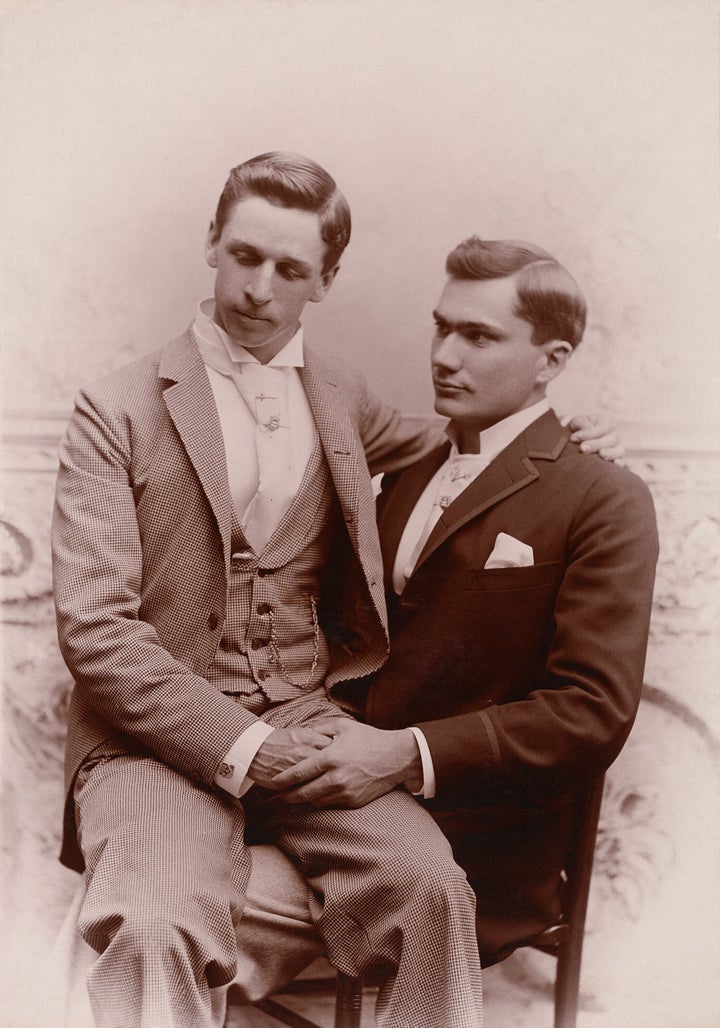 Nini and Treadwell, a married New York couple, began collecting photos of male twosomes after spotting a snapshot of two men embracing and gazing at one another, circa 1920, in an antique shop in Texas 20 years ago.
Over the next two decades, the couple traveled across the U.S. and Europe, poring through estate sales and flea markets in what they describe as a "rescue mission" of sorts. Together, they accumulated more than 2,800 photos, including some from Australia, Japan and Latvia.
The turning point, they said, came when they discovered a photograph ― estimated to date to around 1900, that showed two men holding up a handmade sign that reads: "Not married, but willing to be."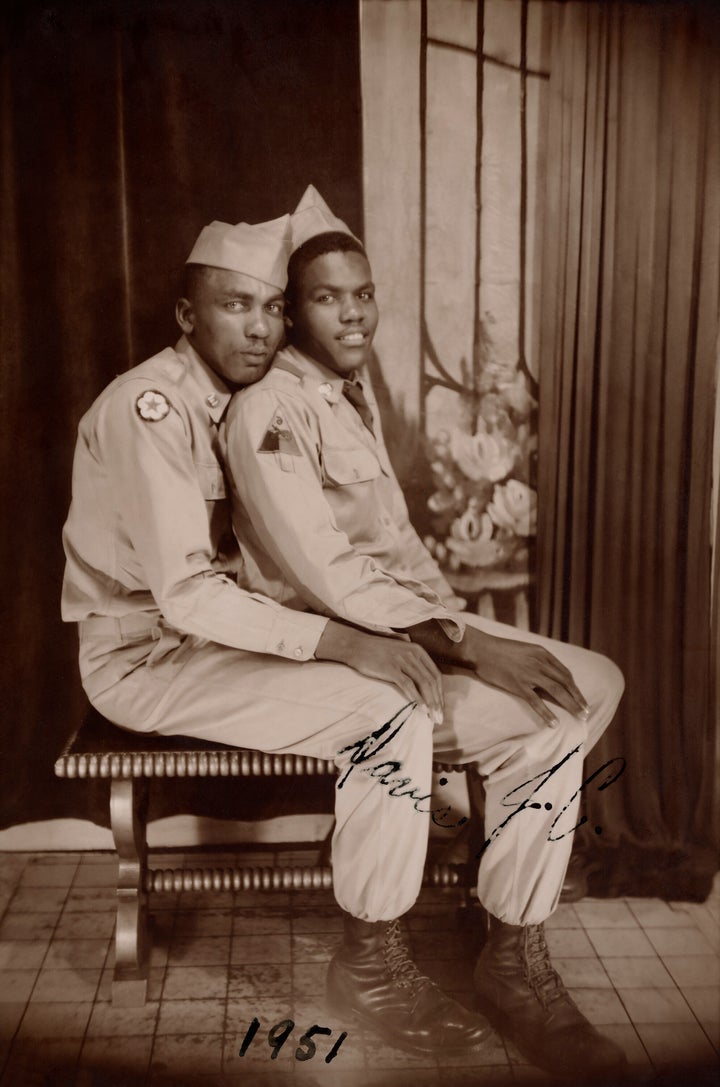 Describing that photo as a "bold and prescient" declaration of same-sex love from more than 100 years ago, Nini and Treadwell said they began to feel a sense of obligation to share such images with those whose concept of the queer community is firmly rooted in the present.
"It's easy to fall into despair and think that love exists only in movies, books or Shakespearean plays," the couple told HuffPost said in an email. "In 'Loving,' we see that male couples found each other despite the headwinds of society, world wars, pandemics and economic ruin. They're a perfect metaphor for where we are today."
"We hope that our book will reinforce, renew or instill for the first time the belief that love is real and worth fighting for," they added.
The discourse around LGBTQ relationships would, of course, begin to shift with the 1969 Stonewall uprising, historically seen as the advent of the modern LGBTQ rights movement and 19 years after the most recent photograph in "Loving" was taken. In 2003, the Supreme Court invalidated sodomy laws in 13 U.S. states, decriminalizing same-sex relationships across the country.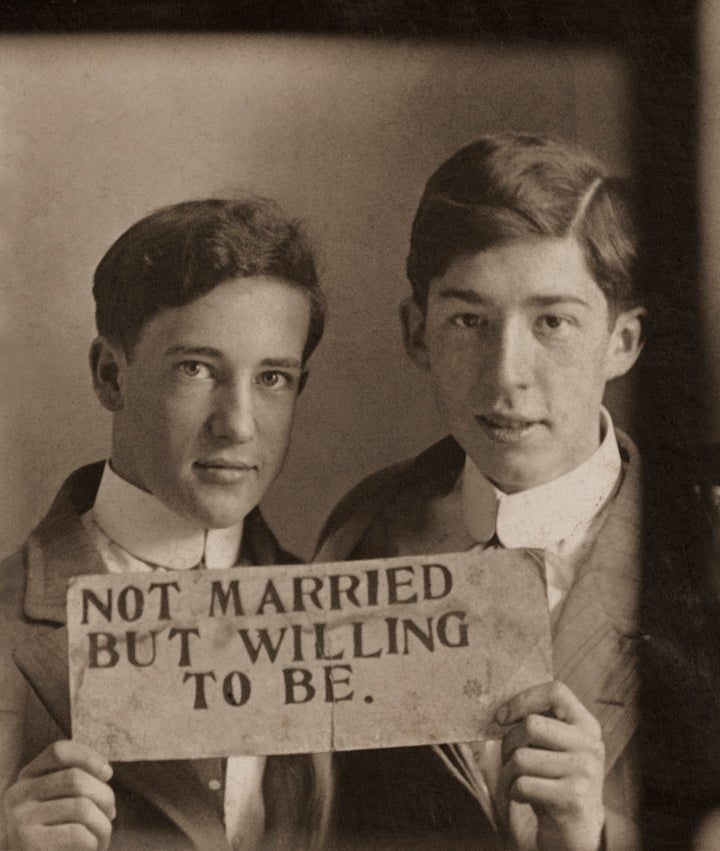 Before releasing "Loving," Nini and Treadwell had to consider the fact that they could be inadvertently outing men who may not have identified, or did not feel comfortable identifying, as LGBTQ during their lifetimes. With that in mind, they said they chose to present the photographs in a straightforward fashion, without any written declarations as to the sexuality of their subjects.
"Our photos only show that these couples were in love," they said. "We don't claim to know [the sexuality] of any of the subjects in our collection. ... As far as we know, it's never been illegal for two men, or two women anywhere in the world to be in love with each other."
Since its Oct. 14 release, "Loving: A Photographic History of Men in Love" has been met with near-universal praise. The book has garnered accolades from Rolling Stone, The Guardian and The Washington Post, among other outlets.
And by sharing their collection, Nini and Treadwell said they hope to shine a "beacon of light" on the LGBTQ community ― members of which have been disproportionately impacted by the COVID-19 pandemic.
"This book seems to be acting as a life preserver in some ways," they said. "It's something beautiful and unexpected. Love and beauty have, lately, been in too short a supply. Right now, we're all searching for light."
Popular in the Community