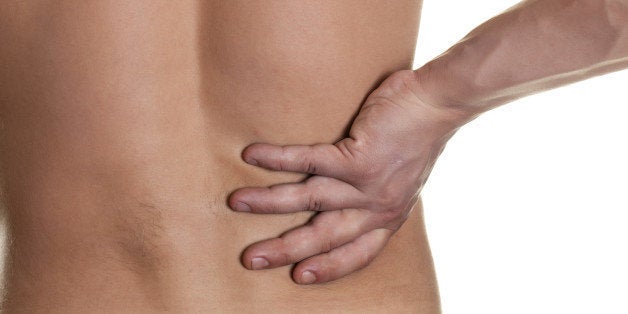 It's not the most surprising news, but it's not what anyone who has experienced back pain wants to hear: A new report published in the Annals of the Rheumatic Diseases journal says that lower back pain causes more disability worldwide than any other health problem. With about 10% of people experiencing back pain that limits their life and/or work, it's a significant problem that's only expected to grow as the population of the world ages.

However, while this isn't great news for back-pain sufferers, it's important to quantify how significant this problem is, so that more attention can be paid to solutions and research. Because currently, lower back pain can still be an elusive health problem. It can come and go without a clear cause and effect relationship—and for many, when they are down with back pain, they are truly incapacitated, unable to move from a horizontal position, with only time spent resting seeming to solve the problem. Until it comes back again.

"With ageing populations throughout the world, but especially in low and middle income countries," the authors of the study told Medical News Today, "the number of people living with low back pain will increase substantially over coming decades."

The study authors looked at data from 187 countries (and sorted those into 21 regions), including details from 1990, 2005, and 2010 from the Global Burden of Disease study.

It took six years to put the study together, since disparate data sets had to be collected and collated. They looked at "the prevalence, incidence, remission, durating and reate of risk of death associated with low back pain in 117 studies," according to Medical News Today. They combined the number of years that people lived with disabling low-back pain with years of life lost from early death and came up with a number—DALYs or disability-adjusted life years. The number of DALYs was 83 million in 2010 (way up from 58.2 million in 1990).

In 12 of the 21 regions studied, lower back pain was the top cause of disability in otherwise healthy people. Western Europe had the most incidences of disabling lower back pain, followed by North Africa and the Middle East. Those in the Caribbean and Latin America had the least low-back pain.

Ouch!

So plenty more research is needed, including longitudinal studies. They said, "Governments, health service and research providers and donors need to pay far greater attention to the burden that low back pain causes than what they had done previously."
Support HuffPost
A No-B.S. Guide To Life
Related
Popular in the Community