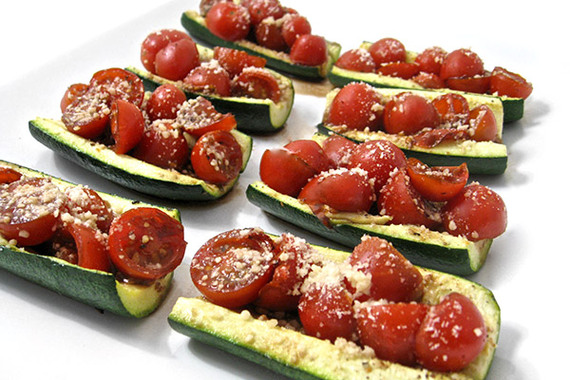 Here's a sensational low carb, low calorie, low fat, low sugar and gluten free take on bruschetta. And, it's drop dead delicious!!! One of my favorite appetizers. So easy to pull together, these little gems are so versatile. They also make a yummy snack, side vegetable or even a meatless meal. Each skinny piece has just 23 calories, 1 gram of fat and 1 Weight Watchers SmartPoints! Eat 2 and it still has only 46 calories, 1 gram of fat and 1 Weight Watchers SmartPoints. Of course, if you're serving as the main course you will probably want at least 4 of them.
Prep Time 10 minutes
Bake Time: 20 minutes

Ingredients for Zucchini Boats:

Ingredients for Tomato Topping:
2 cups grape or cherry tomatoes, sliced in half or fours
2 tablespoons Balsamic vinegar
½ tablespoon extra virgin olive oil
Fresh ground pepper, to taste
Ingredients for Cheese Topping:
8 teaspoons Parmesan cheese
1. To Prepare Zucchini Boats: Preheat oven to 400 degrees. Line a baking pan with foil.
Cut each zucchini in half. Using a small spoon or melon baller, scoop out middle section of the zucchini halves to form a boat, leaving a thin shell on each half. Cut each zucchini, in the middle, in half again. This will create 16 pieces. (16 zucchini halves)
2. Place on baking sheet. Spray with olive oil spray. Sprinkle each with a little salt, pepper and garlic powder. Bake for 15-20 minutes until soft.
3. To prepare the tomato topping: In a medium bowl, toss together all tomato topping ingredients except Parmesan cheese. Mix well. Refrigerate until ready to use. Stir well before stuffing the zucchini boats.
4. When zucchini is baked, stuff each with about 2 tablespoons of tomato topping. Some will take a bit more. Drizzle balsamic mixture over each. Be sure to use all of it. You can go back to each and drizzle a little more. Sprinkle the top of each piece of zucchini with ½ teaspoon grated Parmesan cheese. Place back in oven and bake for 5 minutes.
5. Just like bruschetta, you'll need to serve these on a little plate. They do fall a part a bit while eating them. So pop the fallen pieces right in your mouth!
Makes 16 pieces (each serving 1, 2 zucchini bruschetta, see Skinny Facts below)

Food Facts
Bruschetta is traditionally toasted bread seasoned with garlic and olive oil, commonly served warm as an appetizer, snack, or side dish. The name comes from the Italian word bruscare, which means "to roast over coals."

Weight Watchers SmartPoints 1 for 1 piece
Weight Watchers POINTS PLUS 0 for 1 piece
Weight Watchers (old points) 0 for 1 piece
Weight Watchers SmartPoints 1 for 2 pieces
Weight Watchers POINTS PLUS 1 for 2 pieces
Weight Watchers (old points) 1 for 2 pieces

SKINNY FACTS: for 1 zucchini bruschetta
23 calories, 1g fat, 0g sat. fat, 0mg chol, 2 g protein, 1g carbs, 1g fiber, 74mg sodium, 1g sugar
Popular in the Community