Governor Cuomo has been praised in the media for producing a disciplined and punctual state budget this year. He missed at least one clear opportunity, however: the chance to include funding for the New York DREAM Act, a bill that would allow undocumented students to access state financial aid for higher education.
The legislation is a perfect example of a low cost, high reward investment. For a minimal expense, thousands of young New Yorkers would have a better chance at realizing their professional dreams by studying to become engineers, teachers, doctors, and lawyers.
How little would the New York DREAM Act cost? For the estimated 5,500 undocumented students currently in college in New York State, the bill would add up to an additional $17 million in funds to the Tuition Assistance Program.
For most of us, $17 million seems like a huge sum of money. But it actually represents just one twentieth of one percent of the state's annual income tax revenue, according to the Fiscal Policy Institute.
Still not convinced? The Fiscal Policy Institute tell us how much it would cost you as an individual taxpayer, based on 2008 tax data:
For a tax filer with $60,000 to $75,000 income, that would represent $1.34 in added income tax to cover the DREAM Act. Even for a hard-pressed family, it's worth a dollar and change per year to make sure these kids become as productive as they can be in the state's economy.

For people earning $20,000 to $30,000, the added tax for the year would be about 8 cents. For people making $100,000 to $200,000 it would average about three dollars and change (about $3.44), per year.
Even for households making up to $200,000, the bill would cost less than a latte. That's a small price to make sure that the next generation of New Yorkers have access to college, and a better ability to contribute to our future tax base.
Cuomo hasn't openly supported the New York DREAM Act, but at least he's not trying to smudge the facts, like State Senator Lee Zeldin (R-Shirley). When it comes to the low cost of the measure, Zeldin's been playing dumb:
"I do not support expanding eligibility for college scholarships to undocumented immigrants at the expense of immigrants who are lawfully in our country," Zeldin said in an emailed statement to The Huffington Post.
The bill would require funding -- albeit a small amount -- but it wouldn't take away opportunities from other students who qualify for financial aid. So either Zeldin hasn't reviewed the legislation, or he's putting up a smokescreen. In any case, he's wrong.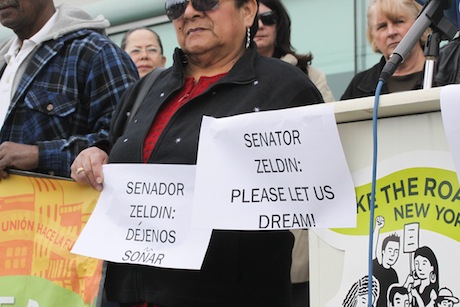 A rally outside the Ronkonkoma office of Senator Zeldin on March 28. (Photo: Ted Hesson)
For this bill to pass, it will need some support in the New York State Senate, and Long Island senators like Zeldin are ideal candidates. With large numbers of native-born young people fleeing Long Island after high school, elected officials here need to make sure they're creating a welcoming environment for immigrant youth, regardless of whether they have papers or not. And for the cost of a latte, it's undeniably worth the investment.
Support HuffPost
The Stakes Have Never Been Higher
Related
Popular in the Community