John Pearce knew he wanted to live in Dalat, in Vietnam's central highlands, from the very first time he visited the town.
"It's the closest place that I've found in Vietnam to the Pacific Northwest. It's why I moved here," he says. "The topography, the trees, and the climate remind me of home. The only difference is that the rainy season in Dalat is in the summer instead of the winter."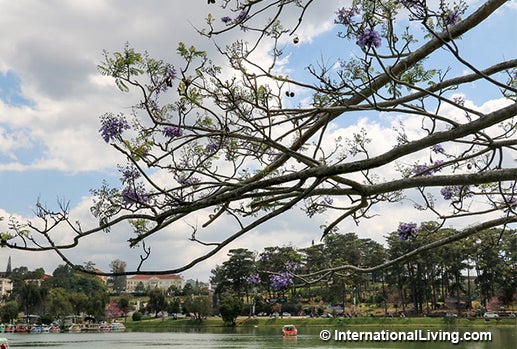 But that's not the only difference. In Dalat, John can retire happily at a quarter of the cost back home, including a four-story home he rents for just $353 a month.
John, a 63-year-old native of Olympia, Washington, is an avid motorcyclist, and he first came to Vietnam in 2013 to explore the country on two wheels. "There are a lot of people who go places on vacation and decide they have to live there. That's what happened to me," he says. "I had heard how beautiful Dalat was, so I came here to see it. I loved the food and how inexpensive everything was. The people were friendly and the cool weather was perfect. A year and three days later, I returned to Vietnam from Olympia and moved to Dalat."
As an avid motorcycle enthusiast, John understands the importance of wearing a helmet, and on his first trip to Vietnam, he was disturbed by how many helmetless children he saw on motorbikes. "Just prior to moving to Vietnam, I had an estate sale and advertised that the proceeds would go to buy helmets for the children in Dalat. I got almost $8,000 from the sale, which I used along with a few donations to buy high-quality children's helmets," John says. "I picked a poor school in Dalat and donated helmets to all the children and adults—teachers, principals, and janitors. Everyone in that school got a helmet. Then I did the same in a second school, for a total of over 750 helmets."
John is very proud of a photograph of him presenting helmets to local children that hangs in local government offices entitled "The American with a Vietnamese heart," and he continues to promote the cause through his website.
Dalat is home to around 200,000 people. That number includes only around 200 expats, but plenty of Western-style restaurants and expat-oriented activities make it easy to make friends.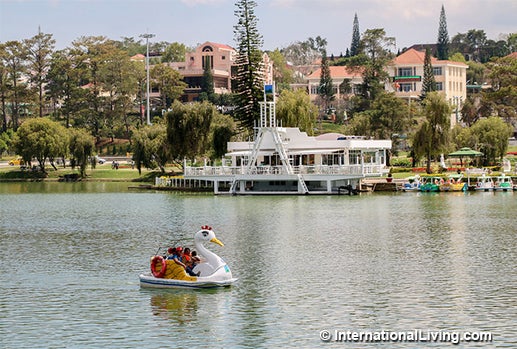 "Every Friday night, and every first Saturday afternoon of the month, there is an expat get-together," says John. "It's held at different places and is advertised on the Expats in Dalat group. There is also a Facebook group called Dalat Offroad Motorcycling Group, which has activities for both expats and Vietnamese people."
Despite its size, Dalat has a small-town vibe and a strong sense of community, which John has enjoyed since he moved here.
"The traffic is manageable and you can ride anywhere in 10 to 12 minutes. There are many family-run stores and businesses where, after a few visits, they remember you and the things that you like. Last year, I didn't get out for five months, due to some medical issues. When I was able to go out again, people who I hadn't seen for months greeted me and welcomed me back."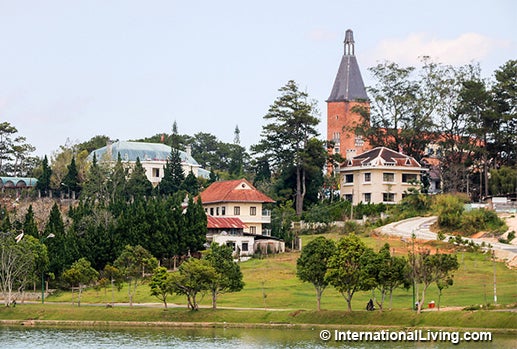 Dalat is just 180 miles northeast of steamy Ho Chi Minh City, but its lofty 5,000-foot elevation gives it mild, year-round weather. The town is hilly and surrounded by mountains, waterfalls, and pine forests. The daytime temperatures average 73 F and the evenings cool down to around 57 F. It's a perfect place for long walks, bicycling, and outdoor activities: Pretty parks, lakes, and flower gardens are throughout the town. Though not Vietnam's liveliest city, it's ideal if you enjoy peace and tranquility.
"I am away from it all," says John. "Sometimes I'll get on one of my bikes and ride around. I enjoy exploring the hills. There are 10 waterfalls within an hour's drive, and a really cool temple—Linh Phuoc Pagoda—six miles from the town center, in Tri Mat Village, which I've visited. Most often, though, I'll go to a small restaurant or café that doesn't get a lot of traffic and just sit there and drink tea and watch the world go by."
John has breakfast at home but goes out for lunch and dinner. It's an easy choice, given how inexpensive good food is in Dalat. "It's almost always Vietnamese food for me," he says. "There's a good vegetarian restaurant nearby that I like, and I love the Com Curry restaurant. A big bowl of rice and curry costs just 88 cents, and I just drink the free hot tea that's on the table. I can get a plate of fried rice there for $1.10. When I do go out for Western food, One More Café is my favorite restaurant in town. I'll go there sometimes with my girlfriend, and the total bill for two of us is about $11…and that's eating well."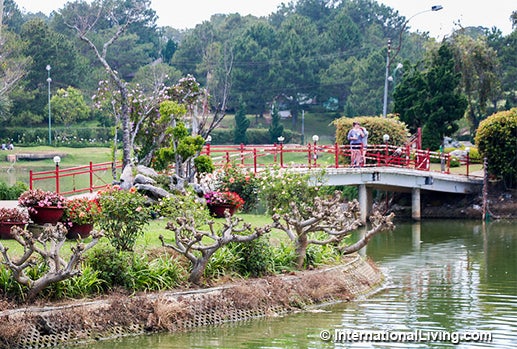 John lives in a spacious and modern furnished house across the street from the park-like grounds of a Buddhist temple. Like most houses in Vietnam, his four-level home has one room on each level. He has views of palms and towering eucalyptus trees through his front windows. The two bedrooms are huge and his kitchen is modern and well-equipped. His rent is just $353 a month. "It's very spacious and well-built," says John. "Each room has privacy, and I'm within walking distance of many good restaurants and shops. If this house was in Olympia, it would rent for $1,200 per month."
Other costs are low, too. Since John doesn't need heat or air conditioning here in the highlands, his utilities—which include water, trash, internet, and electricity—average just $30. He also pays $28.70 a month for a weekly housekeeper. All told, his living expenses come to around $1,500 a month, including food and expenses for his girlfriend and her daughter, who also live with him. He says, "The cost of living in Dalat is probably about a quarter of what it was in Olympia."
John loves his new life in Dalat. "I've been here for two-and-a-half years now," he says, "and I can't imagine myself going back to Washington. I love the climate and topography, the small-town feeling, and the recreational opportunities. I also like that there is not a huge expat community, so you can go a few days without seeing another Western face. It still feels like Vietnam."
Calling all HuffPost superfans!
Sign up for membership to become a founding member and help shape HuffPost's next chapter
This post was published on the now-closed HuffPost Contributor platform. Contributors control their own work and posted freely to our site. If you need to flag this entry as abusive,
send us an email
.