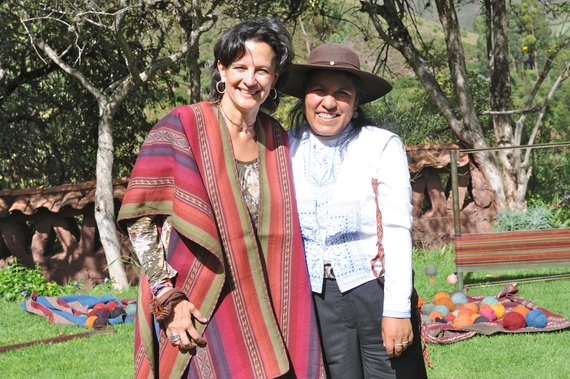 When I got my college degree I had no inkling that I would set up my own business one day and that social responsibility would be a centrepiece of it. I did a degree in finance and was mostly interested in the exciting and dynamic workings of the global financial markets, which at the time were imploding.
But as time went by and my career flourished, I gradually realized that I needed a greater incentive to get up in the morning than just making a salary, and I started pondering the need to do something more meaningful.
I was born in Peru and my family moved overseas as a result of the social, economic and political difficulties affecting Peru when I was a child. That crisis ensued until I was an adult, and I grew up in a more stable and peaceful part of the world but not without a nostalgia for my homeland.
I returned many times as a child and young adult, and witnessed first-hand the difficulties many of my compatriots continued to experience in their daily lives, not only during the years of crisis, but for decades and centuries. The uneven distribution of wealth, the discrimination and the lack of respect of a very valuable heritage and belief system, always made me feel uneasy.
When my work in the financial services industry brought me into contact with Peru, many years later, the situation in that country had stabilized and I realized I had the experience and the sensitivity to make something work in Peru, both for my benefit and for that of those who were less privileged.
I believe strongly in entrepreneurship and I wanted to create social impact through those means, building a business, setting an example of creating and developing it with the principles I believe in: integrity, honesty and sincerity. I also feel that everyone - in particular if you happen to come from a country where the majority of the population are struggling - has the moral obligation to give back and contribute to society.
Travel had always been my passion, as I have an insatiable thirst for ideas and learning. My passion and my motivation came together in creating a travel company whose commitment was to showcase the proud and valuable heritage of the people from my country and region to an avid and interested clientele, whilst promoting positive change.
Throughout the past two decades, Aracari has proudly supported local communities and businesses, with social responsibility at the heart of our operations.
We supported the Albergue Rural Suasi eco lodge in Lake Titicaca right from the start, when few people believed in it; it is now a successful and well-established private reserve for the wildlife of the Altiplano.
We bring our clients to visit Cusco's Centre of Traditional Textiles, supporting the traditional skills of master weaver Nilda Callanaupa and forming one of the main sources of income for her weaving community.
We have also sought to publicise some of the fantastic but lesser-known properties in the region, encouraging travel and income to the communities they support.
What makes me most proud is that my initial vision, established at the very beginning, of promoting the natural attractions of Peru and Bolivia sustainably through low impact, high quality tourism, still stands true: I haven't deviated one bit.
I have managed to conceive and successfully build a profitable business that creates jobs, disseminates ethical business practices and provides a market for locally sourced services, whilst allowing me to continue learning and living the life I want to live.
Pioneers for Change is a seed-bed for innovative thought. An activator of personal potential. A catalyst for collective energy. A community to drive social change.
Our annual, international Fellowship is open to anyone aged 28 - 108 years old. We gather change-makers -- a business person, a community person, an investor, a thinker or doer -- who are willing to harness their talents, energy and resources as a force for good. Pioneers for Change is an initiative of Adessy Associates.
Adessy Associates believes a better world is possible, and equips and enables organisations and individuals to make positive change happen and contribute to a sustainable future. We focus on benefit for people, planet and profit and our bespoke services harness sustainability, innovation, consciousness and purpose. We are proudly B Corp certified.
About Marisol Mosquera
Peruvian national Marisol, established Aracari 20 years ago to provide the culturally curious traveller with unparalleled access to her treasure trove of knowledge, advice and connections, resulting in enriched experiences and a wholly personalised approach to experiential travel. Following a ten-year stint in London working in the City's financial district, Marisol returned to her native Peru in the mid-nineties to fulfil a personal dream of providing first class holiday experiences for international visitors travelling to her beloved homeland and tapping into an emerging consciousness of giving back to local communities.
Related
Popular in the Community