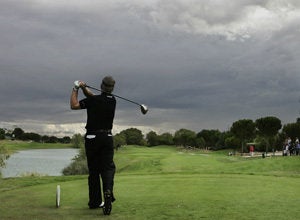 In 2004, there were 38 golf courses in the Beijing area. Worried about land grabs by developers, the Chinese government that year issued a moratorium on the development of new courses. Just two weeks ago, however, the Southern Weekend (Nanfang zhoumo) reported that China's Department of Homeland, after a city-wide inspection, found the number of Beijing courses to have nearly doubled since 2004, from 38 to 73 (a number that excludes 42 driving ranges).
With the average 18-hole course occupying 248 acres, roughly 18,100 acres of Beijing land (approximately 25% more acreage than the whole of Manhattan) are given over to the elite sport of golfing. The Southern Weekend remarks that many courses are located on flat, arable land -- land especially suitable for corn production. And, of course, golf grasses require intensive turf management -- meaning heavy watering and heavy application of pesticides and other chemicals, which leach into the soil and the city's groundwater.
The government, it seems, can issue all the prohibitions and moratoriums in the world, but they mean little without enforcement. And though you'd think that enforcement of the 2004 moratorium would be a relatively simple matter, course developers don't necessarily register the land that comes into their possession for "golf course" use. Instead they might register it as land for a recreational center, a high-end tourist site, a hotel, or a resort -- and then incorporate a course into the project.
Still, the construction of a golf course can hardly be kept a secret. Spotting one going up shouldn't be much of a challenge. This then raises a number of questions: 1) Did the 2004 moratorium lay out a clear set of punishments for its violation (I've found nothing)? 2) Were local land officials given the responsibility and the means for enforcement of the moratorium? 3) If so, did local land officials not follow through on their responsibilities? 4) Were local officials working hand-in-hand with the land developers? 5) And did local officials, when uncovering violations, ignore them because the courses represented an economic boon to their jurisdictions? These questions need to be sorted out.
But, there is little question that, environmentally, Beijing's golf craze -- considering the sizeable amount of land taken out of production in a country short of arable land, the water and the pesticides needed to maintain the 18,100 acres, and the harmful effects of intensive turf management on the city's water supply -- makes little sense.
And if the environmental irrationality of promoting the sport of golf in China needs to be underscored, just read yesterday's People's Daily (Jan. 31), which reports:
As of January 28, 77.4 million mu (5.16 million acres) of crops had been harmed by the ongoing drought, and 2.57 million people were faced with drinking water shortages in China....Local governments of the affected regions must make efforts to monitor drought conditions, speed up the building of water projects, increase drought-fighting material reserves and grant subsidies to the drought-stricken population.
Efforts will be intensified to promote water conservation as well as the sustainable use of the precious resource, and the task will be a multi-trillion yuan national priority, a central policy document said.
In a country like ours, where, in the minds of many, driving the right car and belonging to an exclusive golf club mark elite socio-economic status, we should be slow to criticize Chinese for aspiring to similar status symbols. (We can ask, however, why Chinese routinely look to Western symbols -- like the game of golf -- for affirmation of status.) In any event, let's just hope that they are quicker to appreciate the injury their pursuit of these symbols will have on their environmental present and future.
Related
Popular in the Community