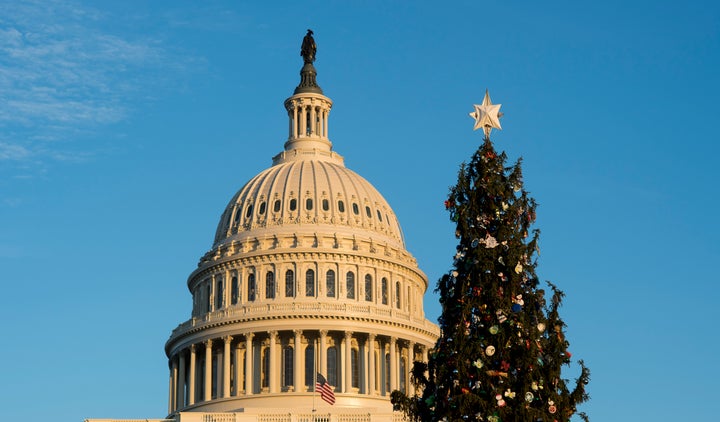 In June, the department announced that Restaurant Associates, a subsidiary of the food service conglomerate Compass Group, would repay 674 Senate workers back wages after the company failed to pay employees the prevailing wage under federal law and didn't compensate employees for all the hours they worked.
Restaurant Associates has since paid back the workers. But the department went a step further on Thursday, filing a complaint requesting that the company be forbidden from receiving new contracts for a period of three years. The request will now go before an administrative law judge. If approved, it will only affect future contracts, not the current one at the Senate building, which runs through 2029, according to the Labor Department filing.
In a statement, Oscar L. Hampton III, a solicitor with the Labor Department, said that "doing business with the federal government is a privilege and not a right." He said the agency filed the disbarment request "to ensure a fair and level competitive playing field for all federal contractors and a fair day's pay for a fair day's work."
When private contractors get public money, they're often held to prevailing wage laws that mandate minimum wages for particular jobs. The idea is to keep contractors from underbidding one another and driving down wages in the local economy. The workers in the Senate building are entitled to certain minimum rates according to their positions ― "Level 1 cook," "Level 2 cook," "food service worker," etc.
According to the Labor Department, Restaurant Associates misclassified workers by putting them in lower job categories, resulting in lower pay. The company said the misclassification was an honest mistake, resulting from "administrative technicalities related to [workers'] evolving day-to-day work responsibilities."
In a statement Friday, Restaurant Associates said it was "surprised and disappointed" that the Labor Department was seeking disbarment: "Restaurant Associates, which had no history of previous [prevailing wage] violations, fully cooperated in the investigation. The company immediately paid all back wages owed and made all changes to pay practices going forward as requested by DOL. ... DOL's decision is unprecedented in these circumstances."
Workers get shorted on pay all the time, but this case was most notable for where it happened ― right inside the U.S. Senate. Good Jobs Nation, a labor group trying to unionize workers on federal properties, said the allegations were emblematic of a much bigger problem. "If federal contractors believe they can get away with breaking federal laws right under the nose of lawmakers, imagine what they're doing all across the U.S.," Joseph Geevarghese, the group's director, told HuffPost in July.
The Labor Department's investigation came on the heels of a complaint filed by Good Jobs Nation on behalf of the workers. In recent years, the group has spearheaded protests and one-day strikes by low-wage workers at buildings including the Capitol, the Smithsonian and the Pentagon, where people work in fast-food restaurants, catering and janitorial services. Some prominent liberal lawmakers have showed up at rallies to support the workers, including Sen. Bernie Sanders (I-Vt.) and Rep. Keith Ellison (D-Minn.).
The protesting workers say that they earn too little money to get by in the Washington region, and that federal contractors should be held to higher standards than they currently are. Their arguments persuaded President Barack Obama to issue several executive orders related to contractors, including one that set a minimum wage of $10.10 per hour. Another executive order, currently tied up in court, would make it easier to prevent companies from getting contracts if they have a documented history of wage theft or workplace hazards.
Though hailed by advocates for low-wage workers, the executive orders will be at the mercy of President-elect Donald Trump when he takes office next month. 
Calling all HuffPost superfans!
Sign up for membership to become a founding member and help shape HuffPost's next chapter
BEFORE YOU GO
PHOTO GALLERY
The Faces of the Fight for 15 Movement