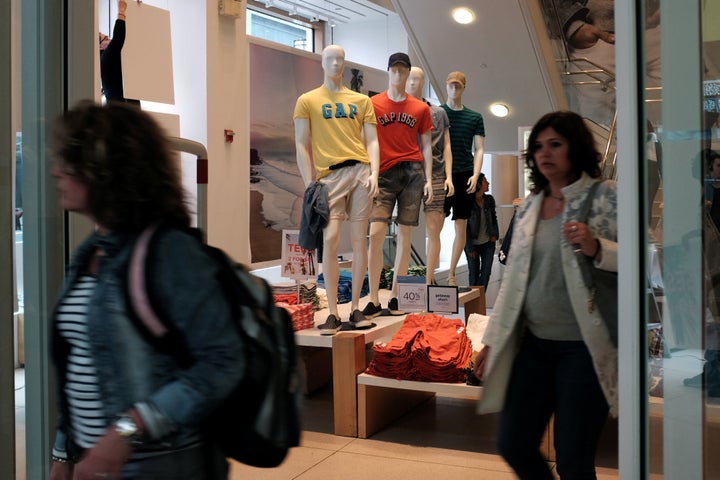 There's a power shift afoot in the U.S. economy.
Gap's recent announcement that all five of its brands will end on-call scheduling this fall -- the third such announcement from a big retailer this summer -- is a huge win for workers. The move points to an ongoing change in the dynamics between employers and their workers, and to an improving American economy after more than half a decade of recovery from the Great Recession.
The retailer posted on its blog Wednesday that "each of our brands has committed to improving their scheduling policies to provide their store employees with at least 10 to 14 days notice" of when they will be working. (Emphasis ours.)
On-call scheduling became popular in the retail industry in the last few years as advances in technology made it possible for managers to pinpoint the exact hours when a specific store would need more or fewer staff members. The policy requires workers to be "on call" for a certain amount of time each week, during which time they may or may not be asked to come into work. They are only paid for the hours they are asked to come into the store.
This practice doesn't cost the company much, but it's expensive for workers, who are unable to schedule anything else for the hours they're on call. It makes it difficult for employees to go to school, arrange for child care or work a second job, which many low-wage workers might need in order to make ends meet.
The shift away from on-call scheduling is both a win for labor organizers, who have been working to end the practice for years, and a sign that the overall economic situation is improving for workers, particularly at the bottom of the wage scale.
These scheduling wins parallel announcements this year from companies like Walmart, T.J. Maxx and McDonald's that they are raising wages for hourly workers. They also come alongside a number of policy victories for the Fight for $15 movement.
"The Gap announcement doesn't come just because other folks in the industry stopped doing [on-call scheduling]," said Rachel Laforest, the director of the Retail Action Project, a community organizing project affiliated with the Retail, Wholesale and Department Store Union. "There's an enormous amount of public and behind-the-scenes pressure."
This idea of total compensation for low-wage workers is important, because many of them don't control how many hours they get to work per week. Rather, their employers do. While Gap's new policy doesn't say anything about a minimum number of hours for employees, giving them more predictable schedules should at least make it easier to take a second job if necessary.
"We often focus on the hourly wage, but there are other aspects [to compensation]," said Betsey Stevenson, an associate professor of economics and public policy at the University of Michigan. "Employers experimented with this in a very weak labor market, and as the labor market improved, they learned that that was not free to do."
Erica Smiley, the director of campaigns at the advocacy group Jobs With Justice, which has been working to end on-call scheduling in the retail industry, explained that for hourly workers, the amount of time they actually work per week can be just as important as the wage they get.
"Where companies were able to raise wages, it didn't actually boost a worker's paycheck at the end of the day," she said, because many workers had their hours cut. Ten dollars an hour isn't better than $8 if a worker's hours get cut from 30 a week to 15.
Because the retail industry is so large, it can take a leading role in setting standards for other industries, said Smiley. Those standards have "a ripple effect throughout the economy."
Related
Popular in the Community