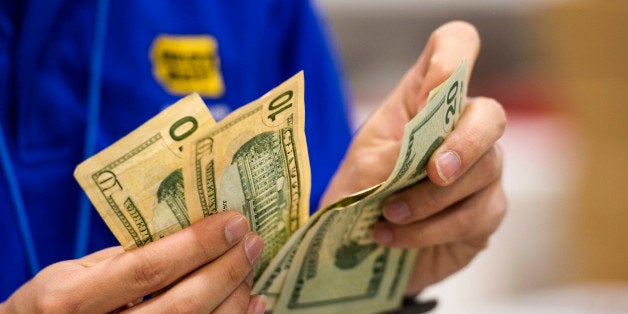 For many American workers, this is the time of year for tying up loose ends and taking it easy. For Simon Ting, this is the time of year for working harder than ever.
Ting, 24, works at a Macy's in San Francisco, and he's paid largely on commission. That means the more he sells, the more money he makes -- and the holiday season is a great time for selling. Ting tries to be at Macy's for as many of the store's extended hours as he can during the holiday rush. He knows sales will be hard to come by after New Year's. In past holiday seasons, when he staffed other retailers' stores, Ting worked so much he slept on the stockroom floor between shifts.
"I get a really massive amount of my paycheck during these two months, so I have to save that money," Ting said. "After the holiday season is over, no one is really in the store anymore, and you don't make any money anymore. That's going to be really rough."
Ting isn't alone. A steady paycheck has grown elusive for many Americans in an economic recovery dominated by part-time, low-wage work. That work is often in retail, where the holiday season is a time to put in as many hours as possible -- sometimes at multiple jobs and on holidays like Thanksgiving -- to build a cushion for leaner months. Those leaner months often come right after the holidays, as stores hire less, lay off seasonal employees and cut permanent workers' hours to cope with slower sales.
Retail companies typically boost payrolls by 3 percent to 4 percent from October to December, according to a Pew Research Center analysis of Bureau of Labor Statistics data. That's followed by a 5 percent to 6 percent decline in retail payrolls from December to February.
"If you're looking for extra money, or that's the only job you can find, that's better than nothing, but it's certainly not something you can build a life on," said Drew DeSilver, a senior writer at Pew who conducted the analysis.
The people lucky enough to work for a retailer year-round typically make less after Christmas ends. Rank-and-file employees at clothing and clothing accessories stores made $266.64 a week, on average, in December 2013, according to BLS data that is not seasonally adjusted. The following month, that number fell to $248.35.
This kind of income instability is becoming the norm for many people in many industries. Some are permanent employees of giant companies that use scheduling software to cut labor costs. Others are temporary workers never hired for a permanent gig.
Either way, "people have lumpy hours throughout the year," said Rachel Schneider, a senior vice president at the Center for Financial Services Innovation, a group dedicated to improving Americans' financial health.
"There are so many jobs where people just don't know their full schedule," Schneider said. That, combined with the fact that expenses like car maintenance and health care can be unpredictable, means that many households see dips and spikes in income throughout the year.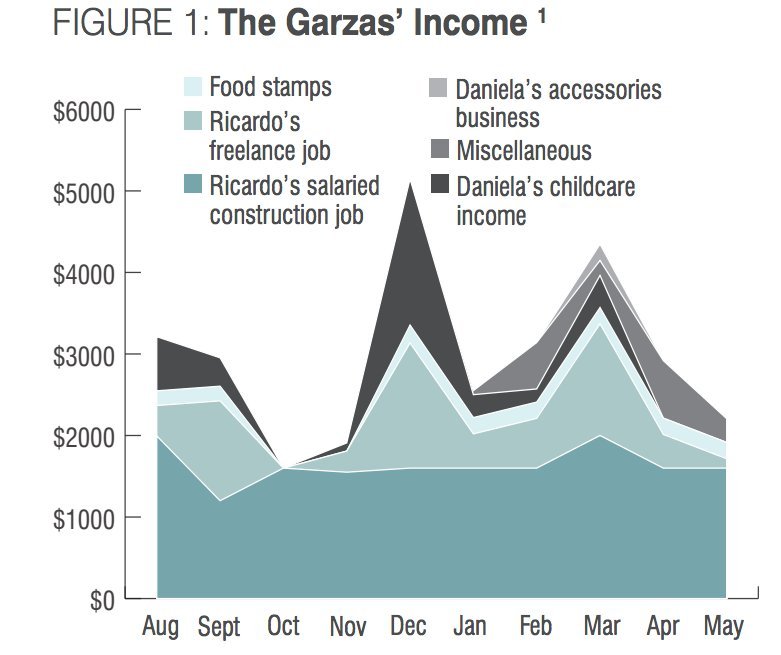 This chart from U.S. Financial Diaries, a report by Schneider and colleagues, shows the dips and spikes in income of one of the families they studied.
About 30 percent of American households have incomes that often vary from month to month, according to a July 2014 survey from the Federal Reserve. The survey was the Fed's first to explore the subject, but census data shows that the share of Americans with unstable incomes has increased in recent years. More than 30 percent of Americans were living in poverty for at least two months from 2009 to 2011 -- a 4.5 percent increase from the period 2005 to 2007.
Poor families are more likely to be plagued by unstable paychecks. About half of households living below the poverty line said their income is hard to predict, compared with slightly less than 20 percent of those making 150 percent to 200 percent of the poverty line, according to the U.S. Financial Diaries, a report released earlier this month by Schneider's organization.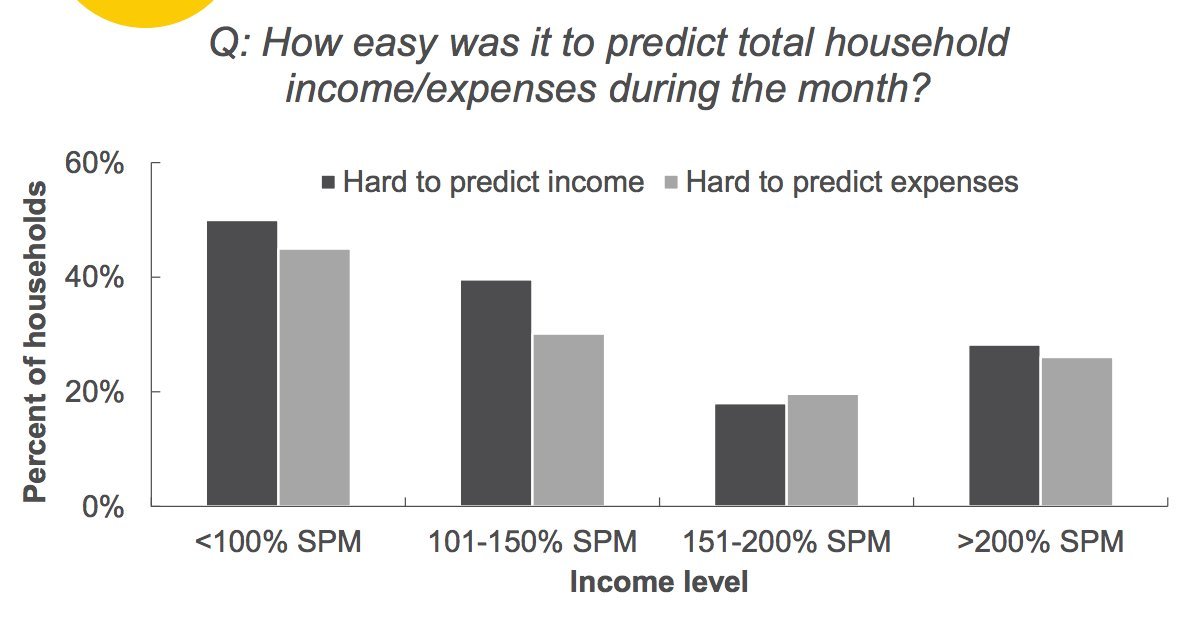 This chart from U.S. Financial Diaries shows that poor Americans are more likely to experience unstable incomes. Those on the left of the chart are living at less than 100 percent of the supplemental poverty measure, an alternative calculation of the poverty line.
This year-round instability is part of the reason so many low-wage Americans find themselves working so much during November and December. "People use that time to make more money," Schneider said.
"I'm always working," one 33-year-old Kmart worker said of the holiday season. In past years, the Michigan employee said he worked at the retail giant 30 hours a week in the lead-up to Christmas -- the most he could clock in and still be considered part-time. But come January, "then you get smacked right back down," to very few hours, said the worker, who asked to remain anonymous to protect his job.
The first time he worked a busy holiday season followed by a slow January, the worker, who makes minimum wage, said he was "stunned" when he looked at his first post-holiday paycheck. It was for just four hours a week, "so immediately I started looking for another job."
Each Kmart location "bases its staffing needs on what they're anticipating for that particular store," Howard Riefs, a Kmart spokesman, wrote in an email. He added that the company "has always been fortunate" to have a mix of full-time, part-time and seasonal workers to staff its stores.
"We make every effort to provide the level of service that will give our members and customers the best shopping experience during the holidays and throughout the year," Riefs wrote.
Still, it's been a struggle for the 33-year-old Kmart worker, even after finding a second job. He makes less than $9 an hour at both gigs.

Between the two jobs, he works more than 40 hours a week during the holiday season. But last year, during a slow period, Kmart didn't schedule him to work a shift for nearly two months, forcing him to stretch what he had left of his holiday paycheck.
"You have to budget your money as wisely as you can," said the worker, who lives in his father-in-law's house with his wife and brother-in-law and splits bills with them. "You cook everything at home, you don't go anywhere you don't need to go."
As for Ting, he tries to keep from "going crazy" worrying about money by moonlighting as a driver for Uber, Lyft and other ride-sharing services during the slow months. "Those are options, but it's not stable," he said, noting he makes about $150 before gas for about 8 hours of driving. Even with the extra cash, Ting said he struggles to afford car payments, health care bills and his $700 a month room in nearby Daly City, California.
"After the holiday, you're totally stuck," he said.
Calling all HuffPost superfans!
Sign up for membership to become a founding member and help shape HuffPost's next chapter