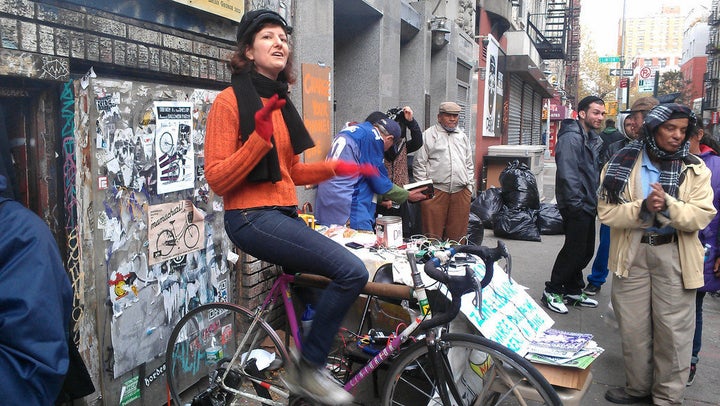 For nearly a week, power was out in lower Manhattan, one of the densest, most cosmopolitan areas on earth. How did residents cope?
Things wouldn't have remained as calm as they did without the hard work of some responsible citizens who stepped up to help others in need. Here, The Huffington Post presents a very, very incomplete list of the ordinary heroes of the blackout in downtown Manhattan.
Restaurants with spoiling stock had been trashing their perishables, and volunteers at ABC No Rio made it a mission to hunt down food, wherever it was, and give it away for free. On offer: hamburgers cooked on a charcoal grill, baguettes and Wonder Bread, cold cuts, vegetable stew, tea, oranges and water.
Why did they do this? "People needed food," said ABC volunteer Olivia Cieri. She said that they got the idea from C Squat, a squatter community on 9th Street and Avenue C, which started giving out food earlier in the week. Jessica Lingel, another volunteer, exhorted visitors to spread the word and said the ABC volunteers would keep themselves at their Rivington Street base "until curfew at 10."
"I built these bikes for the Occupy Wall Street protests," bicycle mechanic and Time's Up New York volunteer Keegan Stephans said. The bicycle-powered generators he built were originally used to bring power to people in Zuccotti Park. After police broke up the protests, Stephens wasn't sure the bikes would ever be used again, but kept them in the back of his Rivington Street bicycle repair shop next to ABC No Rio.
After the storm, the bikes were back and generating pedal power courtesy of Time's Up New York. The "direct action environmental group" set up two stations in Lower Manhattan, one on Rivington Street and another at the Museum of Reclaimed Urban Space. Volunteers pedalled to power 20 or 25 cellphones at a time for local residents badly in need of a way to communicate.
"I didn't close during 9/11," said Brian Delaney, the owner of the Spring Lounge. "I was thinking of closing but then the FDNY actually asked me to stay open -- they said they needed some place to sit down, to chill out. So I stayed."
This time, after Hurricane Sandy, Delaney didn't even think about closing his bar. When the power went out, he "hustled," calling every distributor he knew in order to get ice down by his 8:00 a.m. opening time. But hustle alone couldn't keep everything normal: until the power came back on Delaney accepted only cash and served only bottled beer.
When the power went out, David Bradford and Chris Lukos kept the SoHo branch of Eastern Mountain Sports open, serving up survival tips and free coffee cooked in camp stoves to cold, frightened and caffeine-deprived passerby. Bradford and Lukos are Eastern Mountain Sports employees, veterans of Outward Bound and used to surviving without electricity. The same cannot be said of many New Yorkers, Bradford explained. "The first day, people are like 'Eh, I need a headlamp,'" he said. "The next day, they realize it might last a long time, they're like 'What do I do? How do I cook? What do I cook?'"
"We're New Yorkers," Lukos added, beginning the boil on another pot of coffee. "Sometimes we forget this. But we can get through this if we band together."
By Friday, Chase Bank had gotten the ATMs at its SoHo branch working. They opened at 10:00 a.m. and welcomed every visitor, customer or no customer. Free charging was provided via power strips plugged into the bank's outlets, and they provided chargers to anyone who had forgotten to bring theirs. Employees gave out free water, and allowed anyone who asked to make calls via the bank's working landline. "We're a retail business," said a Chase Bank employee who asked not to be named. "It's smart to do this."
When Con Edison began giving out dry ice in Union Square in the afternoons, an impromptu community formed there. Waiting in a long queue for precious makeshift refrigeration, residents started leaving chalk-written notes on the ground to advertise businesses, events or complaints. "OM Factory Yoga, 073 Broadway, 4 PM" read one note, while another informed readers "Saturday Greenmarket, 11-3, Madison Square Park." A third, chalked on the sidewalk near the park, just said "FEMA?"
Nearby home goods store Fishs Eddy also became an information warehouse, with yellow post-it notes on the plate glass windows providing information, commentary and complaints. And nearby residents were happy to give tips on where to get cellphone service for any given carrier. Some of the tips were the type you'd only hear after a great storm. "You need to get somewhere up high," said a young man who introduced himself as Cali, "like California." He was standing on a lamppost to make a call.
Calling all HuffPost superfans!
Sign up for membership to become a founding member and help shape HuffPost's next chapter
BEFORE YOU GO
PHOTO GALLERY
Blackout: Scenes From Lower Manhattan During The Outage