Eight people are dead and 12 injured after a truck mowed down pedestrians and cyclists and rammed into a school bus in lower Manhattan on Tuesday afternoon.

The suspect, 29-year-old Sayfullo Habibullaevic Saipov, acted in the name of the self-described Islamic State.

Two of the dead were American, five were Argentinian and one was Belgian.
NEW YORK ― Authorities confirmed Wednesday that a 29-year-old Uzbek immigrant who mowed down crowds in lower Manhattan, killing eight people and injuring 12, acted in the name of the self-described Islamic State and had been planning the attack for several weeks.
The suspect, identified as Sayfullo Habibullaevic Saipov, "followed almost exactly to a T" the instructions that ISIS advertises on social media about how to carry out an attack, said John Miller, the New York City Police Department deputy commissioner of intelligence and counterterrorism, in a Wednesday news conference. Notes found at the scene indicated Saipov's belief that the militant group "would endure forever."
At a press conference later Wednesday, U.S. Attorney for the Southern District of New York Joon H. Kim said that authorities also found thousands of ISIS-related images and 90 videos on cell phones found in a bag Saipov was carrying. Saipov also allegedly said he was inspired to carry out the attack by ISIS, had planned the attack for two months and rented the truck with which he carried out the attack weeks ahead of time so he could practice driving it.
Saipov was charged Wednesday with providing material support to a terrorist organization as well as destruction of a motor vehicle.
Although he had never been the subject of an NYPD or FBI investigation himself, Miller said, Saipov may have "touched subjects of other investigations."
Law enforcement also said they had located Mukhammadzoir Kadirova, second Uzbek man, they had been seeking in connection with the attack.
According to police, Saipov rented a truck from Home Depot in Passaic, New Jersey, around 2 p.m. local time. According to the criminal complaint, Saipov carried out the attack on Halloween "because he believed there would be more civilians on the street for the holiday."
An hour after renting the truck, cameras captured him driving it the wrong way down a bike path on the West Side Highway, slamming into pedestrians and cyclists.
He then rammed into a Stuyvesant High School bus, injuring two adults and two children. (One of the children is in critical condition, a New York Department of Education official confirmed.)
The suspect exited the vehicle brandishing what police described as "imitation firearms," later identified as a paintball gun and a pellet gun. A police officer confronted and shot the driver, who was then transported to the hospital.
"This was an act of terror, and a particularly cowardly act of terror, aimed at innocent civilians," New York City Mayor Bill de Blasio said during a press conference Tuesday evening.
New York Gov. Andrew Cuomo said Saipov had been radicalized in the U.S. Miller added that notes found at the scene offered further proof of his ties to ISIS. The militant group has not yet claimed responsibility for the attack, but some of its supporters took to social media to celebrate it.
Saipov is now in police custody at a local hospital. Law enforcement said he most recently lived in Tampa, Florida. An address from 2015 linked to Saipov's name was also found in Stow, Ohio.
Uzbek President Shavkat Mirziyoyev offered his country's resources to help investigate the attack on Wednesday, according to Reuters.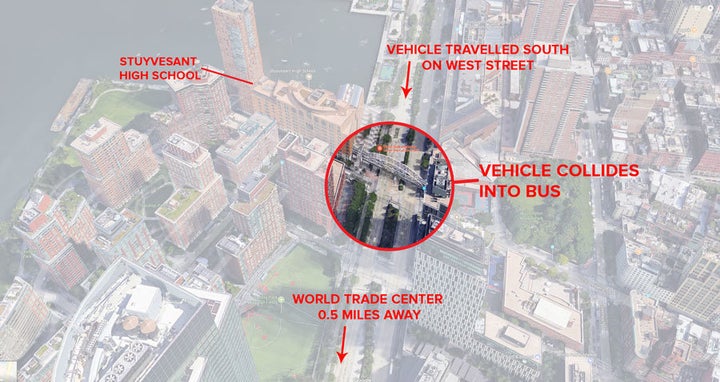 Two Americans were killed in the attack, alongside one Belgian and five Argentinians, officials said Wednesday in a news conference. The men from Argentina were identified as Hernán Mendoza, Diego Angelini, Alejandro Pagnucco, Ariel Erlij and Hernán Ferruchi.
"The compatriots, from the city of Rosario, were part of a group of friends celebrating the 30th anniversary of their graduation from the polytechnic school of that city when the tragic event occurred," the Argentinian government said.
Of the 12 injured, three had been released, officials said Wednesday. Melissa Henry, assistant director of public affairs for Bellevue Hospital Center, confirmed to HuffPost that five patients had been transported to that hospital. Security was tight at the hospital in the hours following the shooting, with many police on the scene.
The injuries ranged from a bilateral amputation to serious head, back, neck and chest trauma, plus trauma to arms and legs, said Daniel A. Nigro, New York City Fire Department commissioner.
The city's annual Halloween parade still went on as planned Tuesday night with heightened security.
The use of vehicles as weapons in terror attacks is a frequent tactic for extremists, who have adopted it to kill more than 100 people in Europe in recent years. The self-described Islamic State has long advocated for its supporters to carry out such attacks and has featured them heavily in its propaganda.
In response to this type of attack, governments have considered a wide range of defensive measures, including installing protective netting that can trap tires and putting stricter regulations on vehicle rentals. Cities have also added barriers such as concrete blocks and security bollards to protect heavily populated areas from trucks and cars.
New York City for years has been aware of the possibility of vehicle attacks, and redesigned its Times Square to add more bollards based on recommendations in 2012 from a counterterrorism official. But, as attacks in Europe have shown, it is impossible to secure every soft target and area of a city.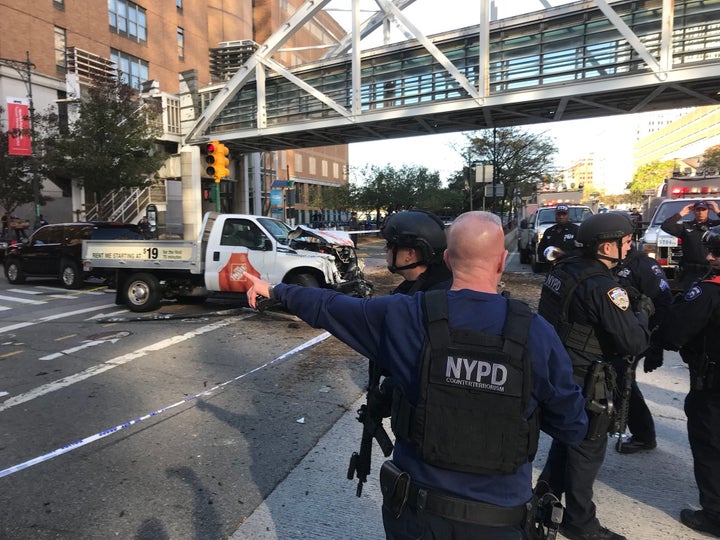 John Williams, a 22-year-old Brooklyn College student, said he arrived on the scene near Stuyvesant High School just after the crash had taken place. He told HuffPost he heard at least five "very fast" gunshots.
"I heard people yelling, 'He's got a gun! He's got a gun!'" said Williams.
Williams said he saw a man being arrested and another man, who "looked like he had been shot," laying on the ground nearby.
"The front was mashed in," Williams said of the truck involved. "And there was smoke coming out of it."
Ezequial Gonzalez, 18, was walking near Stuyvesant High School, where he works as a speech coach, when he heard what he thought were "just car gaskets."
"Now they're saying those were gunshots," Gonzalez said. "There were police just barreling down [the street]."
Gonzalez said he tried to get into the high school, but the building was locked down. He said he could see the crashed vehicle "caved in the front" and "debris everywhere."
"There was something on the street that looked like ― they said it was a body covered with a sheet," he said. "Everyone was very confused."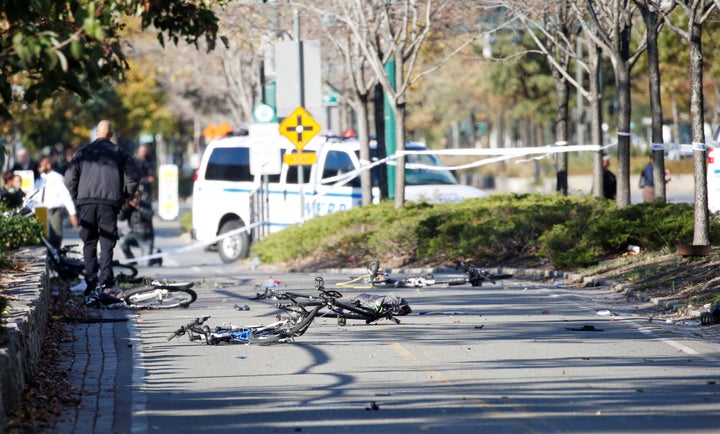 Gene Duffy, 43, said he saw a white pickup truck "flying down the bike path" as he was walking home from work. He told HuffPost he rushed over to the scene after hearing a woman screaming and found victims covered in "tire tracks."
"This one guy's leg was ― his bones were out and the blood was out," Duffy told HuffPost. "I looked to see if he was moving or anything, you see all the blood on his face and he was lying in a puddle of blood."
Michael Okhravi, 29, was outside his office next to Stuyvesant High School when he heard at least five shots. He said he immediately called an Uber to flee the area. That's when he saw the bodies lined up on the street, he said.
"As I was stuck in traffic there were multiple bodies not just in one area by the high school, but even all the way up to Watts Street," Okhravi told HuffPost. "It was just body after body."
Okhravi said he saw four bodies in total, dead from what he said was "obviously not a gun shot" but more likely from a vehicle hitting them. He saw paramedics covering them up with sheets.
"It was at least four bodies that I saw," he said.
Tuesday's incident was the deadliest terror attack in New York City since Sept. 11, 2001.
Last year, a man planted two bombs in Manhattan's Chelsea neighborhood, one of which exploded and injured 30 individuals.
There have also been multiple bombing attempts in Manhattan's Times Square, including a plot quietly foiled by authorities last year.
Nick Robins-Early, Matt Ferner, Rebecca Klein and Hayley Miller contributed reporting.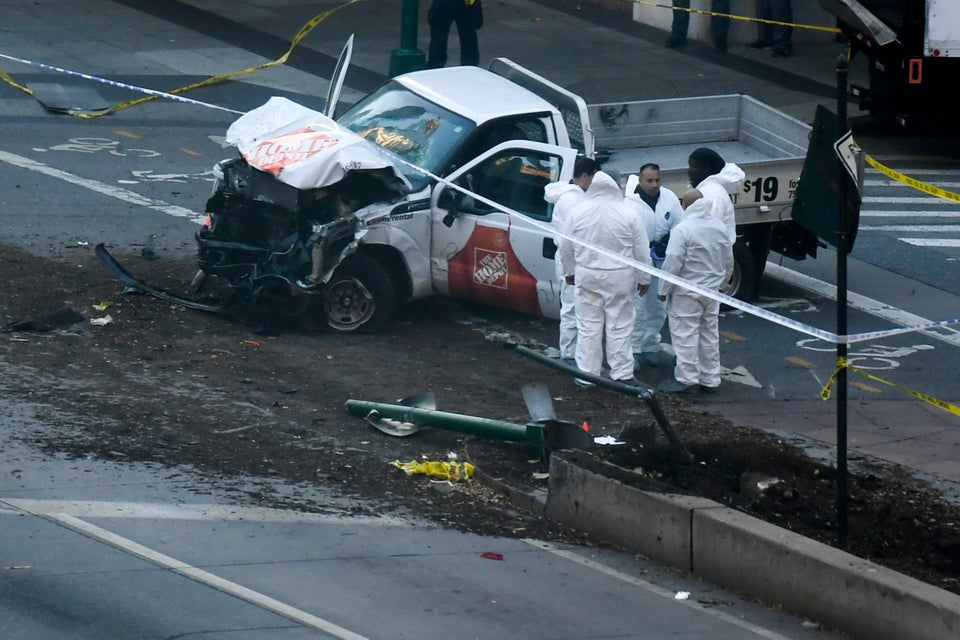 DON EMMERT via Getty Images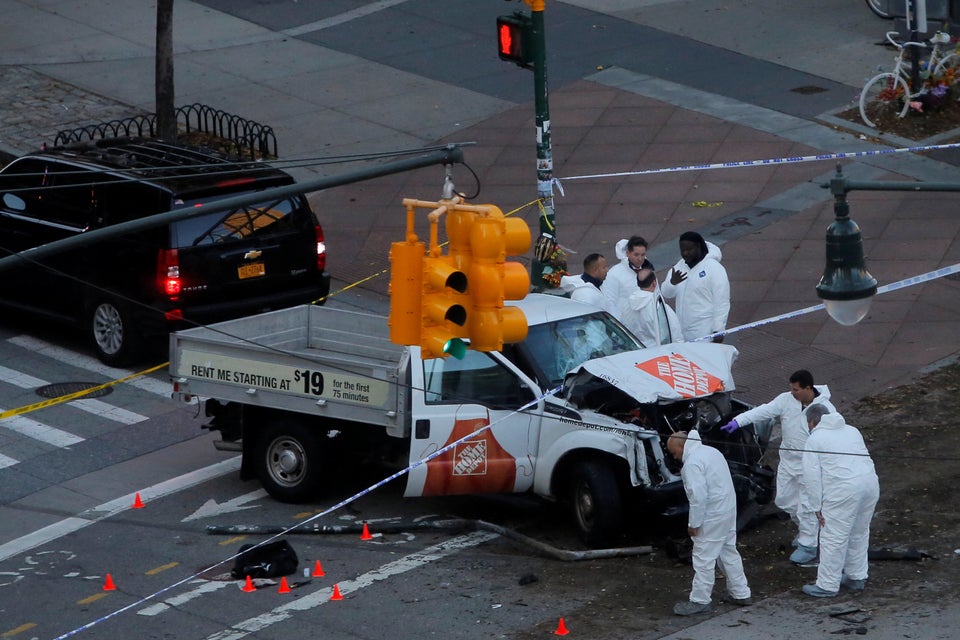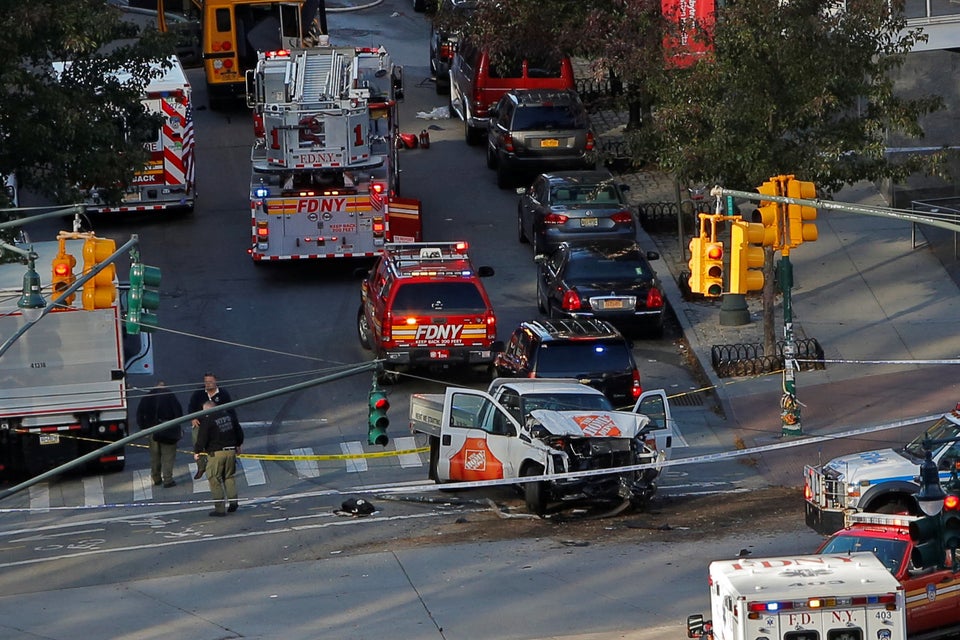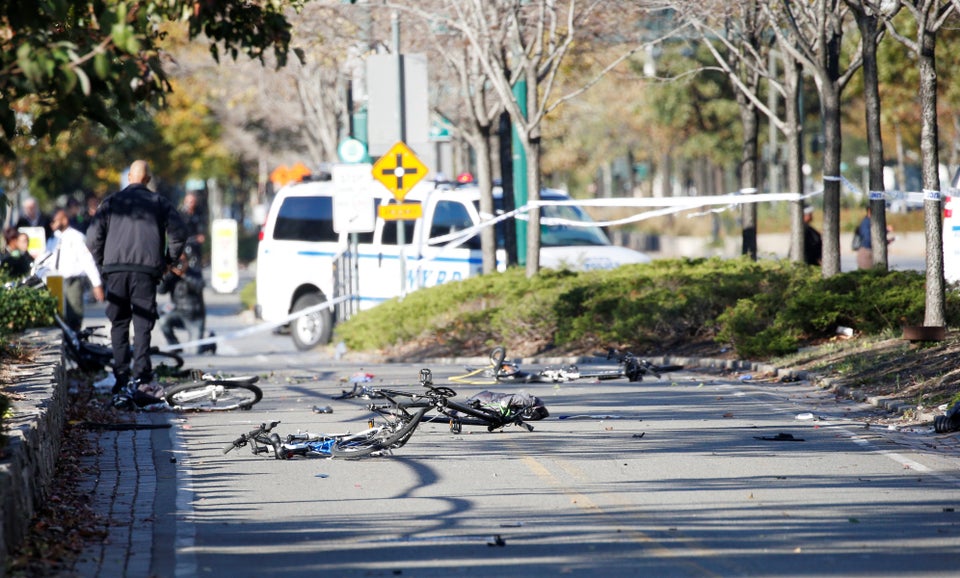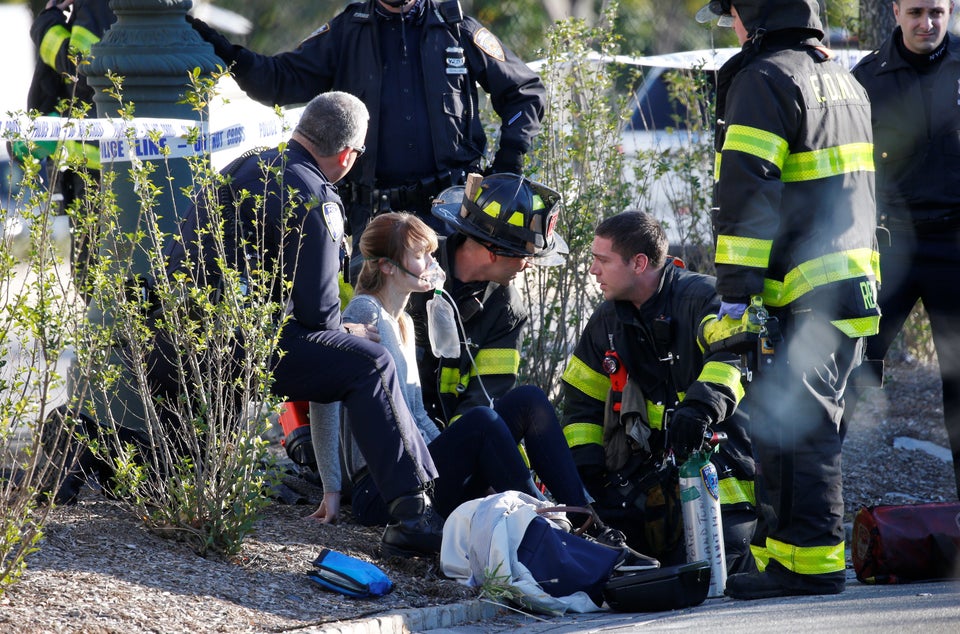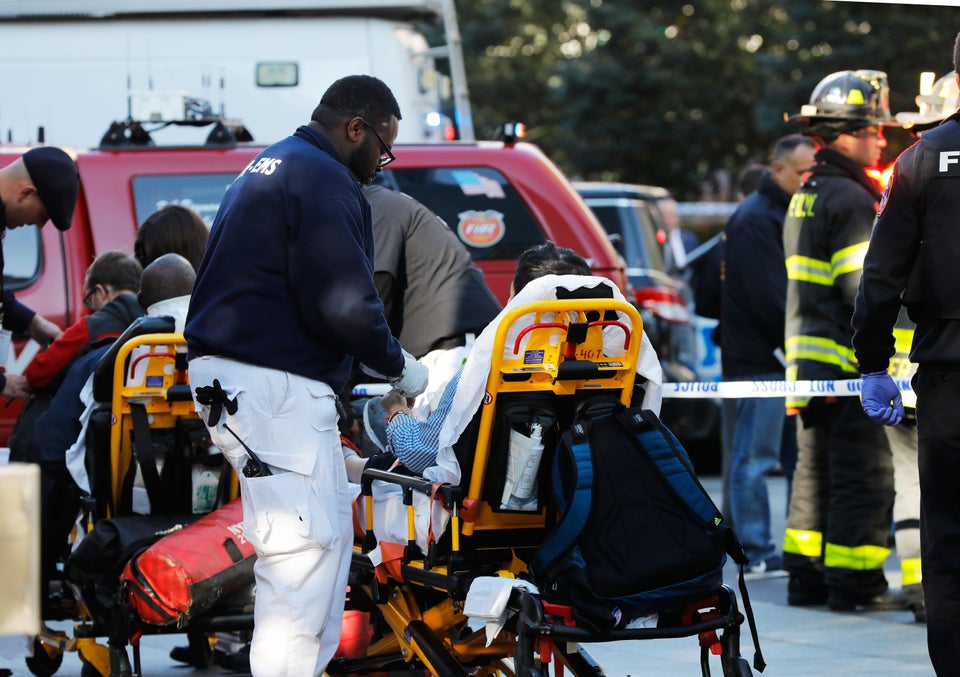 Shannon Stapleton/Reuters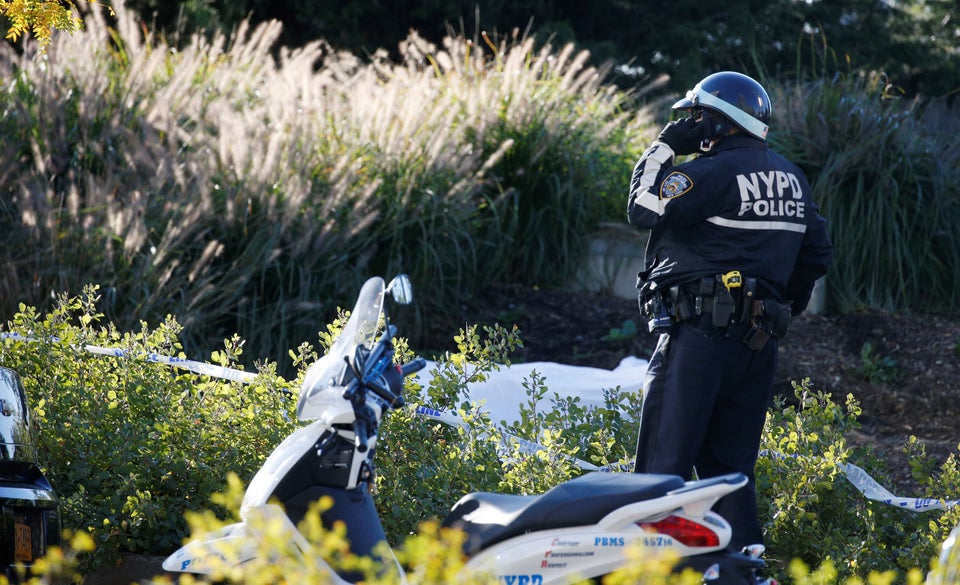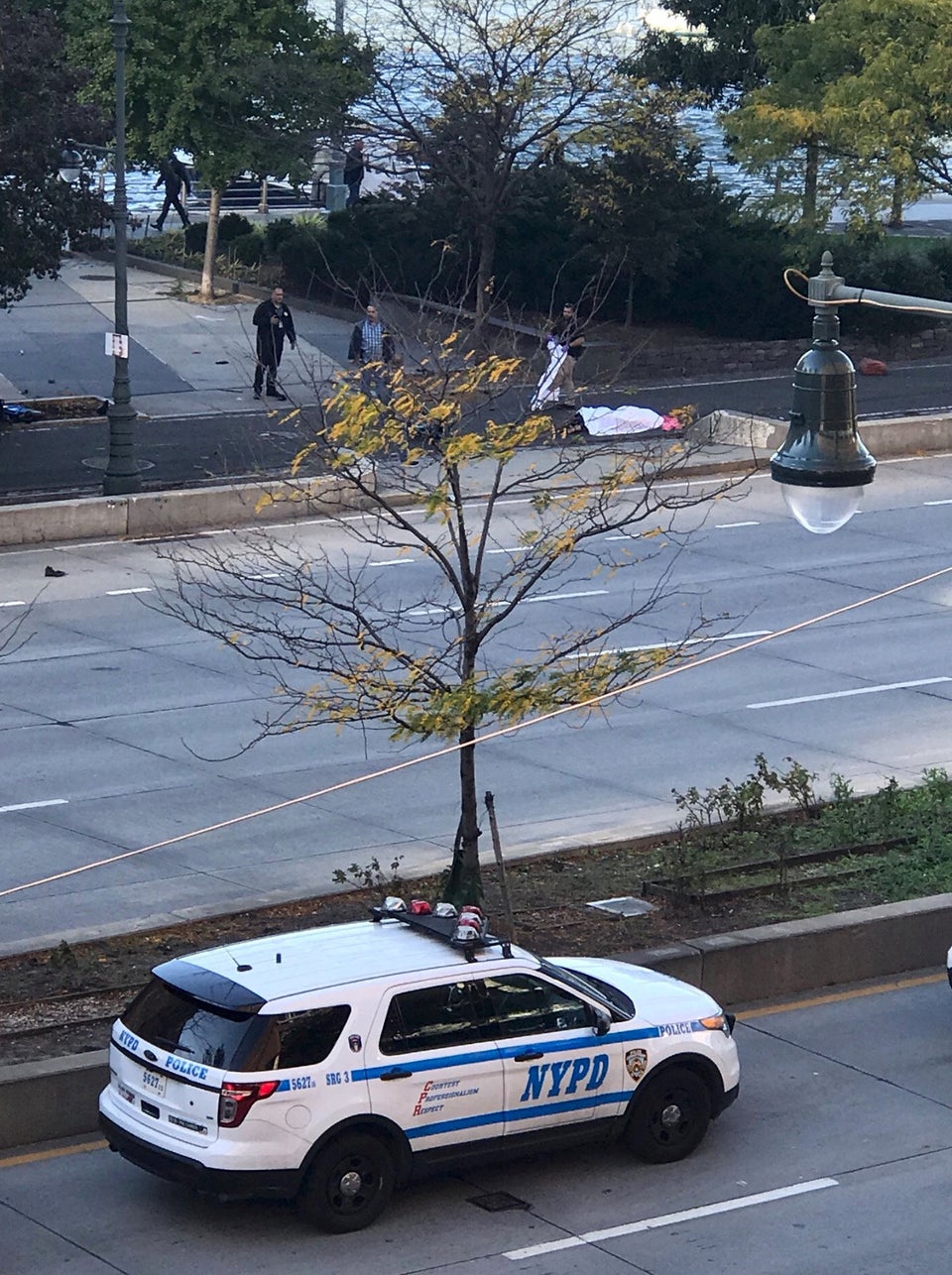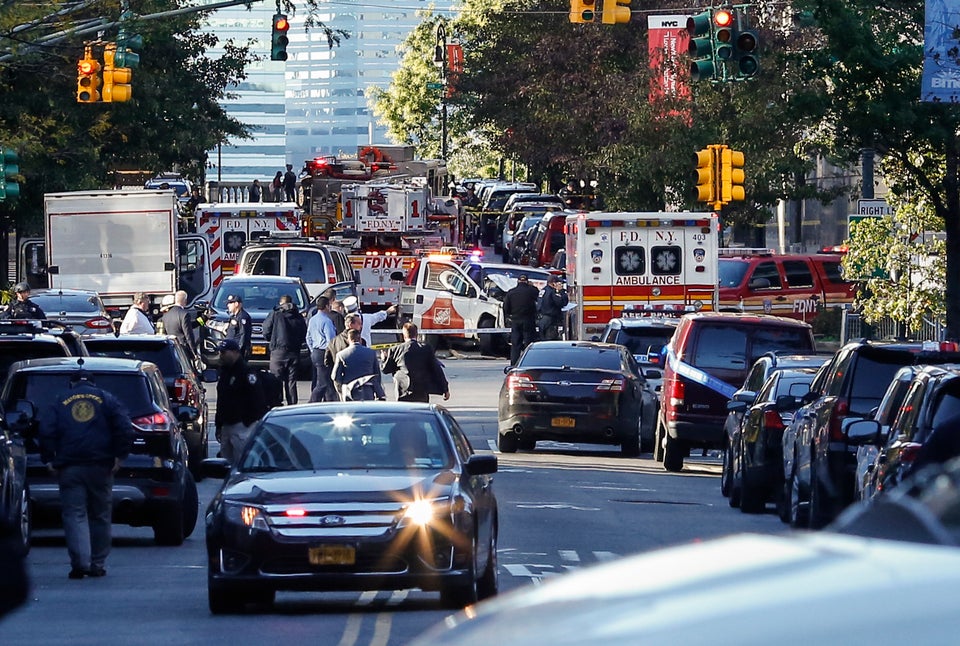 Kena Betancur via Getty Images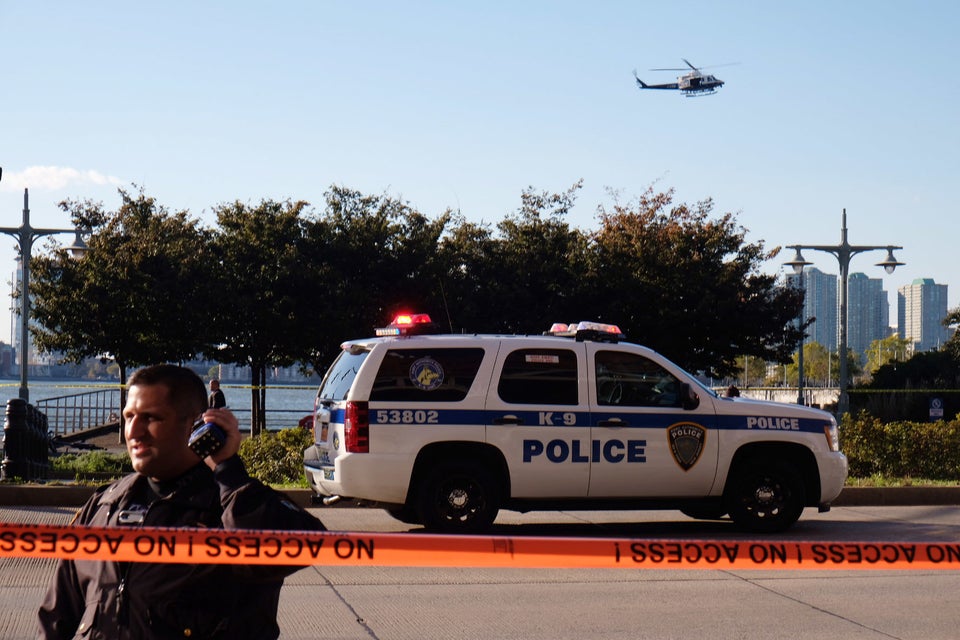 Andy Kiss via Getty Images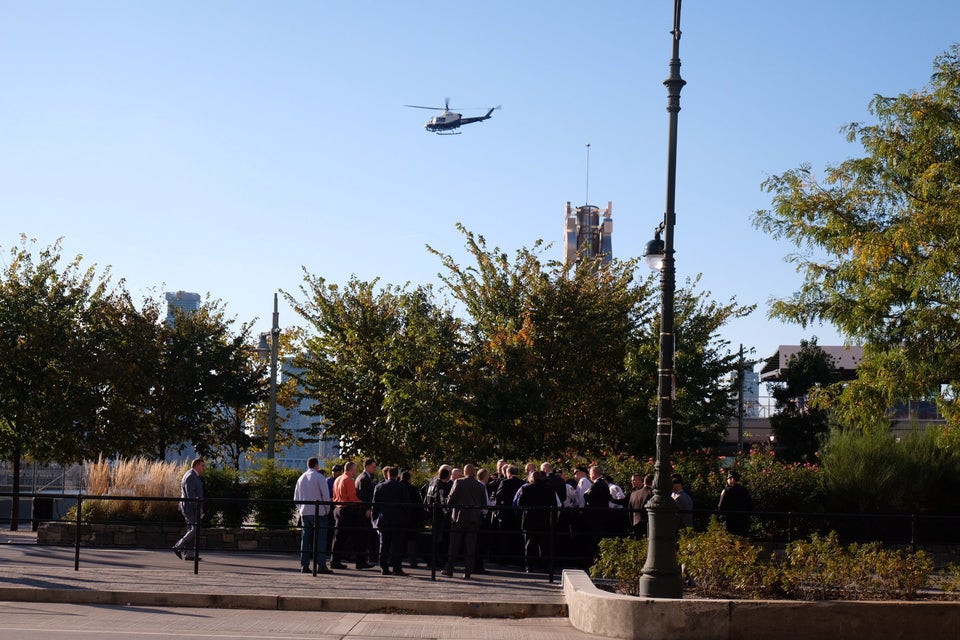 Andy Kiss via Getty Images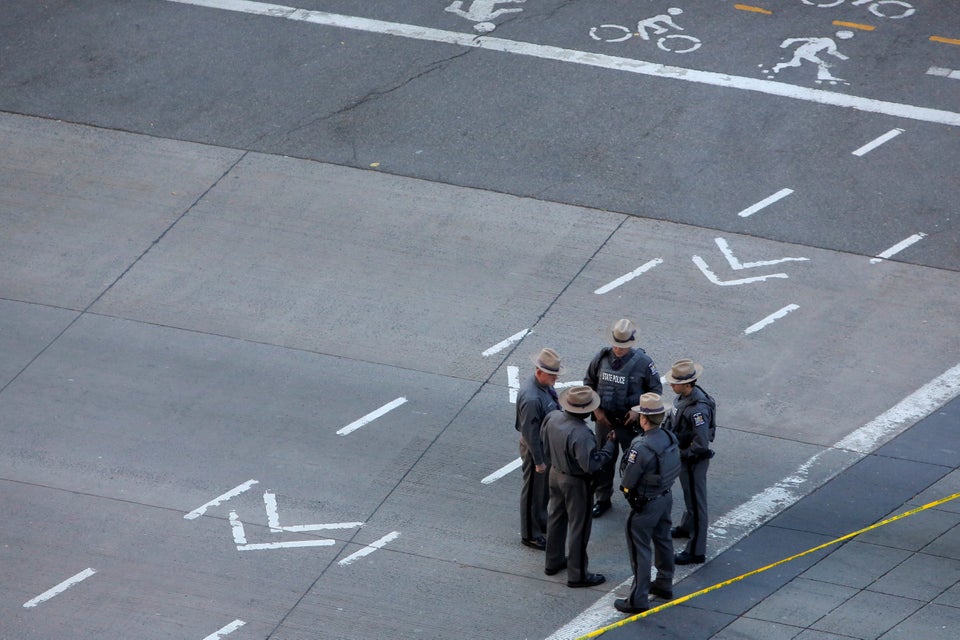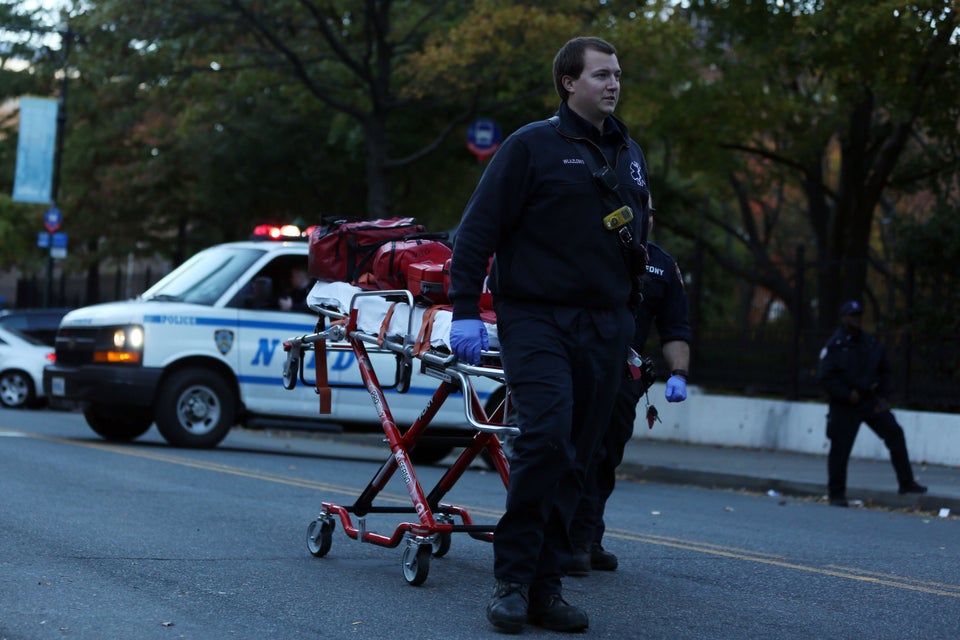 Anadolu Agency via Getty Images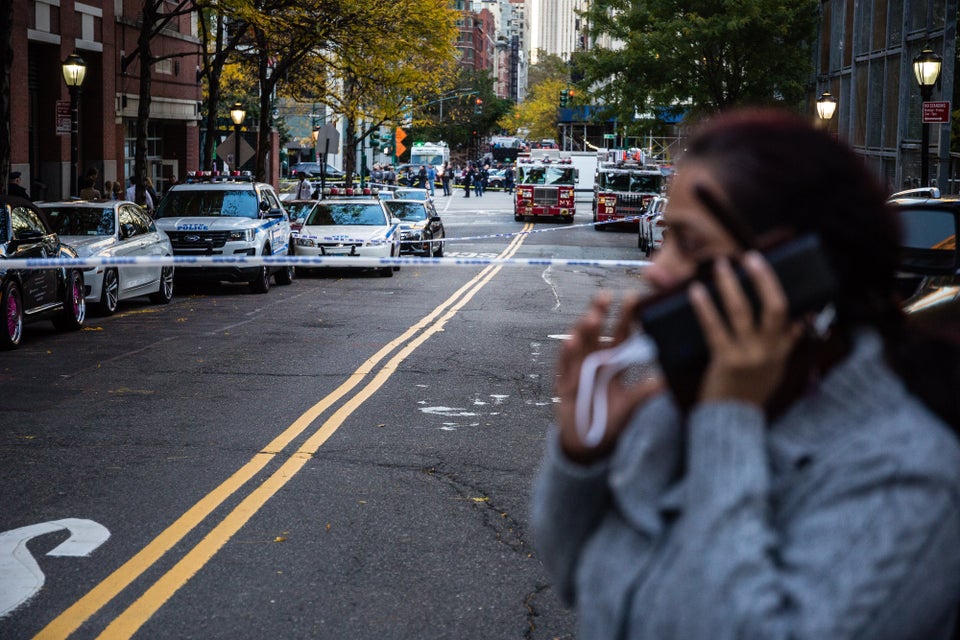 Bloomberg via Getty Images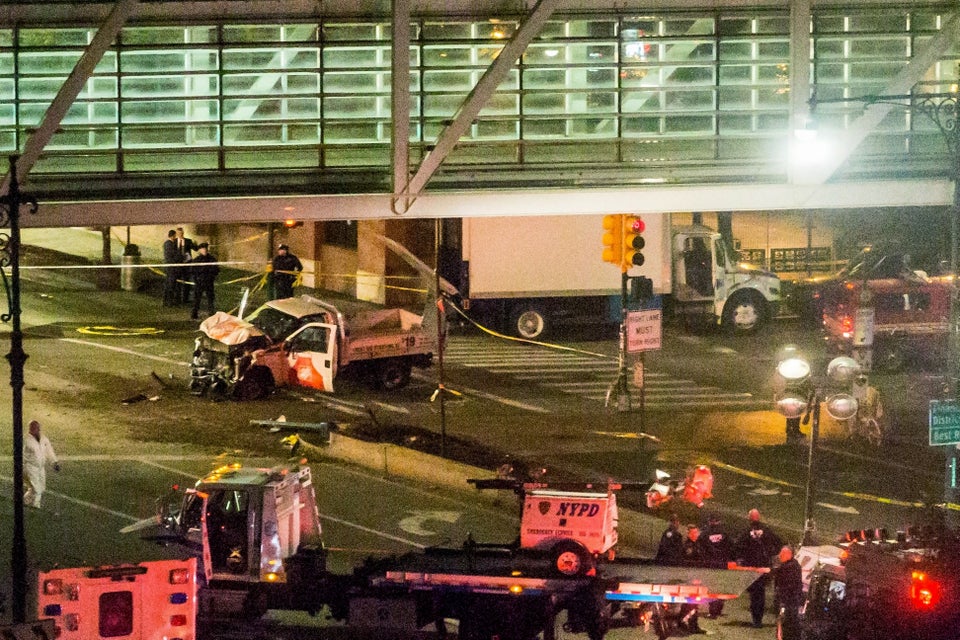 Bloomberg via Getty Images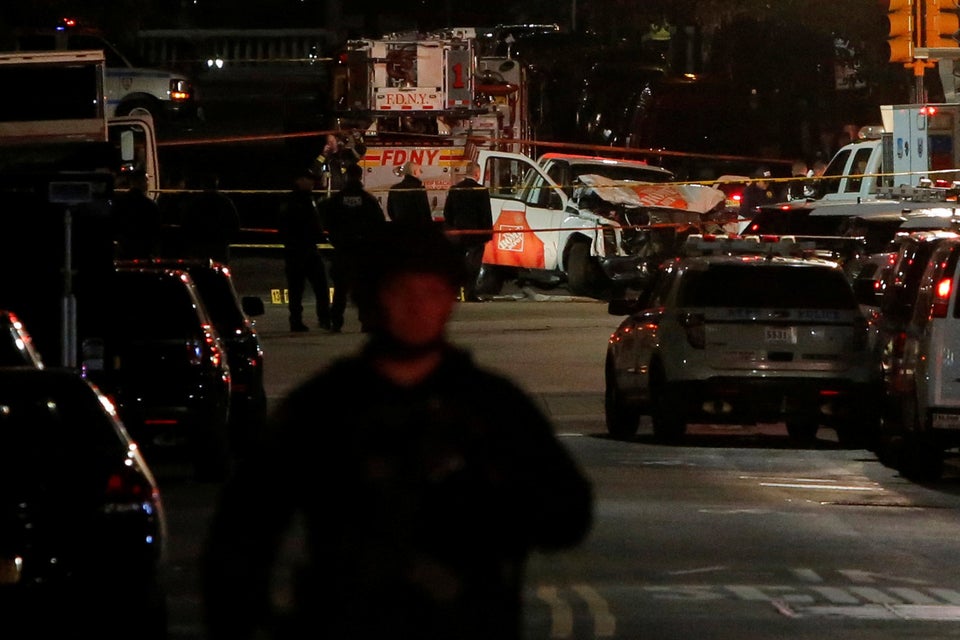 Related
Popular in the Community