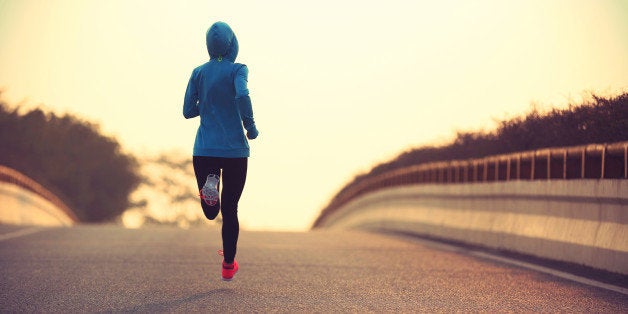 Most people in my community know that I am a runner. I go out on a run several times a week and do a lot of the 5K and 10K road races in the area. Often when I see someone at the grocery store or at a meeting, I always get the comment "I see you out running all the time. I wish I could run." My enthusiastic response is always: You can, and you can start working on it tomorrow!
That response seems to get people excited...until they actually GO OUT on a run. After the first mile, the reality sets in. "I can't do this. I can't even run a mile." Their ego is deflated, their spirit is sunk and then the next time I cross paths with the person and ask them how their running is going, I get a disgruntled look and a ho-hum response "not so good. I can't even run a mile."
This time, my response is different: So what did you expect? To crank out a 5K in 20 minutes? You need to lower your expectations.

Yes, I said lower expectations. Being hard on yourself, looking at what everyone else is doing and expecting to be where they are - it doesn't serve you. All it does is make your expectations at unrealistic levels.
Having high expectations seems like a no-brainer. Why wouldn't anyone have high expectations? There are many who believe that having a high expectation means that they want the best of the best and drive everything to perfection. Why would you want anything less? Because life doesn't work that way and you can't prepare yourself for failures if you pretend that failures don't exist.
I worked for an organization once that had their vision outlined in three words: Excellence Every Day. What a great line! And it stuck too - everyone remembered EXCELLENCE EVERY DAY long after the organization stopped using the moniker. It was so inspirational, so lofty, so perfect ... and so unattainable.
And that's the point. Perfectionism is counterproductive. Perfection is unrealistic. I don't think I'm the only one who thinks this way. People are exactly where they need to be, whether someone is just starting to train for a 5K, or starting to train for a marathon. The 5K beginners cannot compare themselves to a marathon runner. So lower your expectations and take one K at a time. In as much time as you need to take. So that way, when you exceed your expectations, it feels kinda good.
So lower your expectations. You are where you are meant to be. Keep moving forward consistently (and build on your progress) and you will be happy with the results. Promise!