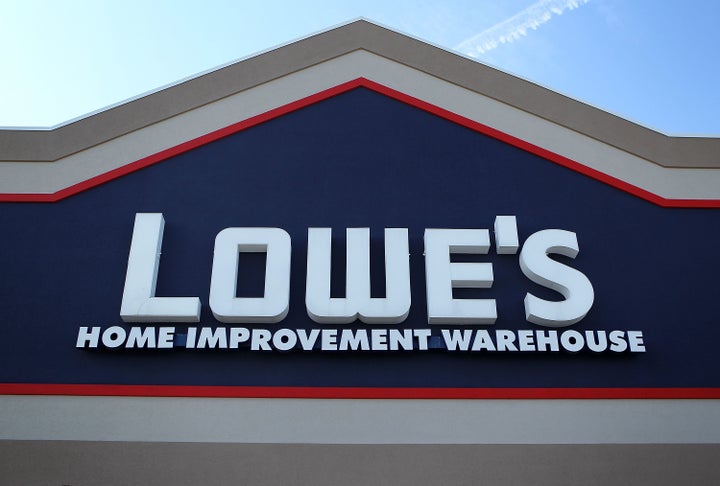 Lowe's has a message for its store managers: Sign this or else.
Salaried managers and assistant managers at the big-box home improvement retailer are being required to enter binding arbitration agreements under the threat of losing their valuable bonuses, according to a copy of the contract obtained by HuffPost.
By signing the contract, managers agree they won't take Lowe's to court with any claims or join in class-action lawsuits against the company. Instead, any grievance they have must be taken individually and in private to an arbitrator ― an arrangement that could significantly cut back workers' legal claims of unpaid work.
The contract, dated March of this year, makes clear that declining to sign could come at a severe cost. "Your participation in the 2018 Manager Bonus Program" hinges on the signature, as well as "your continued employment at Lowe's," it reads.
HuffPost does not know of any cases where a manager was fired for refusing to sign the agreement. But internal emails reviewed by HuffPost show a human resources officer instructing a manager to submit the signed contract if the manager wants a bonus this year.
Lowe's did not respond to questions about why the company introduced the arbitration agreements and whether hourly employees must sign them as well.
The bonuses for Lowe's store managers are based in part on store performance and can be worth several thousand dollars apiece. As at other U.S. retailers, the bonuses are a key piece of manager-level compensation and one of the main reasons store managers put up with the long hours and lack of overtime pay that are common in the industry.
HuffPost readers: Has your employer required you to sign an arbitration agreement? Are you involved in a lawsuit affected by the recent Supreme Court decision? Email us here.
That helps explain why Lowe's would want managers to sign away their right to join in a class-action lawsuit. Workers at Lowe's and other retailers often claim their employers misclassify them as managers to exempt them from the Fair Labor Standards Act, thereby excluding them from minimum wage and overtime protections. Many managers end up pursuing back wages in court.
Lowe's has been sued in the past for allegedly misclassifying workers as managers so they could work well beyond 40 hours a week without any additional pay. In 2014, the company agreed to pay $9.5 million to a group of store human resources managers to settle such claims.
"The bonus is why I work the 55-hour weeks," said one manager who spoke on condition of anonymity for fear of being punished. The manager said the arbitration agreement takes away the right to sue while giving nothing new of value in return: "I gain nothing with this."
According to the employer review site Glassdoor, salaries for Lowe's assistant store managers range from $39,000 to $77,000, with an average salary of $58,000 and an average bonus of $10,000. Store managers have an average salary of $88,000 and an average bonus of $30,000, according to the site. Those numbers are based on figures submitted by current and former employees and are not official.
If an assistant manager believed Lowe's had shorted her on pay, she could still take the company to arbitration to settle the dispute. But smaller claims from workers are often not worth a lawyer's time unless they are bundled together in a larger collective- or class-action lawsuit that lets the workers band together. Many workers would also be afraid to individually take their employer to arbitration for fear of being branded a troublemaker.
The use of mandatory arbitration agreements has exploded in recent years as employers try to stifle lawsuits from employees and consumers. The Supreme Court gave the policy a big boost last week by ruling 5-4 in Epic Systems v. Lewis that class-action waivers included in employee arbitration contracts do not violate a worker's right to mutual aid or protection. Worker advocates expect the ruling to further spread the use of mandatory arbitration.
Justice Ruth Bader Ginsburg wrote in her dissent that the majority got the ruling "egregiously wrong."
"Employees' rights to band together to meet their employers' superior strength would be worth precious little if employers could condition employment on workers signing away those rights," she wrote.
Lowe's may well have instituted the arbitration agreements in anticipation of the Epic Systems ruling under the employer-friendly court. The decision was penned by Justice Neil Gorsuch, whom Trump nominated to the court last year.
Although such arbitration agreements are described as voluntary, the Lowe's contract shows how, in practice, the terms are really dictated by the employer: "you and Lowe's agree that any controversy between you and Lowe's arising out of your employment or the termination of your employment shall be settled by binding arbitration," the contract reads. It notes that the signatory will have to pay a $150 filing fee if the employee wants to take Lowe's to arbitration.
Such agreements are sometimes tucked into the onboarding materials that employees must sign to start a new position. If a worker does not sign it, she may not get the job. Many workers don't understand what rights they are giving up by agreeing to arbitration, if they bother to read the contract at all.
As HuffPost reported Sunday, the burrito chain Chipotle is trying to exclude roughly 3,000 workers from a group of 10,000 who are suing under claims that managers forced them to work off the clock. Due to the Supreme Court ruling, it's highly likely that Chipotle will succeed in carving those workers out of the lawsuit and forcing them individually into arbitration.
Related
Popular in the Community