A sweet yellow and white house sits tucked away on a street in Hastings-on-Hudson that dips steeply toward the Hudson River.
Listed in the National Register of Historic Places, its Gothic Revival design, gingerbread trim and lovely grounds make the house, Ever Rest, a popular stop on the historical society and garden club circuit. Rose-patterned wallpaper covers the parlor walls and dark wood antiques fill the house.
But Ever Rest is more than a pristine example of 19th century American architecture. It is also a repository of the paintings of Jasper F. Cropsey, who lived there from 1885 until his death at 77 in 1900.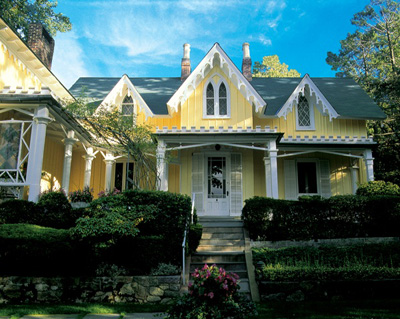 Ever Rest. (Newington-Cropsey Foundation)
Cropsey's romanticized scenes of the Hudson River Valley and environs line the walls. More Cropsey paintings are on view in a gallery built in a ravine below Ever Rest, just behind the town's train station and about 20 miles north of midtown Manhattan. In all, the Newington-Cropsey Foundation, which maintains the Hastings complex, holds about 100 of his oil paintings and 30 watercolors.
It is one of the richest, and least known, caches of the Hudson River School, the art movement popular between 1825 and the 1870s that consisted of New York-based artists who painted in great detail the grand views of the river valley and nearby countryside.
Cropsey, an architect by training, was part of a second wave of Hudson River School artists whose idyllic landscapes were modeled after the successful works of painters such as Thomas Cole and Asher Brown Durand.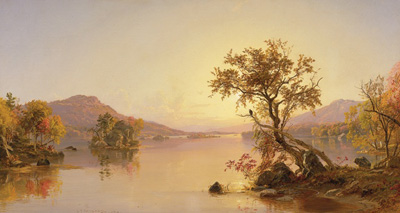 Jasper F. Cropsey, "Lake George," 1870. (Newington-Cropsey Collection)
Although a quiet man, Cropsey lived on a grand scale. He painted 2,400 works, twice toured Europe with his wife (the couple was presented to Queen Victoria in 1861) and built a 30-room mansion in Warwick, N.Y., before retiring to the more modest Ever Rest when the School fell out of style and his fortunes fell, too. He and his wife Maria raised four daughters.
Best known for his richly colored autumn paintings, he also painted European landscapes and allegorical scenes inspired by literature. Cropsey spent time in Vermont, Niagara Falls and the White Mountains in New Hampshire.
During difficult financial times, he fell back on his architectural skills. In 1878, he was chosen to design the 14 stations along the Sixth Avenue elevated subway line in the city. Reviewers praised the artistry of the designs.
The Cropsey art collection's low profile is no accident. Beyond listings in local guidebooks, director Anthony Speiser said the foundation does no marketing. Visitors to Ever Rest must call ahead to schedule a tour.
"You have to be interested in the historic site or paintings to want to come here," he said.
The foundation was founded in 1977 by Barbara Newington, Cropsey's great-granddaughter, and her husband John Newington to preserve the artist's work.
Ever Rest offers a unique window into the artist's life. Past the dining room is a wood-paneled studio that Cropsey designed. It was where he painted and where he and Maria entertained patrons and neighbors.
The studio is a striking room with a windowed square cupola in the center of the ceiling. A rope system allowed for the windows to be opened, early air conditioning. A large oil painting of Niagara Falls dominates one wall. An unfinished portrait of Maria, which Cropsey was believed to have been working on when he died, sits on an easel.
Speiser described Cropsey's work schedule -- sketching outside in the summer, spring and fall, and then moving into the studio during the colder months to paint his landscapes from the sketches.
His work is often included in collections of American art of that time period. It can be found at the Metropolitan Museum of Art, the New-York Historical Society, Alice Walton's Crystal Bridges Museum of American Art in Bentonville, Ark., the White House and the National Gallery of Art in Washington D.C., which has his seminal 1860 painting "Autumn -- On the Hudson River."
The story behind that painting is that Cropsey created it from memory in his studio in London during one of his European tours. The English were impressed with the rich colors of the foliage but doubted they were authentic. To prove the colors were realistic, Cropsey asked a friend in New York to send him autumn leaves. He displayed them next to his painting.
REAL LIFE. REAL NEWS. REAL VOICES.
Help us tell more of the stories that matter from voices that too often remain unheard.