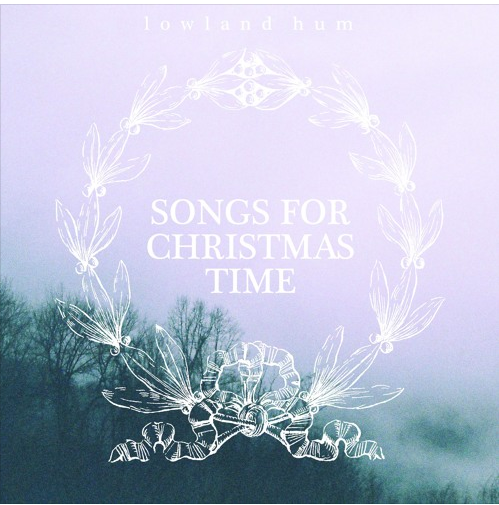 Lowland ​Hum's ​"Songs ​for Christmas ​Time" is a lovely ​collection of low-key holiday tunes "f​or ​those ​who ​need ​something ​a little ​less ​triumphantly ​cheerful ​during ​their ​holiday ​season."
That's according to husband/wife duo ​Daniel ​and ​Lauren ​Goans, who originally hail from Greensboro, North Carolina, but now call Charlottesville, Virginia, home when they are not spreading their unique collection of folk songs around the world.
The ​duo ​released ​two ​singles ​in ​anticipation ​of ​the ​album, ​"Joy ​to ​the ​World" ​and ​"O ​Holy ​Night." The ​second ​single ​is ​featured ​on ​the ​Spotify ​playlist ​"Acoustic ​Christmas."
The ​holiday ​album ​comes ​on ​the ​heels ​of ​the ​duo's ​most ​recent ​releases, "Thin" ​(Lowland ​Hum's ​third full-length ​studio ​album) ​and Thin ​| ​B-sides ​(an ​EP ​of ​a ​handful ​of ​unreleased ​songs ​from ​the ​"Thin" sessions, ​a ​cover ​of ​Weezer's ​"In ​The ​Garage" ​and ​other ​previously ​unreleased ​material). "Thin," released in ​February ​2017, ​was ​met ​with ​critical ​acclaim ​from yours truly,  NPR, No ​Depression, Paste Magazine and Pop ​Matters, ​among others. ​
The ​band's ​songs ​have ​been ​described ​as ​poetic ​and evocative, ​and their ​arrangements ​minimal, ​hushed ​and ​dynamic. ​Lowland ​Hum's ​performances ​are ​characterized ​by the ​space ​they create ​together ​for ​their ​audiences.
Lowland ​Hum ​has ​toured ​the ​country ​promoting "Thin" throughout ​2017 ​and ​is currently finishing out ​the ​year ​with ​a ​tour ​of European ​dates.
Following is a full list of tracks and the song's authors on "Songs for Christmas Time" that was mixed by Mark Nevers and mastered by Jeff Stuart Saltzman. I am particularly enamored with the duo's fresh takes of "Joy to the World," "Ain't That Rockin' All Night," "O Holy Night" and "Christmas Time Is Here." But don't take my word for it, download or purchase the album now at http://www.lowlandhum.com/
Joy To The World – Isaac Watts Jesus Christ the Apple Tree – Traditional O Come, O Come Emmanuel – Traditional Ain't That Rockin' All Night – African-American Spiritual We Are The Shepherds – Johnny Cash Silent Night – Joseph Mohr / Franz Xaver Gruber Lo, How A Rose E'er Blooming – Traditional O Holy Night – Placide Cappeau / Adolphe Adam / John Sullivan Dwight Christmas Time Is Here – Lee Mendelson / Vince Guaraldi
Calling all HuffPost superfans!
Sign up for membership to become a founding member and help shape HuffPost's next chapter
This post was published on the now-closed HuffPost Contributor platform. Contributors control their own work and posted freely to our site. If you need to flag this entry as abusive,
send us an email
.