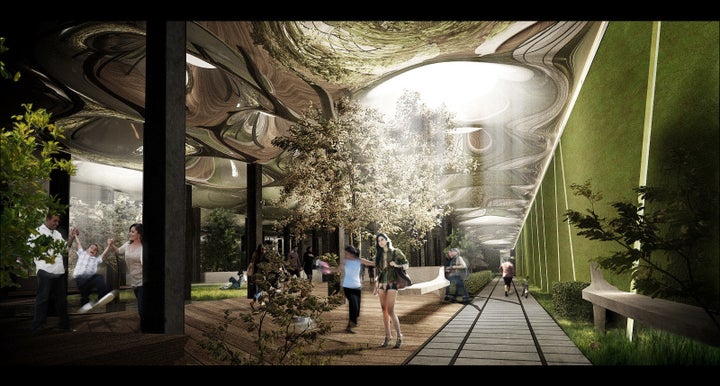 There's an old, abandoned trolley terminal beneath Delancey Street that's closed to the public. It was built in 1903 to house Williamsburg Bridge trolleys and has sat unused since 1948. It's dark and dank, with debris littering the ground and graffiti covering the walls. Notably absent from the space is light.
"The proposal is particularly attractive because the space isn't anything right now -- it's a 60,000-square-foot hotel for rats," said David McWater, who chairs Community Board 3's Land Use committee, which supports the proposal. "It's just totally wasted space, and here are these guys with this extraordinary, creative idea about what to do there."
Nicknamed the Lowline, the plan would use existing fiber optic technology to light and power the space. An aboveground collector dish would reflect and gather light, then direct it via fiber optic cable underground, where a distributor dish would spread it throughout the space. The system would transmit the wavelengths necessary for photosynthesis, enabling trees, plants and grass to grow.
It would be the first time the technology, which Ramsey refers to as "Remote Skylights," would be used for such a purpose.
"I had something of a eureka moment maybe three years ago, when I realized that you can treat light like a liquid and irrigate it into spaces that don't have access to daylight normally," said Ramsey, an architect and former NASA engineer.
"Meanwhile, I worked with an old engineer who was formerly with the MTA," Ramsey said. "He told me his war stories from the 1970s, when they discovered crazy lost spaces underneath the city. I realized you could employ some of these technologies to get light down into these spaces."
Ramsey and Barasch first presented their proposal to McWater's committee and local officials in September, and they gained the backing of the full community board in late June. They've also earned the support of residents of the Lower East Side, impressed by the technology and hungry for more open space in their neighborhood.
The terminal is owned by New York City Transit and was featured on a recent list of real estate holdings the Metropolitan Transit Authority hopes to sell. Ramsey and Barasch hope to reclaim it for their project, which they have modeled in some ways after the High Line, the popular park built on an elevated railroad track.
The co-founders have raised $150,000 through Kickstarter and hosted several well-attended fundraisers, including a recent event at the Bowery Hotel. They hope to raise another $75,000 this summer, which an anonymous donor has pledged to match.
The money raised so far will go to fund a September technology demonstration, which will be open to the public and held in the former Essex Street Market space. There, Ramsey and Barasch will exhibit a miniature version of the Lowline and work to drum up community interest.
They said they don't know how much money they'll ultimately need to make the park a reality, or how long planning and construction will take.
"People have very real questions about what it will cost, how long it will take to build and whether the technology works," said Barasch, a former Google employee who has also worked in social innovation for the city. "We're trying to answer those questions strategically this year, and we're using the technology demo to unveil the answers."
Representatives from some of the city's parks organizations believe that while the Lowline is an inventive and intriguing idea, the money needed to build it should be spent on improvements to the city's existing public parks, especially given budget cuts and soaring maintenance costs.
Though Ramsey said he and Barasch plan to rely on fundraising and private donations, Holly Leicht, the executive director of independent advocacy group New Yorkers for Parks, pointed out that similar projects have turned to city money eventually. The High Line, for example, has had enormous success attracting private funding, but it has also relied heavily on public dollars.
"At the end of the day, if you're fundraising, there's a finite pool that you're drawing from -- at some point you'll tap out your resources," Leicht said. "It's obviously an intriguing, fun idea, but our overall feeling is this is a very expensive undertaking. At a time when the city is funding a lot of very expensive new parks, we think, from a public perspective, the dollars are probably better directed elsewhere."
Geoffrey Croft, president of non-profit watchdog group NYC Park Advocates, said he thought the Lowline's cost would be prohibitive. He questioned whether the project would have the same benefits as the High Line, given its far-flung location, decreased visibility and smaller size.
"I think they may have a tougher time trying to raise the money needed to build something like this, because I don't know if there will be as much of an immediate impact," Croft said. "It'll definitely be a unique space, but I think they're going to have a tougher time convincing the powers that be that this will be a worthwhile investment."
The co-founders insist, however, that such comparisons miss the point.
"It's not Central Park. It's not the High Line," Barasch said. "It's not going to be everything for all people."
Popular in the Community