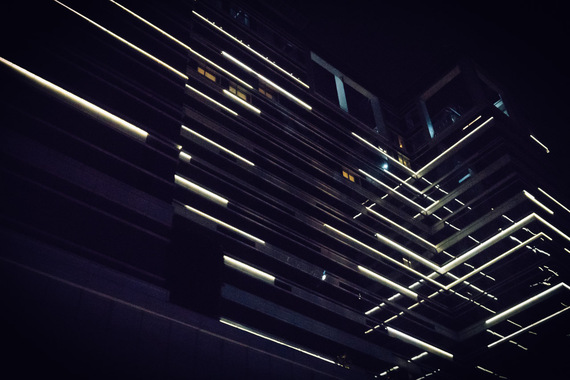 I took three Americans to Ssaffron, on the 18th floor at the Shangri La. From a corner table we took in the night-view during pauses in conversation. Not a great view for Americans, but on my part, I pointed downward to the Ashok in the distance, and told them, "Our first five star hotel. The government used to run it." I meant to pique some interest, but the line went nowhere, so I pointed to the cricket stadium where all the lights were on. We spoke cricket, and kabaddi afterward. "It's rugby in miniature," an Indian American from the group said of India's indigenous game.
I didn't mind it when the government ran the Ashok. Being in business, I get along with government folks. I used to entertain customers at the Mandarin on the top floor there. They had then the most popular band in Bangalore: Shyam and the West Wind. Shyam appeared like he'd ridden in from a Marlboro ad, bringing along a voice to match. He sang like a real man too.
You had a choice of beers even then, all of them Indian. UB and Kingfisher beat all other brands, and foreign guests called Kingfisher the best lager anywhere. From Kingfisher conversation often turned to Vijay Mallya. I'd read somewhere that Mallya, upon taking a table at any restaurant, first leafed through the menu to the drinks page--to check if his liquors were listed. I'd tell my guests that thing about him.
The chef at the Mandarin was Chinese Indian, and his cuisine Indian Chinese. Once a waiter ran to him with a bowl of fried rice. Earshot of me, the waiter told him, "Guest is complaining rice isn't cooked." Picking a pinch of the stuff and rubbing the grain between fingers, the chef told him fried rice isn't served boiled.
The Ssaffron at Shangri La is cozy inside, breezy at the alfresco. Whereas waiters at the Mandarin spoke Kannada and Tamil, at Saffron Hindi rules. Of the two waiters assigned our table, one was Bihari, the other Bengali. Both were smart young men, very proud of the five northern styles on the menu. Everything we ate was grand.
Two of my guests were Scottish American. We talked a little history. To explain South Indian civility, I told them, "Here in our province the last major battle was in 1799. We've seen only peace for two centuries now." A bland expression came over their faces--I couldn't read the meaning of it. But they assured me they weren't bored, and I told them about Tipu.
Vijay Mallya bought the sword of Tipu Sultan from the English during my Mandarin days. I'd read the news with some emotion. I was young. Also, despite all I've learned about Tipu, that bundle of folly and tyranny and intellect and great daring has endured as my hero. He fell fighting on May 4, 1799, right before the breach in his fort. His body was found with his sword still in hand. The moment is a Homeric image in my mind.
Mallya flew off to England week before last, to his thirty-acre residence there. He's left behind a broke airline he founded, and its huge unpaid bills. He has tweeted that he hasn't run away; doesn't say when he'll return. Mallya is Bangalorean. I spend time on the terrace at his UB City, over coffee at Cafe Noir, with customers at Toscano's. I enjoyed Kingfisher Airlines when it flew, although I hated his personal message on the monitors during takeoff and landing: "Every member of the crew is handpicked by me." The food was good, service perfect. His female staff wore their skirts red and very tight, but I shouldn't have noticed that.
Yes, I've been a loyal subject of the King of Good Times.
These are sanskari times. Even as everybody is worked up about Mallya's escape, they are also bristling mostly for and a little against a culture bonanza another Bangalorean has organised in Delhi, this very weekend. Yoga and Meditation top the program list. Great makeshift edifices for his show are installed on a sensitive stretch of the Yamuna's flood banks. The statutory authority let him off with a fine, whining meanwhile that the matter has reached its attention too late to stop him.
The man, a painfully soft-spoken godman, with the double salutation Sri Sri to raise him above the masses, closer to the Creator, declared he'd not pay the fine. "I'll go to jail," he declared. His devotees gasped. Others called it a bluff. But our Prime Minister was Sri Sri Ravishankar's Chief Guest at the opening ceremony, and so something happened and the godman paid only 6%. The balance he may pay later.
When you run short of heroes, you look to America. But Steve Jobs is dead. Obama is leaving. The Clintons are stale. My rockstars have aged. They have Trump on offer, but I'm not buying.
We weren't too long at the Ssaffron. Everybody needed to rise early next day.
Calling all HuffPost superfans!
Sign up for membership to become a founding member and help shape HuffPost's next chapter