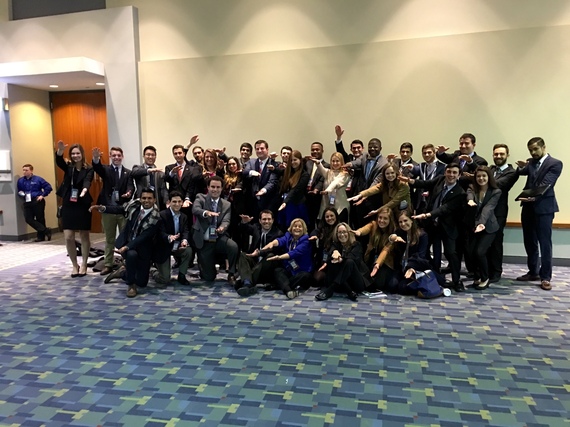 As the real world quickly approaches, many students begin the journey to graduate school with the LSAT, MCAT, or GRE preparatory courses.
I, along with some friends, am working hard to prepare for the LSAT. During our March 19 practice test, however, the class was half empty. Since this is such an important step in the preparation for our June exam, I was amazed. No one ever misses these diagnostics!
Extremely curious, and worried for my peers, at the next class I casually asked them if everything was okay. They immediately and excitedly shared with me their experience at the annual weekend long AIPAC policy conference.
Matt Epstein, president of Gators for Israel, passionately told me about all that he took away from it. Epstein left AIPAC with the confirmation that a large network of Gators were devoted to the advancement of the next generation of leaders.
Forty-three students from the University of Florida attended the conference, one of the largest student delegations at the convention. Included in this number were 28 non-Jewish students, which demonstrates the commitment of UF to Israel advocacy.
Matt's friend Avery Smith, who is not Jewish, joined Matt in stressing the impact of AIPAC. For Avery, the networking opportunities were most beneficial. Personal meetings with Congresswoman Gwen Graham, Congressman Ted Deutch and Congresswoman Ileana Ros-Lehtinen, which UF Hillel arranged, highlights that a positive US-Israel relationship is beneficial regardless of politics.
While many campuses across the country are dealing with intense anti-Israel sentiment and BDS movements, we, at the University of Florida, are fortunate to have Gators for Israel proactively working to raise awareness and, advocate for Israel.
In working side-by-side with Gators for Israel and other campus partners, UF Hillel inspires Israel advocacy throughout the year by enhancing students AIPAC policy conference experience with meetings with Congressmen and Congresswomen, engaging students on campus with unique events such as Artists 4 Israel, encouraging students to go on Birthright Israel journeys, and sending students to volunteer on a Israel Defense Force base for Alternative Spring Break.
There is a time for everything; a time for work, a time for play, and a time for professionalism. Regardless of the many diagnostics many of us will take, the unified connection to Israel is crucial to all of us.
REAL LIFE. REAL NEWS. REAL VOICES.
Help us tell more of the stories that matter from voices that too often remain unheard.